Arts
World premiere drama 'Possessing Harriet' looks at slavery in CNY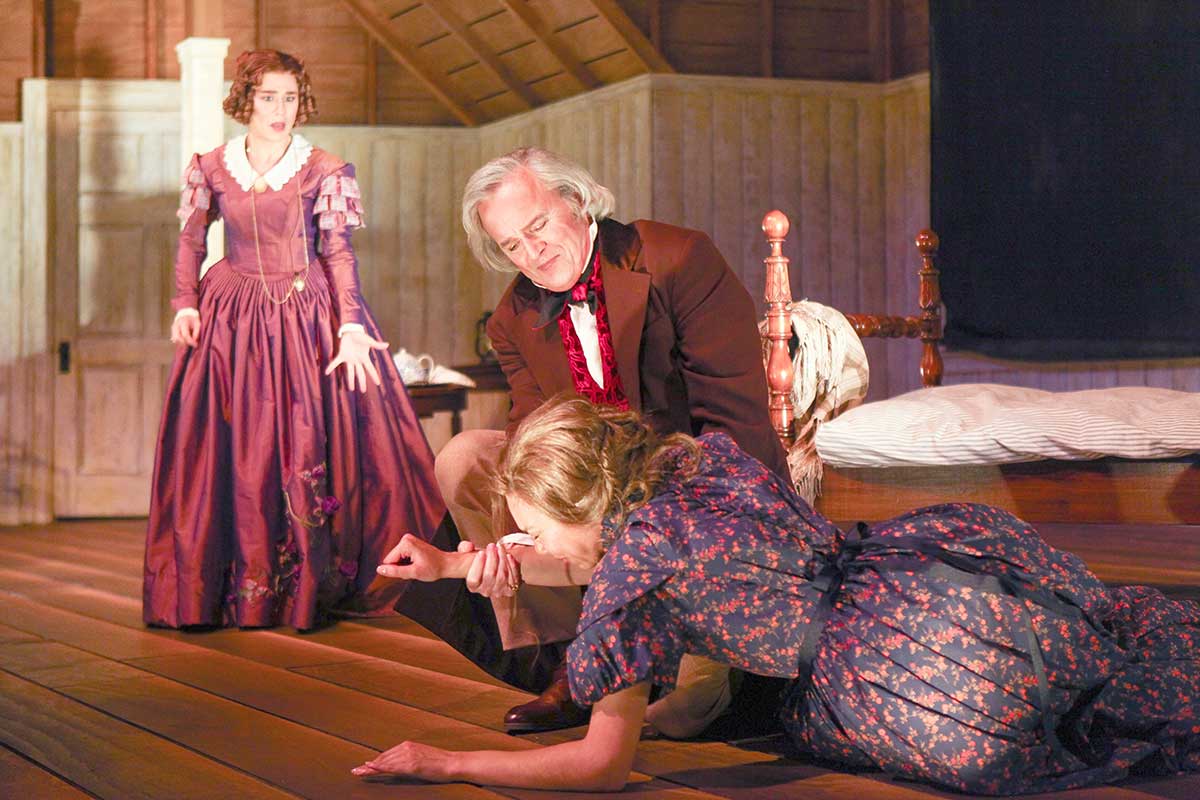 In the program notes for Syracuse Stage's world premiere of Possessing Harriet (running through Nov. 4), playwright Kyle Bass admits that if the four historical persons from 1839 depicted in his play were to come and see it, they would not recognize themselves in his dialogue.
The best-documented of the four, 24-year-old feminist Elizabeth Cady, (later Elizabeth Cady Stanton), does repeat a line oft-cited in her oratory, that her father told her he wished she had been a boy. But the best lines and strongest speeches belong to the character about whom Bass knew the least. And it's not the title character Harriet.
The archival evidence for Bass' drama is pretty slight. About five years ago executive director Gregg Tripoli of the Onondaga Historical Association brought it to him. In autumn 1839, the Davenport family of Syracuse retuned from Mississippi with Harriet Powell, a tall, fair-skinned quadroon (one quarter African ancestry) female in tow. While the entourage was staying in a Syracuse hotel, a worker named Thomas Leonard, a freed black man, helped her to escape to several rural safe homes, settling in the three-story mansion of famed abolitionist Gerrit Smith in Peterboro, Madison County.
There Harriet met Smith's cousin, Elizabeth Cady, also 24 in the play. Cady Stanton mentioned the meeting in her memoirs, published in 1896, but allowed it only a half-paragraph. Bass has also visited Harriet's grave near Kingston, Ontario.
Peterboro, now a hamlet in Smithfield, is 26 miles southeast of Syracuse and north of Morrisville. It is the home of the National Abolition Hall of Fame, from which a founder, Norman K. Dann, contributes program notes about Gerrit Smith and Elizabeth Cady Stanton. Set designer Donald Eastman implies the residence was a solid country place, capacious but with high, unfinished timbers on the ceiling of the third floor.
The action begins with tension. Harriet (Nicole King) feverishly paces the floor while conversing with a taciturn, enigmatic Thomas (Daniel Morgan Shelley). She is shy, not given to long speeches, but speaks well for an unlettered "possession" of a white family. Thomas advises she remove her shoes to reduce any chance of her being heard by predatory slave-catchers, a note reminiscent of the confinement of Anne Frank.
Two white characters enter, Gerrit (Wynn Harmon) and Elizabeth (Lucy Lavely), bubbling with welcoming enthusiasm. Both fill us in on the background, and Gerrit, in outrage, reads the entire advertisement for Harriet's capture. In life Gerrit would have been 42, but Harmon plays him a bit older. The real Gerrit was also a fearless advocate who supported John Brown's raid and stood up to racist mobs. Here he's a lighter figure, supplying many of the laughs in the first 20 minutes of this 100-minute one-act. Elizabeth says that he hates slavery but is in love with the cause and the sound of his own voice.
One of Gerrit's best laughs is when he trashes Andrew Jackson as "our idiot president," even though he has been succeeded by his "Dutch lapdog," Martin Van Buren.
Extraordinarily well-educated for a woman of her time, Elizabeth introduces Harriet to new ideas of the self, which originate in the Enlightenment that had not penetrated the South, let alone slave quarters. Eventually, of course, these focus on the rights of women, specifically as they relate to marriage, which Elizabeth considers a form of bondage.
Harriet is not ready to become a convert to the new cause. Not only are Elizabeth's notions unfamiliar and upsetting, but she tends to use words Harriet does not understand, like "epiphany."
As Elizabeth is smitten with the man who will be her husband, she is torn by the question of being married or "free," hardly a parallel to Harriet's choice to flee the country and everything she has known. She is unsupportive of Nat Turner's slave rebellion that killed many whites earlier in the decade. Lavely makes Elizabeth an ingratiating character, likely to embody the aspirations of white audiences, not at all the smug, condescending liberal of rightist cliché. But the drama is not about her.
Harriet cannot stay where she is, with the ever-present danger of slave-hunters. And she also increasingly fears flight, a passage over unfamiliar water to Canada, and the unanticipated burdens of freedom.
About this time the freedman Thomas enters the conversation. Whereas we know nothing about the 1839 Thomas, Bass admits in interview that the historical cypher allows him to inlay some of his own family's history and memory.
The playwright grew up in Bridgewater, Oneida County, due east along Route 20 from Gerrit Smith's Peterboro. His grandfather Everett Holmes was the town's mayor; Holmes was also New York state's first black mayor. Despite such acceptance, the family knew plenty of rampant, brutal discrimination, more likely to be remembered in an educated and cultivated household.
Thomas had been a cryptic presence until he is set off by Elizabeth's naïve question: "What is it like to be a colored man and free?" At this point Thomas becomes the playwright's spokesman, what the French call a raissonneur. The device is common in the plays of George Bernard Shaw, whereas Thomas speaks with more intense conviction, accompanied by offstage sounds of cracking whips, than Shaw would have allowed. Bass is ahead of Shaw on other matters as well. His characters feel as though they had lived and are not mere abstractions carrying placards.
Syracuse Stage has had world premieres before, but none with the feel of this one. Playwright Bass, the company's associate artistic director, is a visible and popular figure around town. Artistic director Robert Hupp said when he arrived that he wanted to champion a play on Syracuse history.
Former artistic director Tazewell Thompson, whose reputation has grown more lustrous since he left 23 years ago, proves to be a resonantly empathetic director. Tension is tight throughout. He keeps energy focused on the title character, convincingly portrayed by Nicole King, even though she is quiet and often acted upon. Daniel Morgan Shelley's delivery of Thomas' speeches makes the blood pulse faster.
An indication of how the audience is up for seeing Possessing Harriet comes when the word "Syracuse" is uttered in the dialogue, the first time that has happened in the 44-year history of the company. An audible ripple of approval passes through the crowd.
[fbcomments url="" width="100%" count="on"]