Top among the 2014 highlights in local theater included: For the intensity of emotion, for the intrusion of laughter through tears, there is unlikely ever to be another evening like the "What I Did for Love" tribute to Talent Company founder Christine Lightcap, held Oct. 16 at the State Fairgrounds' Empire Theater. Moe Harrington's "She's the Greatest Star," Susan Basile's "As Long as He Needs Me" and Frank Fiumano losing it in "I Am What I Am" all shook the house. Lightcap's longtime business partner Brenda Neuss said it had not been one of her better days up until then; the ageless trouper had just 10 days to live.
The Redhouse Arts Center's July announcement of building plans was the best good news of the year. The intimate space at West and Fayette streets, once described as Syracuse's equivalent to London's Donmar Warehouse, will expand to fill an area in the former Sibley's department store on South Salina Street. To be called City Center, the new digs are scheduled to open in late spring 2015.
Local girl makes good No. 1.
Former Syracuse University student Jessie Mueller received a Tony Award for the lead role in Beautiful: The Carole King Musical, an unexpected hit. While in town she appeared in the holiday production of Big River (December 2004) and the title role in David Wanstreet's memorable Kiss Me Kate (April 2005).
Local girl makes good No. 2.
It's a stretch to call Australian-born Nadine Malouf "local," but she made a lasting impression as she passed through town: Urinetown (November 2006), Art of Dining (February 2007), Sweeney Todd (April 2008) and Godspell (December, 2008). Last summer at Lincoln Center she had a featured role in The Who & The What, a new play by 2013 Pulitzer Prize winner Ayad Akhtar (Disgraced).
Local triumphs over local challenges
Professional Theater
Actor Jeff Locker's many years in Taiwan gave him an authentic accent when speaking Mandarin as the ambiguous translator Timms in David Henry Hwang's uproarious Chinglish (February) at Syracuse Stage. Although outwardly an unconventional take on culture clash, with unsettling implications, under May Adrales' direction Chinglish was also the most wet-your-pants hilarious production at Syracuse Stage in 10 years. It was, nonetheless, snubbed by the new SALT Academy.
Artistic director Stephen Svoboda's now annual January adventure in juxtaposition at the Redhouse paired a musical about losing one's mind and a quirky comedy of domesticity, and invited us to see how one show illuminated the other. Tom Kitt and Brian Yorkey's prize-winning Next to Normal and Nicky Silver's lesser-known Pterodactyls could both be staged on the same set with overlapping cast members. Laura Austin took on the heaviest of lifting, learning a hell of a lot of lines, and singing in Next to Normal. The SALT Academy bestowed a top award.
In a rare sellout crowd, Syracuse Opera presented an uncut (three hours-plus), partially staged production of George Gershwin's Porgy and Bess (April). Costumed singers performed the action on stage, right next to the assembled musicians, but without full sets. The entire professional cast was flown in without a weak voice in the crew. Aundie Marie Moore's tragic "My Man's Gone Now," Victor Ryan Robertson's saucy "It Ain't Necessarily So," as well as Brittany Walker's and later Laquita Mitchell's plaintive "Summertime" were all outtasight. It was one of the 10 most satisfying performances of the year.
Christopher Durang's farce Vanya and Sonia and Masha and Spike at Syracuse Stage (September) was anything but brainless. The playwright did, however, expect that audiences remembered as much about Hollywood as they did the plays of Anton Chekhov. The long tirade about licking stamps from Vanya (Larry Paulsen) in the second act confused some audiences; Durand was spoofing obsessiveness and triviality. The sassy housekeeper Cassandra (Lisa Renee Pitts) stole the show from its excellent leads.
Rachel Lampert's electrifying direction of David Ives' Venus in Fur (January) at Ithaca's Kitchen Theatre thawed the ice out of winter. Brandon Morris wants to stage Kraft-Ebbing's naughty classic, and Maddie Jo Landers auditions for a key role. Even without rough language or even a second of nudity, it was also the most erotic production of the year (not that it had many rivals).
In his most defiant refusal to accept the space limitations at the Redhouse, Stephen Svoboda had Tim Brown construct an onstage wading pool for Mary Zimmerman's Metamorphoses (May). In the lyrical vignettes, mostly from the Roman poet Ovid, Caitlin Geier stood out as the barefoot choreographer as well as the loving wife Alcyone, along with Caitlyn Oenbrink as the goddess Cere. Jimmy Curtin's King Midas looked like a hedge fund manager.
Syracuse Stage artistic director Tim Bond said he knew he wanted Jonathan Peck for the role of the older, wiser slave Simon in Matthew Lopez's The Whipping Man (January), and never bothered to audition anyone else. It was easy to see why. As the text tells us that the entire household, master and bondsmen, are Jewish, Simon must take over the seder when the master, Caleb (Gregory Perri), a Confederate officer, is wounded on the last day of combat. Peck knew how the formerly oppressed could embrace his former oppressor.
The world premiere of Brian Parks' House (September) at Ithaca's Kitchen Theatre provided one of the three most hilarious evenings of the year. Director Margarett Perry, a specialist in coruscating dialogue, knew how to get the most out of these previously unheard lines. The comfortable, somewhat older couple (Matthew Boston and Elizabeth Meadows Rouse) doesn't want to turn over their domicile to the grasping youngsters (Matthew Bretschneider and Dana Berger). The only distraction was trying to remember that the now lovely even girlish Ms. Rouse had two years previously been a comic actress of an entirely different mien. She was then the plus-plus size dreadnaught etiquette teacher in Mrs. Mannerly (July 2012).
Although the Redhouse's The Color Purple (December) was professionally produced, it benefited from an influx of new and emerging talent. Beth Henley's book was faithful to the somewhat wandering structure of Alice Walker's epistolary novel, making it harder to stage. Director Stephen Svoboda pulled off what no other company has been able to do: He convinced nearly three dozen African American players, many of them local, to trust him in respecting delicate, subtle, potentially explosive relationships. In a year of many successes (like Metamorphoses in May), it was his finest hour.
Who was Syracuse Stage's favored holiday-time author this year? Charles Dickens? Jean Shepherd? No, it was John Waters, the Baltimore auteur dedicated to putting on the straights. The musical version of his Hairspray, about the integration of 1960s-era TV dance shows, was indeed family entertainment. Mary DiGangi's big-haired and big-hearted Tracy was nonstop energy. Lots of great roles for Syracuse University Drama Department students, too, especially Tristen Buettel as Amber the bad-good girl. But at the end of the year, faculty member Marie Kemp's "Miss Baltimore Crabs" won't come off the memory tape.
Community Theater
This was the year of the Les Miserables boom. First came the Baldwinsville Theatre Guild's production (January), under youthful director Korrie Taylor, with an enviable capacity for finding strong voices, several previously unknown, for the dozen or so supporting roles. Outstanding, as they had to be, were Henry Wilson (Valjean), Jason Bean (Javert), Danan Tsan (Fantine), Ceara Windhausen (Eponine), Liam Fitzpatrick (Marius) and Josh Taylor and Michaela Oney (the Thenadiers). The energy and excellence of the production convinced the Syracuse New Times that the guild merits serious, close attention. After remaining silent for a few years, David Witanowski's Wit's End Players bet the bank on a June mounting of Les Miserables at the Mulroy Civic Center's Carrier Theater. With 14 symphony players and a truck full of authentic-looking, posh costumes, the production was not fully staged but still cost $50,000, one of the most expensive community ventures ever. Director Shannon Tompkins, who had previously helmed high school productions, knew which stops to pull. Josh Mele's Valjean was a career highlight, and Witanowski's own Javert laced villainy with tragedy. Top local performers graced important roles: Erin Williamson (Fantine), Marissa Bregande (Eponine), Maya Dwyer (Cosette) and C.J. Roche (Marius). Veterans Jodie Baum and Shawn Forster were so fabulous as the vulgar, loathsome Thenadiers, they should give some thought to putting all their bits together, especially "Master of the House," into a free-standing cabaret.
Dustin Czarny's Central New York Playhouse in Shoppingtown became the busiest venue in the area with 12 productions (one a world premiere), several cabarets and improvisational shows from Don't Feed the Actors. Dan Rowlands' staging of Evil Dead: The Musical (November) was the most outrageous (a "splatter zone" with sprayed raspberry juice), but Stephfond Brunson's mounting of The Wild Party (May), Andrew Lippa's portrait of 1920s-era debauchery, was the gutsiest. Leila Dean's Queenie was one of the most indelible appearances of the year.
The triumvirate of companies, including the professional Redhouse and the non-professional Appleseed Productions and Rarely Done, launched the second annual District Festival (June), all employing the same set on the tiny Redhouse stage. Unfortunately, the shows were launched on the busiest weekend of the year, with seven shows including the annual Syracuse Stage gala. Although Rarely Done's Company suffered from a lackluster lead, it was in many ways one of the more brilliant shows of the year. Conspicuous talent in supporting roles included Carmen Viviano-Crafts, Korrie Taylor, Liam Fitzpatrick, Julia Berger, Natalie Paige Goldberg, Lzay Whelan and Catie Bauman. Cathleen O'Brien Brown's sulfurous "Ladies Who Lunch" has knocked around this reviewer's memory for the last six months. The epic sweep of Frank Wildhorn's Civil War seemed least suited to the intimate Redhouse space. So director Sharee Lemos, under the Appleseed flag, yielded the most from intimate solos, such as the grieving Aubry Ludington Panek's "Five Boys" and soldiers from clashing armies, the Blue (Justin Bird) and Gray (Trevor Hill). Host director Stephen Svoboda brightened the fantasy of the ever-cheerful Frog (Chris Coffey) and downcast Toad (Dan Tursi) in A Year With Frog and Toad with a chorus of 13 in sequins, top hats, canes and feathers.
Garrett Heater, the most successful-ever Syracuse-based playwright, stretched his string of hits to four with Lincoln's Blood (November). Three parallel stories unfold achronologically about couples affected and changed by the assassination. Despite excellent performances all around, with extra applause for Karin Franklin-King in a rare return to dramatic roles, the most compelling story was the least known: The guard (played by Darian Sundberg) who failed at Ford's Theater suffered a wrenching guilt that led to his and his wife's (Maya Dwyer) destruction.
In a lifetime of preparation, beloved actor, teacher and director Gerard Moses was ready to take on King Lear (February) for the Syracuse Shakespeare Festival. Early in the action, Moses gave us one of the most benign, even ingratiating monarchs–all the more emphasis to contrast with the terrified and terrifying rages that must follow. Veteran actor and SUNY Oswego faculty member Mark Cole delivered a Fool with more laughs from those well-worn lines than we have ever heard in these parts or anywhere else.
Central New York Playhouse has been most generous in opening the door to first-time directors, many of them longtime performers. The most ambitious of these was Justin Polly with the epic documentary of small-town homophobia, The Laramie Project. Just keeping the 23 performers blocked and ready on the small stage was an achievement. Some of his casting relied on can't-miss strong performers, including Jim Uva, Kimberly Panek and Binaifer Dabu, but his major discovery was David Spiro as the tough-talking limo driver.
When the original lead for Appleseed's The Prisoner of Second Avenue (February) became seriously ill, director Tina Lee turned to her husband, respected supporting playing Robb Sharpe (Exonerated), to fill in. Although Neil Simon characters are not usually thought to have much depth, Sharpe portrayed a wide range of emotion, frustration, anger, absurdity, tenderness and pathos. Quite justly, his first lead won him a SALT Award. Maybe there's something to wives directing husbands on stage.
The sole entry this year from Salt City Center for the Performing Arts was a tribute and a labor of love. Company stalwart Bob Brown took on the role of Tevye for the first time and repeated the world-weary trudge of company founder Joe Lotito. Brown had first observed Lotito in the role 42 years earlier, but still put his own distinctive mark on the monologues and solos. Under the direction of Brown's spouse, Cathleen O'Brien Brown, with music direction from Abel Searor, Fiddler became a true, inexhaustible evergreen. Credit support from Carol Ditch Bennett as Golde and Anthony Wright as the Fiddler himself. For artistic and sentimental reasons, this Fiddler was one of the sweetest revivals of the year.
Summertime Productions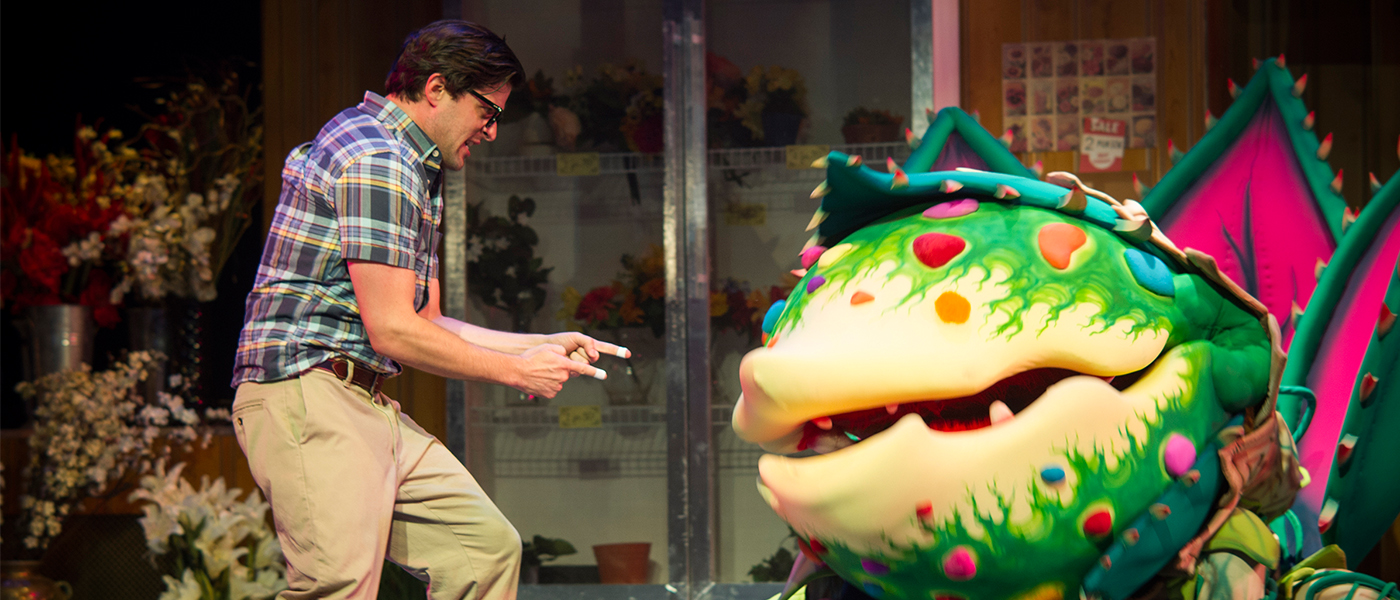 Longtime veteran actor David Studwell, who has also appeared at Syracuse Stage, was the busiest performer in summer theater. In June, under Meg Waldman's direction he became more vulnerable as a surprisingly introspective Mark Rothko in John Logan's Red at Ithaca's Hangar Theatre. A few weeks later he was back as the ethically challenged owner of the Little Shop of Horrors (July), also directed by Waldman. His ironic but boisterous, klezmer-themed "Mushnik and Son" stopped the show. Then, scooting up the road, he appeared as the patsy financier Pitkin W. Bridgework in the smash production of Leonard Bernstein's On the Town (August), directed by Brett Smock at Auburn's Merry-Go-Round Playhouse.
Although On the Town was slated months before word of Ed Sayles' departure, its brilliance and high energy became the de facto calling card for the new Brett Smock era in Auburn. Complementary with Sayles' tastes, Smock has won admirers in Auburn by playing up the edgy, urban and chic. For summer 2015 he is scheduling the area premiere of Saturday Night Fever.
In a curtain speech a month before, Cortland Repertory Theater artistic director Kerby Thompson said, "A lot of people would like to see how we're ever going to squeeze Les Misérables on our stage. And (two-beat pause) I'd like to see that, too." Credit director Sam Scalamoni, who knew there were hidden pockets of space in the Pavilion at Little York Lake. Longtime costumer Wendi R. Zea was Scalamoni's equal in magic-making. This was the finest Cortland Repertory production ever, and that's what the new SALT Academy agreed, too.
Outwardly a blue state-red state domestic comedy drama, Jon Robin Baitz's Other Desert Cities (August) at the Hangar was the most scintillating circus of ideas seen all year. By making the complacent reactionary mother Polly (Susan Cella) an embodiment of all that playwright Baitz dislikes, he inadvertently gave her some of his best lines. Under Mark Shanahan's direction, actress Cella knew how to run with them.
Merry-Go-Round's artistic director Ed Sayles departed the scene in June by trailing clouds of glory. His Mary Poppins was quite visibly the most expensive and complex production of the company's history. The book by Julian Fellowes (Downton Abbey) restores much of the acerbic class-consciousness of P.L. Travers' original books without completely dismissing the Disney Corporation's contributions. Elizabeth Earley's Mary was indeed a high flyer, but Brian Collier's choreography for the big production number "Step in Time" blew the roof off.
Cortland Repertory's All Shook Up (June) looked from a distance to be an Elvis Presley tribute, and, true, it packs in 26 musical numbers. But Joe DePietro's book, combined with Bert Bernardi's direction, are well above such pandering. The plot parodies Shakespeare's Twelfth Night while simultaneously spoofing the jukebox-musical genre. Thus, the high-falutin' gallery owner Miss Sandra (Hannah Zilber) sings the grungy "Hound Dog." Andrew Connors also mastered the stiff-legged, pelvis-gyrating dance of the thin, pre-Army Elvis in "Jailhouse Rock."
And there were final curtain calls for several theater veterans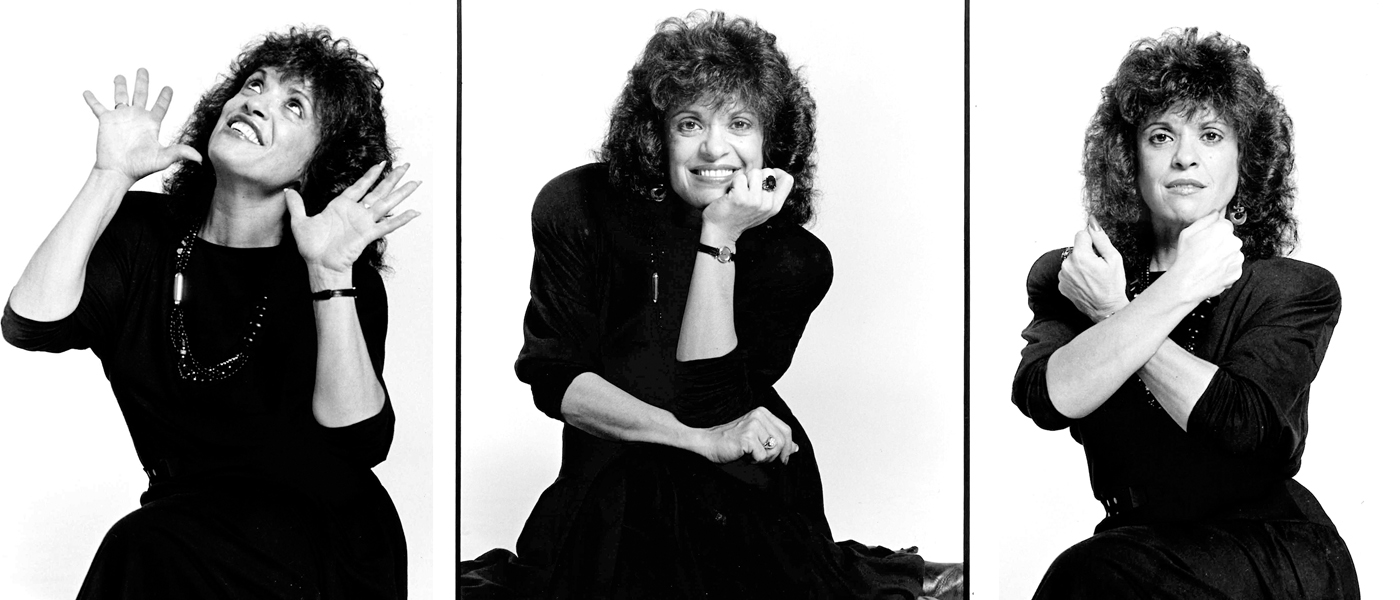 Christine Lightcap's much-lamented passing in October tended to obscure the loss of other valued personalities. Most people missed the obituary for Steve Nicholas in late December 2013. After doing honorable work with several companies, he achieved popular success with his romantic comedy Summer Solstice (2001), produced here twice. Nicholas then left town to get an advanced degree in playwriting.
In the great days of Syracuse fashion shows, Jackie Coley was a top runway model in town. As a longtime society columnist for The Post-Standard, she vigorously promoted local theater and loved to take on small roles, like Wulla Jean in The Best Little Whorehouse in Texas.
Engineer Harry Tucker had a profound knowledge of everything theatrical. He and his widow Annabelle attended more shows than any non-journalist around. Putting his money where his heart was, Harry also donated generously to everybody, even the companies whose shows he did not especially like.

[fbcomments url="" width="100%" count="on"]