Arts
Review | Taking a look at salvation through SU Drama's 'Next Fall'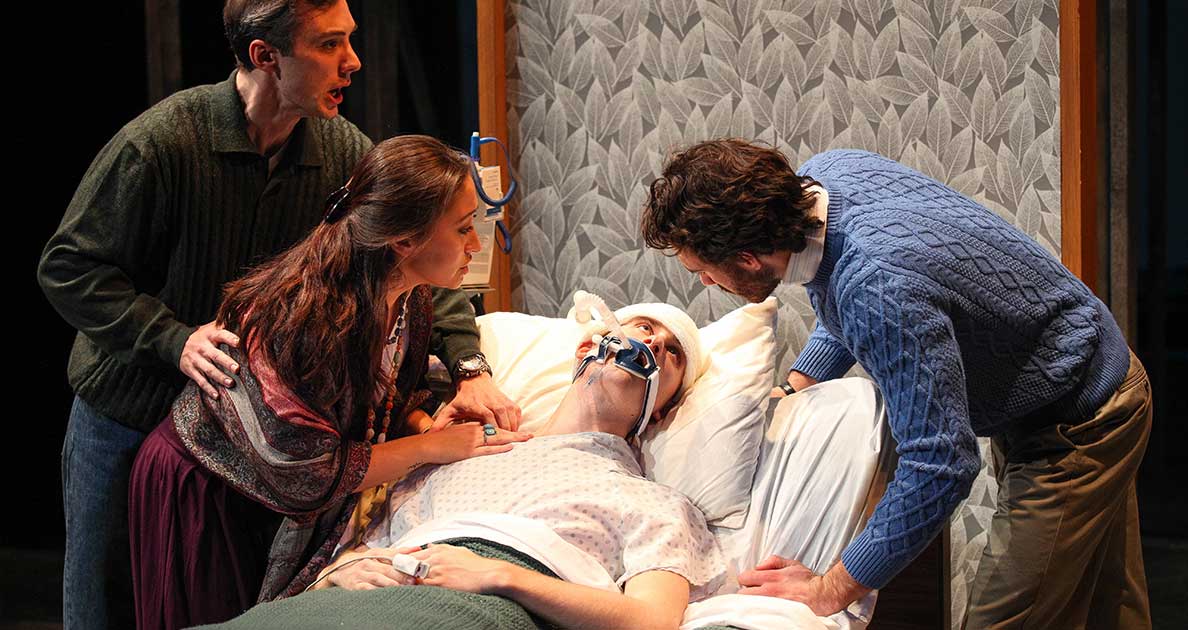 Truth, salvation, the afterlife and facing the prospect of death are just a few of the themes explored in "Next Fall," on stage through Nov. 17.
Geoffrey Nauffts' Tony Award-nominated comedy of ideas, Next Fall, made quite a splash when it first opened off-Broadway (2009), then on Broadway (2010). Several local thespians have been hankering to get to it, but the Syracuse University Drama Department jumped first; their production runs through Saturday, Nov. 17.
SU Drama's superior resources allow director and department chair Ralph Zito to solve the problems of telling a story out of sequence. Action begins on a harshly lighted platform above the stage, a hospital waiting room, while everything else unfolds below, flashing back five years. But Breanna Zahakos' set and David Jackson's lighting design mean we never forget that we're all facing the prospect of death.
The unseen Luke has been hit by a taxi. Waiting are his pals Holly (Talia Wernick) and Brandon (Michael Sloan), joined by his flighty motor-mouthed, Southern-accented mother Arlene (Kendra Kirby). With hand-sanitizer dispensers everywhere, it's a grim scene, lightened by Arlene's overly candid admissions, such as, "I used to be a loose cannon."
Late arriving are Luke's divorced father Butch (Rupert Krueger), who begins by complaining that taxi drivers are immigrants without green cards. There is also tall, bearded Adam (Nick Turturro), Luke's friend. Blue state audiences will perceive that Luke and Adam are lovers and that the parents are oblivious.
Just as playwright Nauffts was slow in introducing Luke's trouble-generating father, he is even slower in getting to Next Fall's unique premise. Adam is an untroubled atheist, while Luke (Justin Slepicoff) is a convinced fundamentalist. They met when Luke, then a waiter, saved Adam's life with the Heimlich maneuver. That led to the bedroom in an apparently long-term relationship.
Luke brushes off Deuteronomy's (apparent) condemnation of gay sex because he has accepted Jesus as his personal savior and can be forgiven. So would, he blithely explains, the murderers of Matthew Shepard in 1998. Less fortunate, he admits, would be Shepard himself, unless he repented and was born again.
Strange to say, the name "Donald Trump," then known only as a B-list celebrity, is cited in the dialogue. Nauffts' play is prescient, as the reader will have deduced, even though the playwright could never have foreseen that Trump would be idolized and accepted by large swathes of the Christian right. Nauffts never hectors, like George Bernard Shaw or Paddy Chayefsky, but he unmistakably wants us to look at ourselves anew in relation to others.
Nick Turturro gives Adam much nuance; he's no atheist saint. Justin Slepicoff makes Luke an appealing Parsifal-like innocent. And Kendra Kirby resists running away with Arlene's wild excesses, while appearing to be 40 years older than herself.
[fbcomments url="" width="100%" count="on"]