The notion of committee work typically receives mixed reviews. Decades ago, one wag remarked that a zebra is a horse designed by committee. However, the Syracuse Cultural Workers have long used a committee structure to launch their Women Artists Datebook, a pocket-sized (5-by-7-inch) publication now in its 25th edition. The 2018 datebook ($16.95) is currently being sold not only in Syracuse but across the country: via online transactions, at independent bookstores, food co-ops and small museums.
Last December, selection of poems and artworks for the datebook began with a two-track process. Georgia Popoff, the committee's poetry editor, reviewed submissions from roughly 300 poets and narrowed them down to 30 or 40. The other committee members, Lisa Mattes, Karen Kerney and Maxx Hill, looked over pieces sent in by almost 100 artists. There was a day of intense review on which they viewed images of works that had been pasted all over the walls of a large room.
After further deliberation and consultation with other members of the Cultural Workers staff, the committee chose 16 artworks and 15 poems for the datebook.
The art comes in various styles. There are pieces in lavish color like Sandy Bot-Miller's "Coping with Life Through the Lens of a Labyrinth" and stark works such as "New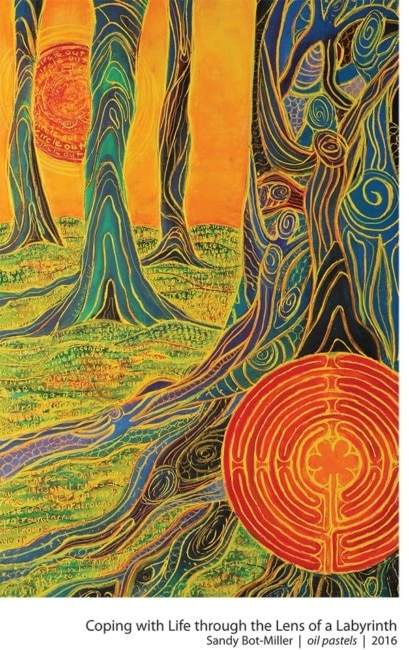 Growth," a pen-and-ink drawing by Aimee Bungard. Figurative work like Veronica Winters' "Rosa Parks' Dreamer" appears, and so does "Break the Cycle," a mixed-media collage by Maureen Farrell. Lucie Wellner's watercolor, "Winter Scene Study," subtly interprets snow-covered trees and sparse vegetation.
Lori Chilefone created "The Commute," cover art for the 2018 datebook. It shows a woman in flight over a city, involved with traveling to work, childcare, getting the day started.
The poems include observational poems such as Nancy Dafoe's "A Piece of the Berlin Wall"; intensely personal work like Andrea Potos' "Mother, Leaving"; and "Hard Work," in which Kathleen Aguero describes hope as the final stage of a journey full of striving and struggle. "Harriet Tubman's Lament," by Eliza Callard, echoes the abolitionist's voice during a trip southward to help lead slaves to freedom. And "Inquiry," by Signature Mimi, both investigates and affirms self discovery.
The publication has, well, lots of dates but the notations follow a different path from most datebooks or calendars. There are holidays listed for multiple faiths: Christian and Jewish, Hindu and Muslim, Buddhist, Baha'i and Wiccan. In addition, the datebook references the Haudenosaunee calendar by including the 13 moons of that lunar calendar. Human-rights observance is also a priority, with mentions of the Armenian Day of Remembrance, World Press Freedom Day, and National Sexual Assault Awareness Month.
Kerney notes that the datebook is hardly a mass-consumption item. With its content and publication by an independent cultural group, it falls into a small-market niche. Yet from year to year, the Cultural Workers continue to work with a press run of 4,000, selling almost all the copies of a particular edition.
The Cultural Workers also produce the annual Peace Calendar, in its 47th edition. The 2018 calendar moves from a community art space in Pittsburgh's Homewood neighborhood to a mural in Belfast, Northern Ireland, depicting Frederick Douglass, Bob Marley and other figures, from a photo collage detailing protests at the 1968 Olympics in Mexico City to images of the Jan. 21, 2017, Women's March on Washington, D.C. Other illustrations focus on permaculture, the refugee crisis in Syria, and months of demonstrations at Standing Rock, S.D.
Such products originate in the Cultural Workers' office at 400 Lodi St., within the Hawley-Green neighborhood and a hub of grassroots organizations. That office is a half-block from the ArtRage Gallery and the storefront for In My Father's Kitchen, an organization that feeds and supports people who are homeless.
Kerney says that the office has both a local home and a national imprint. "In some ways, we're better known nationally than locally," she said.
During the holiday season, the Syracuse Cultural Workers' showroom has extended hours on Mondays through Fridays, 9 a.m. to 6 p.m., and Saturdays, 11 a.m. to 5 p.m. For more information, call (315) 474-1132.
[fbcomments url="" width="100%" count="on"]