Arts
Acclaimed singer Nancy Kelly to be honored at Cazenovia jazz event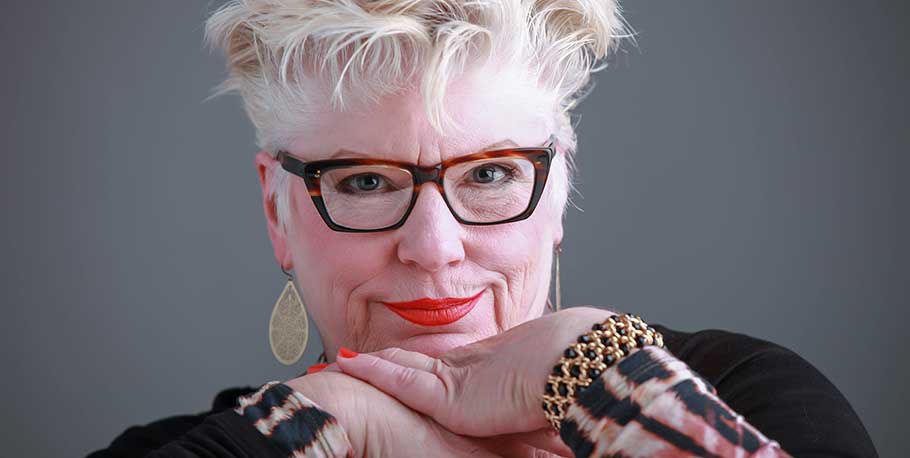 Nancy Kelly has been a dominant figure on the Central New York jazz scene for more than 40 years. Trained first as a pianist and later as a vocalist at the Eastman School of Music in Rochester, Kelly's innate sense of phrasing and swing has earned widespread accolades including "Best Female Jazz Vocalist" in Downbeat magazine's readers poll twice. Kelly's first CD Live Jazz reached No. 11 on the Billboard charts, and her fifth, B That Way, spent eight weeks in the Top 50 on the Jazzweek charts.
A frequent performer at the leading jazz venues in New York City, Kelly has also toured in Europe, Japan and Asia. Kelly's new CD Remembering Mark Murphy, a tribute to the late Fulton jazz singer, will be released Oct. 31.
Kelly will appear during the 17th annual Jazz-N-Caz event on Saturday, Sept. 15, 7:30 p.m., at Cazenovia College's Catherine Cummings Theatre with the all-female Diva Orchestra, where she will receive the 2018 Jazz-N-Caz Award for her contributions to the local jazz community, joining previous recipients broadcaster Leo Rayhill, musician and promoter Larry Luttinger, and vocalist Ronnie Leigh. For Jazz-N-Caz information, visit Cazenovia.edu.
Kelly spoke to the Syracuse New Times recently in her studio at Subcat Music Studios.
In addition to being a singer you are also a vocal teacher. How do you teach jazz singing?
My focus is on technique, teaching someone how to implement sounds correctly. We're very heavy on how to use the instrument correctly before we even look at music. Maybe three or four of my 30 students are interested in jazz. I use the Great American Songbook — America's classical music — because of how well written it is. I discourage pop (music) because then they want to copy somebody. It's good to give them pieces that they aren't familiar with.
When and how did you become interested in singing jazz?
I'm a classically trained pianist, somewhat of a virtuoso. But The Beatles came out and I gave it all away and wanted a guitar. Then I headed a rock band. I wanted to learn and do more stimulating things that were intellectually and spiritually advanced. I went from rock to rhythm'n'blues and then to a jazzy horn band and then I found jazz.
Who were your early influences?
Louis Armstrong. Count Basie. James Brown for the rhythm. Aretha Franklin for the swing. Billie (Holiday) for the lyrical, emotive singing and sincerity. There's something that you learn from each person you study.
How would you describe your style of singing?
I'm a very lyrical singer, very sincere, very emotional. Technically, swing is my main thing, something I'm noted for. As of late I've gotten into more bebop, which alienates you. No one really wants to hear bebop except other jazz musicians.
What does it take to be a jazz singer as opposed to some other genre of music?
Jazz is not something you rehearse. It's a study. You take a standard, and this becomes the subject that band is now going to discuss musically. Where a jazz singer is different from other singers, we are also in on that conversation. We call it spontaneous creation. I'm also very interested in stories: creating a movie in the listener's head.
Today's vocal styles favor high volume, high-register sustained notes and lots of melisma. What's your reaction to that?
A circus act. It's reality TV, but it's not reality. Good singers don't behave that way. An audience loves it when you holler. The big ending. It's something I stopped doing. Audiences want something they're familiar with or is like an adrenalin rush.
What's your view of the local climate for jazz musicians?
I enjoy doing some local events with a built-in jazz crowd, but I don't do as much of that as I used to. You would have to ask someone who's in the scene.
There are local events billed as jazz that are really rhythm'n'blues or blues. What's your reaction to that?
Well, jazz is a fun word. It's actually one of my pet peeves. People use the word jazz much too loosely. I never called myself a jazz singer until a virtuoso jazz artist, Joe Santora, said I was.
Are there any events that stand out among your past performances?
There's a lot of them. One of the really fun things that I did recently was I brought in my old friend Joey DeFrancesco at the Fulton Jazz Fest maybe four years ago. My recent tour of Asia was really great. Going to Hong Kong, Jakarta, Bangkok, Thailand. The audiences in Asia adore jazz.
You're going to play Jazz-N-Caz with the all-woman Diva Orchestra. How do you feel about that?
I think it's great. I've known (bandleader) Sherri Maricle for many years. I don't think there's any hidden meaning there. I think it's a great idea. It's a popular organization because it's a female jazz group. There are very few (female jazz) groups. The music business is a male-dominated business.
You're going to receive the 2018 Jazz-N-Caz Award for significant contributions to the local jazz scene. How does this compare to all the previous recognitions that you have received?
There's a lot of great jazz people that have come out of Central New York: Rochester, Syracuse, Utica. It's a great environment to work in. There's still a strong (jazz) community here.
Tell me about your new CD.
It's about Mark Murphy, my mentor. When I started listening to Mark I became interested in what that (jazz-singing) freedom was. I was interested in getting into something more free and expressive. Mark did it for me, Mark changed my life. He's what you call a singer's singer.
The CD is a tribute to Mark Murphy. These are the songs that affected me when I started listening to Mark, tunes that he did. Standards "Body and Soul," Freddie Hubbard's "Red Clay," "Stolen Moments." Mark wrote lyrics to a lot of these tunes.
What do you want to do that you haven't done?
Jazz people are always looking for new musical space you're working in. I always want to sing. I always want to record. As long as I'm alive I want to be making great jazz, great music. And I would like to thank Syracuse for providing many, many years of great joy in the jazz community.
[fbcomments url="" width="100%" count="on"]