Arts
MGR's 'Beehive' stars provide through-the-roof energy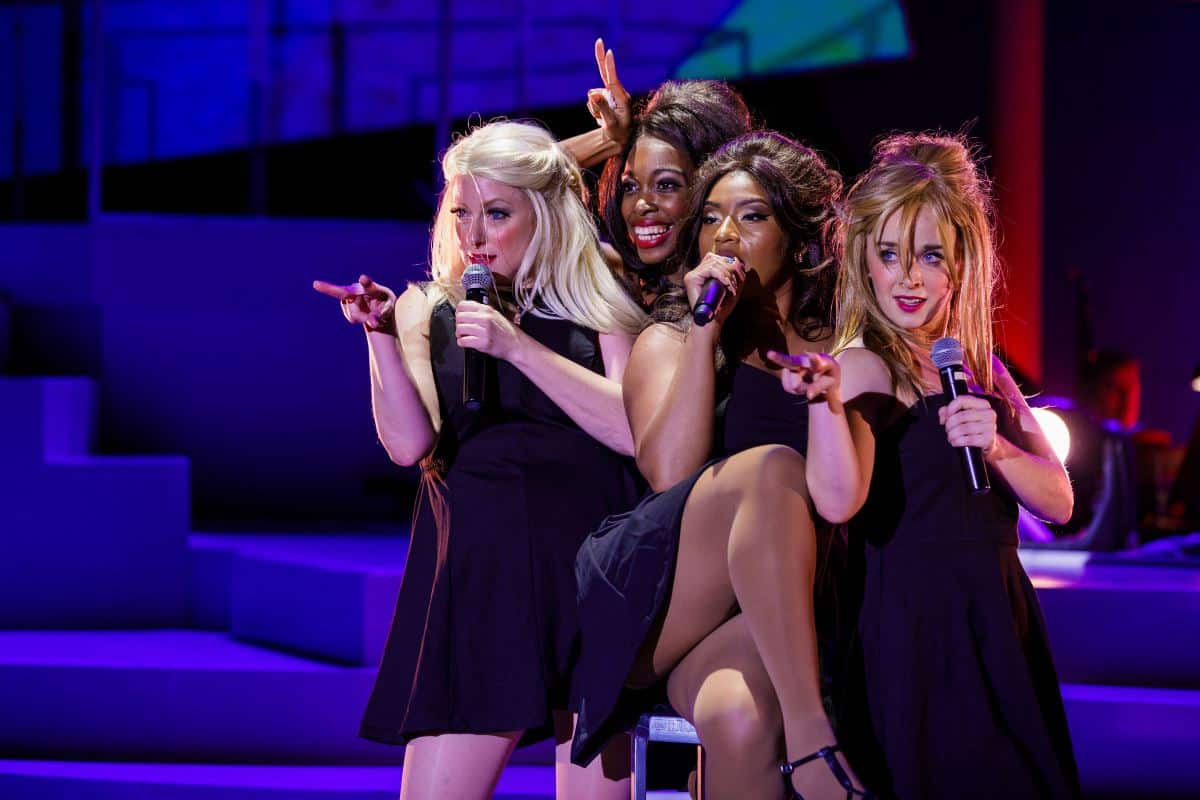 The 1960s never died. That accounts for the complete absence of nostalgia and instead supplies the through-the-roof energy of Beehive.
The 1960s, unlike any other decade, never died. They are with us all the time. That accounts for the complete absence of nostalgia and instead supplies the through-the-roof energy of Beehive, now blasting away through Oct. 6 as the season finale at Auburn's Merry-Go-Round Playhouse.
This is not a jukebox musical but more honorably a revue, only that's the wrong word. The 32 numbers performed by eight women never look back. They are clear, present and sometimes dangerous.
Don't feel left out if you have never heard of Beehive or its creator Larry Gallagher, who died in 1988. The show began as a low-budget cabaret that ran for a long time at Washington's Top of the Gate, in the Watergate Hotel. Never on Broadway, Beehive has been gaining volume at select venues around the country for two decades and is receiving its poshest production anywhere in Auburn.
Director-choreographer Brett Smock has poured extensive resources into this post-Labor Day show, when the company usually cuts back. Scenic designer David Arsenault and lighting designer Dan Ozminkowski provide a set of Chinese puzzle complexity, with stairways leading into the air and stages at multiple levels. As if that were not enough, the scenery is surrounded by 12 irregular panels on which are projected such items as a vintage black-and-white TV ad for hairspray featuring the septuagenarian Three Stooges.
If readers don't know the show, they'll know every performer depicted, from Diana Ross to Tina Turner to Janis Joplin. Significantly, the program is not so patronizing as to name them even when it gives every title. Hipsters, however, get extra credit for Lesley Gore of "It's My Party."
Four singers are African American, and four are white, allowing the subject of race to be treated with utmost tact. Many numbers are unselfconsciously integrated but five of the first nine numbers are performed by the black performers alone. Cultural appropriation is a sensitive subject these days, but Smock and company are allowing that the origin of 1960s rock is in the urban north, especially Detroit, home of The Supremes and Aretha Franklin.
This leads, ironically, to the paradox of the show's title, when spray-inflated hair flourished in the pre-Beatles era. Makeup designer Alfonso Annotto has supplied about 20 excellent changes of wigs, but the hairsprays appear only in the first three numbers. By the time the girls get to Woodstock they were all letting it hang down naturally.
Music director Corinne Aquilina and her ensemble of six, so accustomed to show tunes during a typical MGR summer, command the rock idiom with authority. Beehive's eight cast members are top performers with sterling credits, but some are allowed outstanding solos. These are not imitations as much as tributes, without the original singer ever being named.
The first is Crystal Sha'nae as Aretha Franklin in "I Never Loved a Man (the Way I Love You)." Brittney Mack actually does stop the show with her tributes to Tina Turner in "River Deep, Mountain High" and "Proud Mary." And Abigail Raye impresses early as Dusty Springfield but really sets the stage on fire with three faces of Janis Joplin, especially the death-defying "Cry Baby."
[fbcomments url="" width="100%" count="on"]