Art
Blowing it up from the inside: How punk rock, cartoons influence artist Tommy Lincoln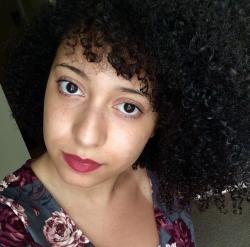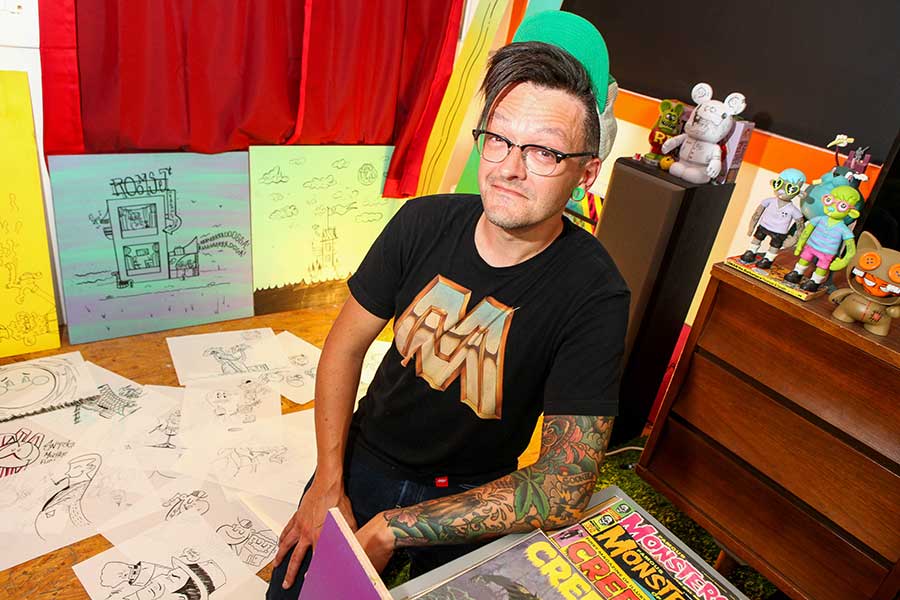 During a segment on the July 23 edition of WSYR-Channel 9's infotainment show Bridge Street, Syracuse New Times publisher Bill Brod chatted about the Street Painting event that would be held July 28 during Arts Week in downtown Syracuse.
Accompanying Brod was an artist wearing a Four Color Demons T-shirt (the self-described motorcycle club for comic book fans), a pyramid studded belt and lime green gauges. Using chalk on  a stretch of pavement, he sketched a cartoon-style pencil that was curved at the side, had tiny bumblebee wings and was spelling out a curly "lol."
That man was local graphic artist Tommy Lincoln, who has been redesigning the Syracuse landscape for more than a decade. He is the creative mind behind more projects than most people realize.
"I don't think people know what I'm really doing, and that's something I sort of like," he said.
The coffee cup benches outside Café Kubal on South Salina Street, the stylized peaks and the lumberjack-like man that make up the CNY Brewfest logo, and the funky, mustachioed doughnuts of Glazed and Confused are just a few of the things Lincoln has come up with over the years. Pair that with the sun and moon mural in Syracuse's Lipe Art Park and his role as the artistic director of Mayor Ben Walsh's 2017 election campaign — including the iconic and colorful Syracuse city skyline — and one can tell Lincoln's creative impulses have had an impact on the Salt City.
Lincoln has always been interested in art, having been raised on a steady diet of cartoons, comic books and punk rock. Walking into his studio at the Gear Factory along South Geddes Street is almost like entering a funhouse, with boldly colored curtains, a wall covered in shaggy orange fuzz; and an eclectic array of Lincoln's art and skateboards hanging for décor. His desk sports a Misfits statuette, three stacked books (Pixie and Dixie and Mr. Jinx, The Flintstones and Yogi Bear, all from the Hanna-Barbera cartoon stable) and what would appear to be a strange plastic rabbit, but is actually a limited edition toy made by French graffiti crew 123Klan and designer Rolito.
"The art that's fun and funny, that's more my universe," he said. He described his style as cartoony, and many of his pieces feature dramatically defined linework.
He decided to pursue illustration and graphic design in college, getting a bachelor's degree from Cazenovia College in 2003 and a master's degree from Syracuse University in 2005. It was at college that he began to wander into the digital world, when the internet was still new and things like Flash were just rolling out. After his schooling was complete, he found himself invited back to the classroom and ended up teaching at both colleges.
"'No matter what you're doing,' I told my students, 'You have to stay fresh,'" Lincoln said. "I would see it in jobs I was in. There's older people in the industry that when the industry changed, they didn't stay on top of the game, and they were slowly getting phased out of the system. And it's like, I don't want to get phased out, ever!"
That phrase would later become the title of his graphic design business: Stay Fresh. Lincoln started the company with a small team more than four years ago, and now works alongside Chris Sorrentino for programming and interactive content, Graham Fleming as the project manager, designer Kate Palermo and Jessica Montgomery as head of photography.
"I get to bring my art into the corporate world," Lincoln said. "I listened to a lot of punk rock when I was growing up, so I sort of treat it like I snuck into the system and now I get to blow it up from inside."
Lincoln said he always tries to bring a creative aesthetic to every project. The coffee stains on the logo of 1911's Cold Brew Coffee Vodka are digital scans of real coffee stains. And the watercolor honey bee on its Honey Hard Cider was a real painting Lincoln did before cleaning it up digitally.
"Being able to add something into it that's a little twist or a little flair that will create a more immersive experience for that brand is a smarter approach — and a little more of a strategic approach — than doing it solely from a marketing standpoint," he said.
To do this, Lincoln first immerses himself in the project. When brainstorming the Cold Brew Vodka design, he had some Recess Coffee brewing nearby (the coffee used in the drink) and blasted music by Recess co-founder Jesse Daino's metal band. He'll often carry tiny notebooks around with him while walking through the city, with Sunday-morning flea markets as one of his favorite places for inspiration. The pages will be filled with concepts and sketches based on what he sees.
"Sometimes I'll see someone and think, 'He'd make such a funny doughnut!' or if someone has a really memorable mustache I'll sketch it out quick," Lincoln said, referencing his Glazed and Confused toons.
"Sometimes they look at me like I'm crazy, because they'll be like, 'We should make one with arms and legs and it's running,' and I'll just go, 'Doughnuts don't have arms,'" he said. "And it's weird, because the doughnuts don't have arms, and they don't have feet, but they have faces and mustaches. But those are just the rules of the world that I made, and I try to stick to those rules as closely as possible."
Lincoln noted three of his favorite projects. His ongoing partnership with Beak & Skiff has special meaning to Lincoln, since he has been going to the orchard to pick apples since childhood. "These people have treated me like family, and that's really nice."
Helping Ben Walsh win the mayoral seat for the city was another obvious highlight. And there's the graphic work he did for the podcast Tell 'Em Steve-Dave! with hosts Brian Quinn of Impractical Jokers and Walt Flanagan and Bryan Johnson from AMC's Comic Book Men. The podcast runs on Kevin Smith's SModcast Podcast Network.
While the Liverpool native originally thought he'd end up somewhere like California (mainly for the warmer climate), he said sticking in Syracuse and giving back to the city has been rewarding.
"If you're doing this for a big company, then cool, do that," he said. "But I'd rather be doing it for the dude who's trying to open a restaurant and build his life, because even if that logo goes away, I still helped this guy bring his dreams to fruition.
"I'm just here to please the people of Syracuse. I try to make things look cooler and a little bit more fun. And there are some people who don't like fun, but they still sit on my coffee cup benches."
[fbcomments url="" width="100%" count="on"]