Arts
Cortland Rep performers keep their own flare during swizzle-stick nostalgia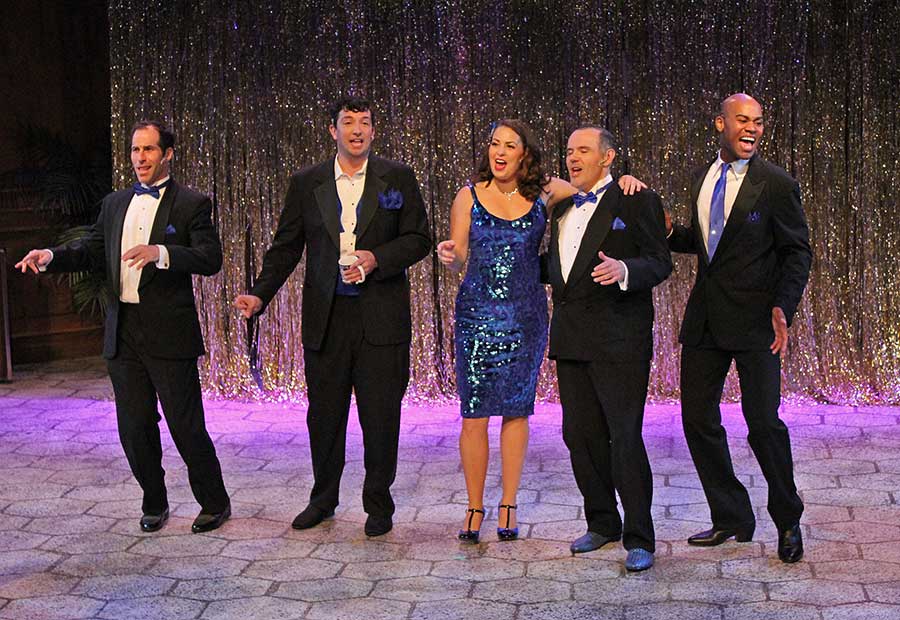 The summer shows from Cortland Repertory Theatre are coming to a close with The Rat Pack Lounge, a musical salute to the era of Frank Sinatra, Dean Martin and Sammy Davis Jr. that runs through Saturday, Sept. 8.
The show is not being performed at the Little York Lake pavilion, however. Cortland Rep is presenting this unknown but somehow familiar musical review — guided by director Mark Reynold, who helmed Newsies earlier this summer — at the company's very contemporary but still intimate downtown location, 24 Port Watson St.
All five singers — four men, one woman — and the three musicians under the lead of Joel Gelpe, meet or exceed Cortland Rep's conspicuously high standards. And all the music is golden, too. Any audience member old enough to remember when telephone numbers had words in them, like Lincoln 2-4626, will know and very likely savor every one of 29 pre-rock hits.
The narrative package, written by James Hindman and Ray Roderick, alas, is not as winning as the music or the performers. Obviously inspired by Forever Plaid, which Rat Pack Lounge resembles, there's too much contrived talk about death and redemption that does little to enhance the performances. At times it also looks like a non-holiday steal from It's a Wonderful Life.
The Rat Pack Lounge is a tacky, falling-apart pub in the boonies. A prominent sign on the shabby set announces that it's January 1999, by which time all the well-remembered principals were dead, or, as the script puts it, "with God." Frank Sinatra had made a promise to return if needed, and the despairing bartender Vic Candelino (Marcus Goldhaber) has a gun and is thinking of saying goodbye to the cruel world. That's when the spirits of Frank, Dino and Sammy decide to come down to inhabit the bodies of convenient barflies, while retaining their celestial and historical identities.
Despite the clumsy contrivances, the performers are able to knock out the music we're hearing, like "My Way," and have no obligation to mimic the show-biz icons. For example, actor Scotland Newton plays Bobby Goldberg, the only black man in the tavern. Bobby will be possessed by the spirit of Sammy Davis Jr., even though Newton is taller and much handsomer than Davis. Additionally, in the few ballet steps Newton executes, perhaps improvised, he's a far more impressive dancer than Davis was.
Newton evokes rather than imitates Davis. His delivery of the Davis standards "Something's Gotta Give" and "What Kind of Fool Am I?" will still remind audience members where they were the last time they heard them.
Matthew Krob, who becomes Dean Martin, and Jason Plourde, the ghost of Frank Sinatra, are divided in their approaches. Even though he does not have to, Krob is highly credible with Martin's speech patterns, ubiquitous booze gags, and feature numbers like "Volare." Plourde is an excellent articulate tenor but never attempts Sinatra's sang froid panache.
Blaire Baker, "the sole chick" (to use a period term) in the production, transforms before our eyes from a repressed nerd to voluptuous Angie, sounding like Peggy Lee. And Marcus Goldhaber as Vic, the suicidal bartender from the opening, ends the show with vocals to match the best of them.
[fbcomments url="" width="100%" count="on"]