Arts
Classics reillustrated with new flourishes in Cortland and Ithaca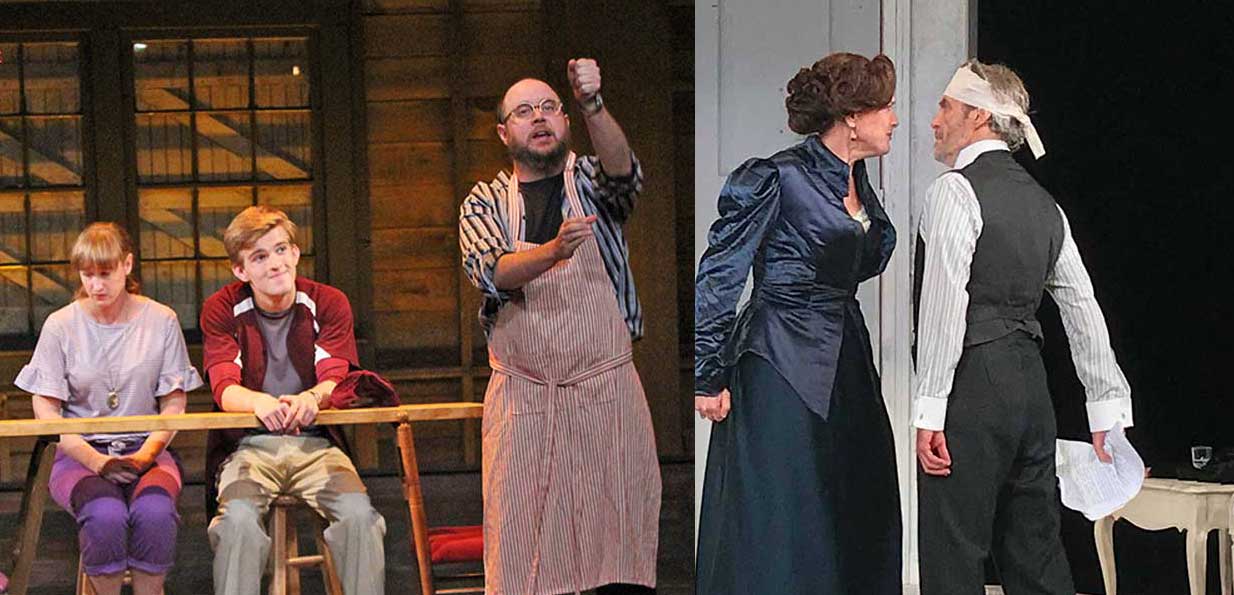 "Our Town"
Cortland Repertory Theatre artistic director Kerby Thompson prerecorded his curtain speech for Thornton Wilder's Our Town (running through Saturday, Aug. 11), as he dropped his usual gesture of taking a costume from the show when speaking (usually good for a giggle). That's because as the actual director of this evergreen American drama, he has already put so much of himself into it, even while taking a role.
As one of the four or five works that everyone knows, like The Odd Couple or To Kill a Mockingbird, any production of Our Town has to retain what everybody loves while getting audiences to look at it anew. Thompson is also following Wilder's famous advice about the show: Avoid sentimentality and ponderousness and present it "simply, dryly, and sincerely."
Thompson's approach builds on the central paradox of Our Town. It celebrates the intense beauty to be known in the lives of ordinary people but presented with the stagecraft of the European avant-garde from the two decades before the premiere in 1938, what we today call metatheater, with a completely bare set, constant intrusions through the fourth wall, and scenes presented out of sequence.
Action is supposed to take place between 1901 and 1913 in the fictional town of Grover's Corners, New Hampshire, based on the actual Peterborough home of the MacDowell art colony (which never appears). Adults appear in period costumes, and through sound effects we learn that milk is still delivered on horse-drawn vehicles. But all the young people are dressed in contemporary outfits, one with a back-turned baseball cap. Disorienting? Yes, that's the point. Thompson does not want you to forget that theater is artifice.
Heeding Wilder's advice about avoiding ponderousness, Thompson has cast round-faced Jason W. Shipman as the tone-setting Stage Manager. Twenty years ago productions of Our Town provided steady employment for the likes of Hal Holbrook, but Shipman is a natural comic, memorable for taking a dozen shape-shifting roles in last summer's uproarious production of The 39 Steps.
After two high-volume dance musicals at Cortland Rep, Our Town is disarmingly quiet, with no body mikes and many characters speaking in stage whispers. Characters constantly mime action, like snapping the pods of green peas or making strawberry milkshakes. In one of the best-directed scenes, the loquacious editor Mr. Webb (Patrick Webb) and the amiable Constable (Doug Walls) confront the drunken organist, Simon Stimson (Kyle Kniseley), the town misfit. In chilling silence we perceive unspoken guilt and private demons.
Subtle and touching as many of the 25 players' actions are, Thompson's staging of the final scene in the cemetery is what sets this Our Town apart from countless others. Instead of returning to a day three decades before the play's premiere, it is set during the likely childhood of many audience members, perhaps 1949 or 1950. It's not nostalgia but the miracle of an ordinary day, in a dialogue between an intelligent daughter, Emily (Heather Arney), and a mother (Jan Labellarte) who sacrificed for love.
"A Doll's House, Part 2"
As the revival of Our Town continues in Cortland, farther down the road in Ithaca is Hangar Theatre's area premiere of Lucas Hnath's acclaimed A Doll's House, Part 2, also running through Saturday. The faithful family servant Anne Marie (Susannah Berryman) greets the well-dressed woman at the door: "Nora, Nora, Nora." Steve TenEyck's emphatic lighting design underscores the entrance, which reverses one of the most celebrated exits in world drama.
That was when Nora Helmer walked out on her stifling marriage in Henrik Ibsen's A Doll's House (1879). It's 15 years later and Nora (Linda Larson) is living independently from a comfortable income writing women's fiction. She's on a mission: She needs a proper legal divorce made difficult by the law of the time.
We are simultaneously in Ibsen's time, 130 years ago, and in our own. TenEyck's stark set design looks like the 19th century, and the plaster is cracking, perhaps because it lacks a woman's touch. All characters wear period costumes, but they speak in contemporary American idiom, sometimes with Mamet-esque saltiness.
This is not Masterpiece Theatre. Hnath is taking the "problem" (women's loss of self in marriage) from Ibsen and re-examining it. The issue remains a topic worth examining because there is no single, simple answer, neither feminist nor anti-feminist.
Certainly, Hnath's Nora has found the fulfillment she sought, with no second-guessing. The casting of Linda Larson as Nora is critical, and she has been a favorite of director Michael Barakiva for some time. (She was in Syracuse Stage's May 2011 production of The Clean House). Her Nora is reasonable and empathetic, anything but a strident, self-centered ideologue of conservative caricature. That's the easy part. The drama is that she has come home.
Barakiva's casting of the other three roles again prefigures perceptions of the characters. Susannah Berryman, as the long-serving retainer, is not only a senior drama faculty member at Ithaca College but she's also one of the most experienced and beloved performers in the area. Thus when Anne Marie greets Nora with the taboo observation, "Oh, you've grown fat," we laugh, or at least giggle, at her candor, but know she will not hold back. We also know she is not merely a kvetch in speaking about what she lost from Nora's departure.
Similarly, Tolvald is played by Greg Bostwick, another experienced and well-liked actor. Bostwick is sufficiently versatile to create a male chauvinist cad, if called upon, but his default persona implies a more than halfway decent fellow who was never allowed to finish his conversation.
Thus the newcomer, Ariel Blake as the grown daughter Emmy, delivers the surprise. She could be the Nora from the advent of Ibsen's play who would like to have a life of shared domesticity but was denied the chance to see that model at home.
This Hangar Theatre production is shorn of the rollicking humor described by reviewers and playgoers of the 2017 Golden Theater mounting. Yet it is an excellent presentation of one of the most provocative and talked-about dramas of the last two years.
[fbcomments url="" width="100%" count="on"]