Arts
Ithaca musician chronicles history of East Hill Classic Jazz Band in latest book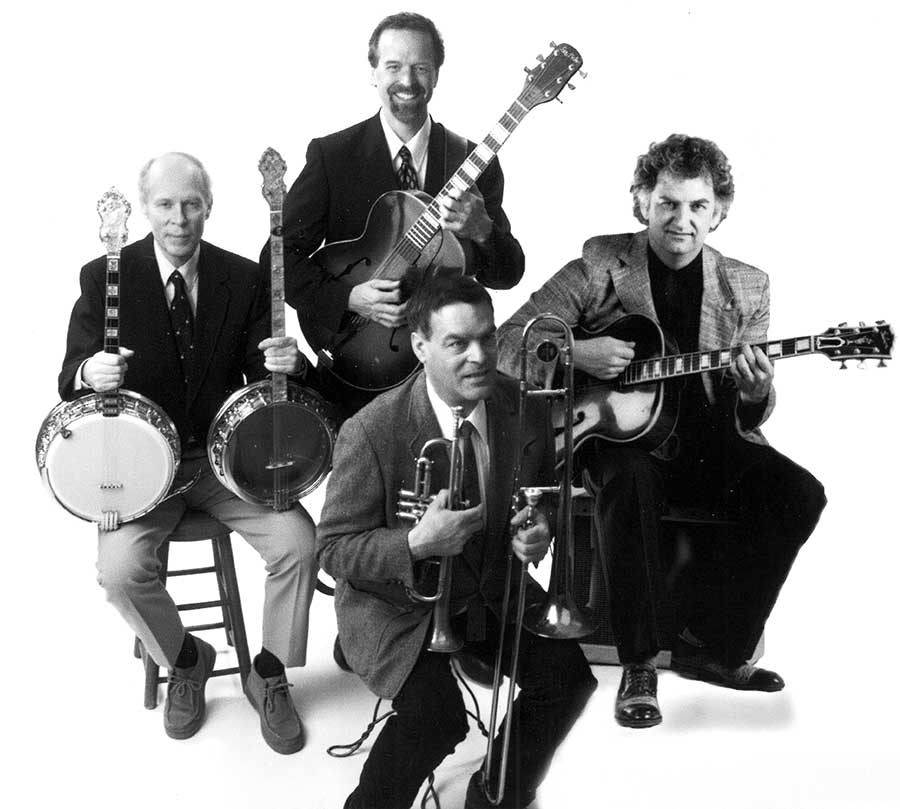 When your repertoire boasts more than 1,000 tunes, you never know what you're going to play next.
"That's kind of true," says Ithaca guitarist Doug Robinson, co-leader of Johnny Russo's East Hill Classic Jazz Band. And that's part of the attraction for Russo, a multi-instrumentalist who also vocalizes and waxes eloquent about the origins of his tunes, many of which he wrote himself.
A versatile brassman, Russo started out in classical music, but found himself drawn to the freedom of jazz improvisation. Now he has chronicled his long, strange trip from symphonic strictures to unrestrained jazz sessions in a new book published by the History Center in Tompkins County.
Ithaca Our Home recalls the musicians and music halls of Russo's adopted home of Ithaca. He was raised in nearby Geneva, where he starred as a quarterback for his high school football team.
The book reflects on the long existence of Russo's East Hill Classic Jazz Band, with detailed remembrances by Johnny and his musicians, along with an 18-song CD of original songs with printed lyrics inspired by the community that supported the combo's career. The songs include "Aurora Street Blues," "College Avenue Strut" and the "Mystery of Taughannock." Various photos show the band in action in diverse settings, including the Ithaca Farmers' Market, Cornell's Fraternity Row, wedding receptions and even Carnegie Hall's Isaac Stern Auditorium, where the group performed in 2003.
Russo, 74, is a graduate of Rochester's Eastman School of Music. He was trombonist with the Eastman Wind Ensemble and the Eastman Philharmonia Orchestra, where he performed the "Firebird Suite" under the baton of the composer Igor Stravinsky. "That was a real privilege," he recalled. After a brief career in symphonic music, Russo became fascinated by instrumental improvisation, especially as utilized in traditional jazz.
Ever since founding his East Hill Classic Jazz group in Ithaca in the mid-1980s, Russo has remained a fixture in the Central New York music scene. A gifted trumpet and trombone player, he's well respected among musicians as a personable entertainer and a remarkable improviser. He has performed for decades at Cornell University social events, including 30 years at the prestigious Alpha Delta Phi Victory Club charity ball. He also plays piano and did so for 35 years of Sunday brunches at Rulloff's restaurant.
Johnny Russo's East Hill Classic Jazz Band will celebrate the publication of Ithaca Our Home on Saturday, Aug. 18, 1 to 3 p.m., at the Milton Pavilion on the downtown Ithaca Commons off State Street. The book's title was previously used by Russo for his 2002 CD Ithaca Our Home. That disc, one of five recorded with Doug Robinson, features tracks such as "Mood Indigo," "Up a Lazy River" and "Stardust."
In 2008, the Japanese record label Vivid Sound Corporation released two CDs by Johnny Russo and the East Hill Classic Jazz Band. The 13-track discs, Swingin' Happy and Swingin' Sweet, showcase songs such as "Chinatown" and "La Vie en Rose," respectively.
In 2007, Russo and Robinson paid specific tribute to Louis Armstrong and Django Reinhardt in the original composition "In Satch and Django's Day," from the CD I Have Dreamed. "Robinson's wonderful Gypsy guitar runs dance magically with Russo's golden trumpet tribute to Armstrong," raved Syracuse's The Post-Standard.
"Johnny is a prolific songwriter," Robinson said, "so he often comes in with a new tune he'll want the band to practice and we'll do that the next time we play out."
When Russo blows his horns along with the other world-class musicians in the East Hill Classic Jazz Band, his originals such as "L'Amour. . ." stand solidly alongside standards such as Louis Armstrong's theme song, "Sleepy-Time Down South."
"Johnny gets these wacky ideas, but they pan out," Robinson says. "His song 'Stuck on a High Note' (from the 2005 CD Bluebird from the Sky) is basically a novelty song: the story of a poor trumpet player who's stuck on a high note. But it got (radio) airplay. People even heard it played in France!"
While many jazzmen recoil at the idea of performing show tunes onstage, Russo and Robinson see such music as branches of the same tree to which they're rooted.
"Johnny's biggest inspirations are Louis Armstrong, Bix Beiderbecke and Jack Teagarden," Robinson reminds us, "and all of those guys played show tunes as well as their hot jazz." The Ithaca combo often trots out two numbers from The King and I: "Getting to Know You" and "I Have Dreamed."
Unlike some trad-jazz players, Russo also acknowledges pop music from the 1950s, occasionally delivering a medley of songs such as "It's All in the Game," "Deep Purple" and "Only You."
Ithaca Our Home's subtitle is A Forty Year Musical Odyssey in Tompkins County. Russo enjoyed reminiscing about the dozens of musicians he worked with over the years, including Ithaca's legendary "red-hot mama" Peggy Haine and her Lowdown Alligator Jass Band. "Peggy was tremendous," he said.
"I created plenty of work for many musicians," Russo recalled. "No jobs were taken from other bands, only new jobs in an environment devastated by the rock industry, which today has gone over the edge in vulgarity." Along the way, as a result of his urgings, all of the decrepit pianos in the many Cornell fraternities were restored to play-ability.
"Of the more than 50 musicians that worked with me over these 40 years, only about 15 remain," he said, sadly. He pointed out an early jazz influence, Salt City Six trumpeter Don Hunt, who now lives in a western New York nursing home. Russo's jazz heroes also included trombonist Dave Remington, vocalist Bernie Milton and Geneva-born drummer Ray Helmer.
"Everything about this production is fantastic," Russo said about the book's accompanying disc. "And nothing ever came out of this tremendous community before to match it. I am so very proud of this, more than when we went to Carnegie Hall, something no other private Ithaca band ever did."
With that Carnegie Hall credit spotlighted on his resume, Russo continues to front his septet and his East Hill Classic Jazz Trio, featuring Ithaca College guitarist Steve Brown, and often entertains on summer Tuesdays at the Geneva on the Lake casual luxury resort.
Some of his listeners might say that Russo is a bit, well, eccentric. "Yes, that's an accurate way to put it," Robinson says. "Johnny comes solidly from that New Orleans tradition." The implication is that on East Hill, as on Frenchmen Street, the music pours forth hot and sweet.
For information about Ithaca Our Home, contact The History Center in Tompkins County, 401 E. State St., Ithaca 14850, (607) 273-8284.
[fbcomments url="" width="100%" count="on"]