On Sunday, May 8, celebrate Mother's Day with a crew of musical moms including Jenny O'Hara Callaghan, Bea, Melissa Gardiner, Joanne Troy Perry and Tamaralee Shutt. The Moms That Rock concert, organized by Kathleen Mason of KMase Productions and musician Charley Orlando, runs from 6 to 9 p.m. at Funk 'N Waffles Downtown, 307 S. Clinton St.
Mason, who has run the KMase promotion and talent management company for three years, enjoys supporting local artists. "Charley approached me with an idea for Mother's Day, a 'moms who rock' theme," she recalls. "We put a bill together in a way that allows moms in town to have a whole day, but then they can come out to a show that honors them and watch their peers play something great."
The lineup consists of women who span the musical gamut but are bonded by their common strand of motherhood.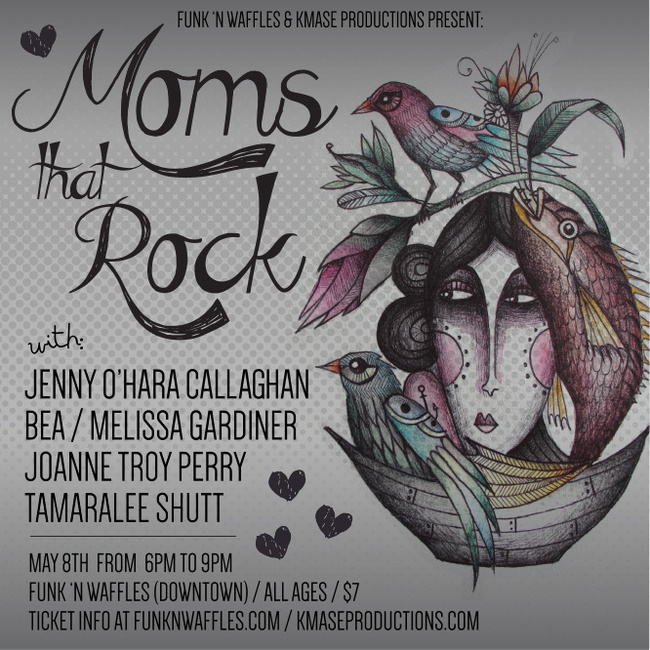 Tamaralee Shutt is a freelance graphic artist who also plays trumpet, ukulele, melodica and percussion, plus she's a singer. In the 1980s she performed in various musical theater groups and even played in a band during her pregnancy with her son, Jess Marley. She has performed with jazz groups Serendipity and the Salt City Jazz Collective, and is a member of the indie rock unit I Am Fool. In addition to Jess, now 26, she also has a 19-year-old daughter, Samantha Spadafore, and two stepchildren, Crista Spadafore, 28, and Joel Spadafore, 30.
"My biggest challenge is finding time outside of rehearsals to practice on my own," Shutt says. "During my daughter's voice lessons and dance classes, I used to sit in my car with my ukulele and keyboard so I could practice in the parking lot. I wrote a couple songs that way."
Shutt notes the sacrifices that go along with juggling duties. "Being a mom musician is a great outlet," she says. "Do I wish I were further along with my music career and touring with a band? Yeah, but sometimes you have to put the music on pause. You have to learn to balance home and performance."
For Jenny O'Hara Callaghan and her family, "You always need to make sure their needs are met," Callaghan says about her three children, Cassidi, 14, Brogan, 10, and Cavan, 6. "It's important for me to do something I love and not give everything of myself to my children. I need to share my gifts, talents and strengths. It's also important for my kids to see that I have outside interests, and that helps them to have hobbies of their own. It's important that they pursue the things they love, too."
Callaghan has performed with Dark Hollow, the longtime Grateful Dead tribute band, as well as the Shining Star Band, the Smoking Loons and various community choirs. She's also a teacher at Jowonio School.
"They love me playing and singing," she says. "But you've always got to find a balance in life: for me, being a teacher, a mother and singer."
Solo acoustic singer-songwriter Bea has a 6-year-old son, Brixton, who has also taught her the importance of balance and making space in her life for others.
"Music was the biggest part of my life for a long time," she says. "As a new mom, I thought making room in my life for a child meant removing what was taking up all the space. So I didn't write or sing or even touch my guitar for at least three years after becoming a mom. Then one day an old friend contacted me to play a show in San Francisco. When I did the show, I fell in love with it all over again. With a little rearranging, I realized there was a place for music in my life, even as a mother."
Melissa Gardiner is a full-time musician who teaches and plays with groups including her own Second Line Syracuse and jazz organ trio MG3. She also hosts her own weekly Sunday jazz jam at Funk 'N Waffles Downtown. Her son, Julien, 4, is a regular at the afternoon jam.
"He's come up on stage a couple of times and joined us," she says. "I am hoping he will join me at this show as well. He loves to dance and doesn't mind being the center of attention."
Gardiner is a professional trombonist who has shared stages with performers including Aretha Franklin. She relocated from New York City back to Syracuse when she found out she was pregnant. "I moved back to be near my family," she says. "It is difficult to be a single mom and a musician, and I really don't think it would be possible without my family's support. In a way, it has helped me set the bar where I need it to be in order to afford childcare for gigs and such."
She also notes the balancing act of motherhood and music. "I do miss being able to just get up and go out," she says. "It's much harder to be spontaneous, to travel; music is mostly a nightlife thing and not family-friendly. This has inspired me to host the jazz jam in the afternoons and encourage all ages to come. I am extremely proud that my son has been so frequently exposed to all sorts of music and culture. I am grateful to be in a place where so many are so encouraging and supportive."
Joanne Troy Perry has raised five children — Mary, 22, Michael, 20, Regina, 18, Anna, 16, and Austin, 13 — while also playing with The Unstoppables and The Combination and working two part-time jobs.
"I couldn't have been performing in the evenings if I didn't have the support of my husband, Joe," she says. "I hope it's been a positive example for our children to see their mom as multidimensional, and as someone who uses her talents for charities whenever possible. They have all shown an interest in performing. Those are positives. The challenges are significant, but not impossible."
Moms That Rock takes place Sunday, May 8, 6 to 9 p.m., at Funk 'N Waffles Downtown, 307 S. Clinton St. Tickets are $7. Visit funknwaffles.com or kmaseproductions.com.
[fbcomments url="" width="100%" count="on"]