Arts
Unusual productions on tap for the upcoming CNY theater season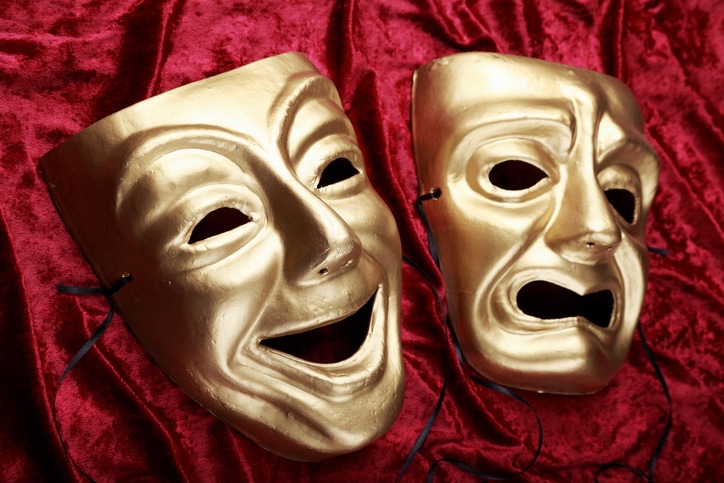 The upcoming stage season features plays with short titles (Elf), plays with long titles (Jackie Sibbles Drury's new work has 26 words) and plays with really familiar titles (The Sound of Music, Steel Magnolias). Quite possibly the most talked-about new show will be the world premiere of Kyle Bass' Possessing Harriet, the first professionally produced drama based on Syracuse history. But all drama is presented in two masks, and sometimes it's just for raucous fun, like Reefer Madness: The Musical. For the 2018 Arts Issue, here's what's coming to the stage in 2018 and 2019:
Syracuse Stage
820 E. Genesee St.; (315) 433-3275
Starting with Syracuse Stage, the push is so emphatically on the new this season that the only "classic" is 35 years old. It's the ultra-farce Noises Off (Sept. 12-30) by Michael Frayn. This heady, three-part deconstruction of the truth about comedy has been a familiar item on community stages, but our premiere professional company promises that you ain't seen it done our way yet.
Fulfilling a promise made upon his arrival five years ago, artistic director Robert Hupp has fostered a play on Syracuse history, commissioned by the Onondaga Historical Association: award-winning playwright and associate artistic director Kyle Bass' Possessing Harriet (Oct. 17-Nov. 4). A mixed-race slave named Harriet Powell slips away from a Syracuse hotel and is sheltered by legendary upstate abolitionist Gerrit Smith, where she encounters the youthful feminist Elizabeth Cady. The choices she must make are daunting.
Donna Drake directed last year's The Wizard of Oz, and so she's back to put her stamp on another big holiday co-production with the Syracuse University Drama Department: Matthew Sklar and Chad Beguelin's Elf: The Musical (Nov. 23-Jan. 6), adapted from the 2003 Will Ferrell movie comedy. In a plot reminiscent of Voltaire's Candide, the title character spreads cheer and generosity in a world of cynics and grouches. The show will feature contributions by two faculty members, choreographer Brian Marcum and music director Brian Cimmet.
In Karen Zacarías' Native Gardens (Feb. 13-March 3), a young professional Latino couple moves into a fashionable row house in Washington, D.C. Cheek-by-jowl next door are some Anglo bureaucrats a generation older. In the backyard one couple has a red weed patch, while next door there's a lush but manicured arcadia. What we have is a freewheeling satire on ethnicity, privilege, class and gardening.
Kate Hamill's frolicsome adaptations of Jane Austen have been gamboling across the country for two years, and her Pride and Prejudice (March 20-April 7) alights here in the springtime. Stripped down, fast-moving but worshipfully faithful to the texts, Hamill's versions elicit more laughter than one garners from the page. Jason O'Connell, Hamill's partner and her original Darcy, will direct.
In Stephen Karam's The Humans (April 24-May 12), the 2016 Tony Award winner for Best Play, two adult daughters in New York City's Chinatown are entertaining their parents from Scranton for Thanksgiving dinner. Syracuse Stage's season finale promises to be funny and poignant about the subject we all know: family relationships.
Since its move to downtown's main drag, The Redhouse at City Center and its bigger Austin-Allyn Auditorium means productions that reach to wider audiences. All five shows this season have proven box office appeal, and one has a local connection.
Robert Harling's Steel Magnolias (Sept. 20-30), set in Truvy's Beauty Salon in Chinquapin, Louisiana, features many one-liners that have entered the language. A Charlie Brown Christmas (Dec. 6-16) puts on the floorboards one of the most popular television specials of all time. After the holidays comes the snow-filled setting for Almost, Maine (Jan. 24-Feb. 3), about love unrequited and fulfilled among the quirky denizens of a New England boondock that bears some relationship to upstate New York.
Former Love Boat TV star Fred Grandy returns to the Redhouse to co-headline Herb Gardner's interracial comedy I'm Not Rappaport (March 14-24). Two curmudgeons sit on a park bench and squabble about the meaning of life. One is Jewish (Grandy), and the other is a black man who is nearly blind (Ted Lange, a fellow Love Boat cohort).
The least familiar production is the dance show All Night Strut (May 30-June 9), based on music of the 1930s and 1940s by Frank Loesser, the Gershwins and Duke Ellington. Although performed locally only once before, Strut was linked to the late Auburn dance legend Thommie Walsh.
Ever since M. Bevin O'Gara arrived from Boston two years ago to become producing artistic director at Kitchen Theatre Company, she has displayed a talent for provocative shows that don't come from the usual routes. She will direct the gay musical romance Girlfriend (Sept. 9-30) by Todd Almond, which was first produced in Berkeley, another college town. The title alludes to Matthew Sweet's pop album from 1993, the year of the action.
Julia Cho's chiller The Piano Teacher (Oct. 21-Nov. 4) portrays the visit of a one-time prodigy to his favorite teacher; Diego Areiniegas directs. O'Gara returns to direct the one-woman story of war, George Brant's Grounded (Nov. 25-Dec. 9). After the career of a fighter pilot (Kate MacCluggage from last year's Ironbound) ends because of an unexpected pregnancy, she operates military drones on the other side of the earth from a windowless trailer in Nevada.
Jen Silverman's The Roommate (Jan. 27-Feb. 17) sounds at first glance like an Odd Couple for women of a certain age. In Iowa City, divorcée Sharon gains Robyn, a mysterious creature from the Bronx, as a new roommate. There is a featured role for Ithaca favorite Susannah Berryman. In the depths of the Jim Crow era Jim "The Sport" Jackson aspires to be the first African American heavyweight champion in Marco Ramirez's The Royale (March 10-31). It's partially inspired by the career of Jack Johnson.
Lisa Kron's one-woman, autobiographical play 2.5 Minute Ride (April 21-May 5) travels widely, from the annual family visit to an Ohio amusement park to a father-daughter journey to Auschwitz. O'Gara concludes the season by directing Nina Raine's Tribes (June 2-23), about Billy, born deaf into a fast-talking academic family, who was never taught sign language. Kitchen favorite Karl Gregory will appear as Billy's brother David. Helming an earlier production of Tribes in Boston five years ago was a highlight of O'Gara's pre-Kitchen career.
Generations of Central New Yorkers have been introduced to Broadway glamour through Famous Artists/NAC Enterprise, the series Murray Bernthal founded after World War II.
And talk about favorite things: This year's lineup is dominated by foolproof audience winners like Fiddler on the Roof (Oct. 17-19) and The Sound of Music (Dec. 11-16). Richard Rodgers and Oscar Hammerstein's Cinderella (Feb. 12-17) originated on television, but now that a revival won a Tony Award it has become one of the most in-demand shows. Les Miserables (March 26-31) was the most popular musical of the last two decades of the 20th century, whereas The Book of Mormon (May 7-12) is one of the biggest smashes of the 21st century. These productions will run at the Landmark Theatre (362 S. Salina St.).
The one new show is Finding Neverland (May 28-30), on the life of Peter Pan creator J.M. Barrie. A musical adaptation of the acclaimed 2004 Johnny Depp movie, this boasts a new book from hot young playwright James Graham. Originating in British regional theaters in 2012, with music and lyrics by Garth Barlow and Eliot Kennedy, Finding Neverland ran for 17 months on Broadway in 2015 and 2016. This production takes place at the Mulroy Civic Center's Crouse-Hinds Concert Theater (411 Montgomery St.)
Syracuse Opera
411 Montgomery St.; (315) 476-7372
The Crouse-Hinds will also host the upcoming season of Syracuse Opera, which again plays favorites with three classics: Verdi's Macbeth (Oct. 19, 21), Mozart's Don Giovanni (Feb. 1, 3) and Kurt Weill's Three Penny Opera (April 12, 14).
Merry-Go-Round Playhouse


Emerson Park, 6877 East Lake Road (Route 38A); 255-1785, (800) 457-8897
There are a few shows left in the pipeline from Auburn's Merry-Go-Round Playhouse. The season continues with Murder for Two (Aug. 29-Sept. 15) and Beehive (Sept. 21-Oct. 6).
Hangar Theater


801 Taughannock Blvd. (Route 89); (607) 273-ARTS
Ithaca's Hangar Theater brings back its yuletide production of A Christmas Carol (Dec. 1-23).
Artistic director Dustin Czarny's Central New York Playhouse (Shoppingtown Mall; (315) 885-8960, cnyplay house.org) has now become the biggest community company of them all in its 4,500-square-foot space by doing everything from The Bard to the buds of Reefer Madness. Czarny and his colleagues are wagering that the nearly empty Shoppingtown will still be standing a year from today, with 11 scheduled productions between now and then; that's more than any other company, professional or community.
First up is Dan Stevens' direction of Agatha Christie's evergreen whodunit The Mousetrap (Sept. 7-22). Abel Searor will direct John Kander and Fred Ebb's little-seen Kiss of the Spider Woman (Oct. 12-27), once a starring vehicle for Syracuse's own Vanessa Williams. Company stalwart Chris Lupia guides the little-known Canadian show Nevermore: The Imaginary Life and Mysterious Death of Edgar Allan Poe (Nov. 9-17). And for the holiday season comes the stage adaptation of the 1947 movie Miracle on 34th Street (Dec. 7-22). Even the Post Office believes in Santa.
The new year brings Noel Coward's high comedy about being haunted by one's sexy ex-wife, Blithe Spirit (Jan. 11-26). Popular choreographer Stephfond Brunson takes on the ABBA jukebox musical Mamma Mia (Feb. 14-23), a first for local community theater. Czarny employs the French title Les Liaison Dangereuses (March 15-23) for Christopher Hampton's adaptation of the naughty 18th-century novel of sexual intrigue and deception.
Multiform leading lady Alyssa Otoski-Keim will revive Tom Stoppard's landmark comedy Rosencrantz and Guildenstern Are Dead (April 12-27), little seen recently on local stages. Innovative director William Edward White will have something new to say in his version of Shakespeare's A Midsummer Night's Dream (May 10-18). The late Neil Simon, once a mainstay of the local scene, is represented with a production of Rumors (June 7-22), his one true farce; Korrie Taylor directs. And Czarny will revive Reefer Madness: The Musical (July 12-27), the most memorable hit of his troupe's predecessor, Not Another Theater Company.
Also paying rent at Shoppingtown is the long-running Salt City Improv Theatre, which offers improvisational theatrical performances, mostly of a comedic nature. Upcoming events include an open improv jam on Friday, Sept. 7, 7 p.m., and a performance from the company's house team, Pork Pie Hat, on Saturday, Sept. 15, 8 p.m.
Baldwinsville Theatre Guild
Presbyterian Educational Center, 64 Oswego St., Baldwinsville; (315) 877-8465
The Baldwinsville Theatre Guild will produce Stephen Dietz's adaptation of the Bram Stoker novel Dracula (Oct. 19-Nov. 3). Trevor Hill will sink his teeth into the count, with unsettlingly articulate Simon Moody as Van Helsing. Korrie Taylor directs. The area's longest-running community theater group promises winter and spring titles will follow.
Rarely Done Productions
Jazz Central, 441 E. Washington St.; (315) 546-3224
Now in its 14th year, Dan Tursi's edge-breaking Rarely Done Productions has but one title secured: a 50th anniversary production of Mart Crowley's The Boys in the Band, the granddaddy of all gay, fey dark comedies, for November. Also expected during the season: the recent Terrence McNally family comedy of manners Mothers and Sons; the William Finn-James Lapine musical A New Brain; and Tara Handron's Drunk on Hope, a one-woman show about alcoholism and recovery.
As college programs exist to train students, they can offer widely divergent productions. The ambitious slate for the Syracuse University Drama Department proves that point.
Stephen Sondheim's dark fairy tale Into the Woods (Oct. 12-21) has become the master's most accessible work; David Lowenstein directs. Department chair Ralph Zito will helm Geoffrey Naufft's off-Broadway hit Next Fall (Nov. 9-17). Two men are in a stable, long-term relationship, only Adam is an atheist and Luke is a Southern fundamentalist.
Jackie Sibblies Drury's calculatedly redundant title nearly says it all: We Are Proud to Present a Presentation About the Herero of Namibia, Formerly Known as Southwest Africa, from the German Südwestafrika, Between the Years 1884-1915 (Feb. 22-March 3). It's a sulfuric dark comedy in metatheater about previously overlooked colonial genocide. Gilbert McCauley directs. Andrew Lippa's The Wild Party (March 29-April 7) is based on Joseph Moncure March's once-scandalous lengthy poem evoking the debauched life of silent film star Fatty Arbuckle; Katherine McGerr and Andrea Leigh-Smith will direct.
The season ends with Naomi Izuka's explosive Good Kids (May 3-11), about victim-blaming and social media cruelty in small-town America. Holly Thuma directs this hard-hitting drama based on the Steubenville, Ohio, football team rape case.
Boot and Buskin Drama Club


Le Moyne College, 1419 Salt Springs Road; (315) 445-4523
Over at the LeMoyne College Boot and Buskin Drama Club, artistic director Matt Chiorini can always be counted on for surprises but only one title was available at press time. Qui Nguyen's She Kills Monsters (Oct. 26, 27, Nov. 1-3) is a high-octane romp through the wild and weird world of Dungeons and Dragons.
Onondaga Hillplayers
Sunset Ridge Golf Club, 2814 W. Seneca Turnpike; (315) 447-8251
Now in its 59th year, Onondaga Hillplayers, the last dinner theater in town, continues its annual best buy production at the Sunset Ridge Golf Club, 2814 W. Seneca Turnpike, as the company continues to survive founder Jack Skillman's retirement. Director Tank Steingraber will guide the Richard Rodgers musical Two by Two (Oct. 26-28, Nov. 2-4), telling the Noah story, in which he will also sing the lead.
Lastly, the Syracuse Shakespeare-in-the-Park continues to be a popular community asset for summer presentations at the Thornden Park amphitheater. Only one cold weather production is known at press time: Henry IV, Part 2 (April 5-15), in which Prince Hal makes the break with Falstaff, at the Community Black Box Theater, 805 E. Genesee St.
[fbcomments url="" width="100%" count="on"]