You'd think that last week's piece about Richard Linklater's 11-year filming of his latest movie, "Boyhood," would have filled this blogger's Linklater news hole for, say, the rest of my life.
And yet what pops up on my iPad screen when I google "Movie News" to prepare this week's installment of cracks and observations is a piece from Cinema Blend that declares that … wait for it …
"Richard Linklater Will House the Killer He Made a Movie About."
Thank you, sir.
In 2011, Jack Black starred in "Bernie." Linklater fashioned his piece on the life of a self-spoken mortician Bernie Tiede. We'll let Cinema Blend reporter Kristy Puchko takes over for the description: "He was well liked in the community, especially by older women like octogenarian Marjorie Nugent. She was an extremely affluent widow with whom Tiede became unlikely besties. …"
The Austin American-Statesman reported Tuesday that Tiede was released on bond Tuesday — let out from a life sentence, actually — after Linklater testified on his behalf and said Tiede could live "in an Austin garage apartment he would provide."
Research for the sequel, perhaps?
Here's the link for the Cinema Blend story on Richard Linklater.
Here's the link for the Statesman story.
Don't you just love charts and graphs?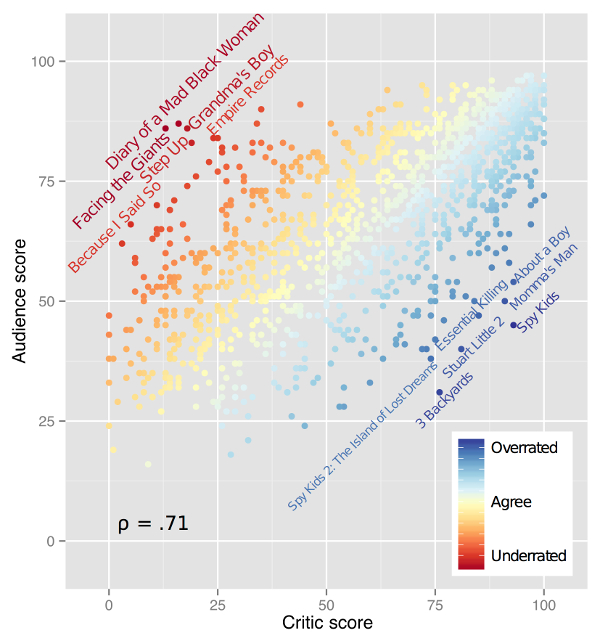 A researcher by the name of Benjamin has painted a pretty complete picture of how completely different audiences and critics can be when they're rating films.
No kidding.
Cinema Blend threw a chart AND a graph online with its story that's headlined "The 15 Most Underrated Movies of All Time According to Science."
I didn't see much science, but then again, once I read that Moore was a Ph. D student, I didn't click through to read his complete study, either. Slacker freelance critic, I am!
Here's the biggest discrepancy on both sides of the equation, according to Cinema Blend's report on Moore's report. For films that critics liked more than audiences, "Spy Kids" had a gap of 48 percent, 93 percent of critics thumbs-up to 45 percent of the audience. For films that audiences liked more than critics, "Facing the Giants" had a gap of a whopping 73 percent. Of the people walking out of the theater, 86 percent said they liked it. Of the critics, it was 13 percent.
Proving that sometimes fans and critics can agree, the story said that "Seven Samurai" and "12 Angry Men" tied for most-liked, taking both sides into consideration, and "Police Academy 5" was least liked by both sides.
But no percentages were given.
Will the next scientific study be Mild Duds vs. Gummi Bears?
Here's the link for the Cinema Blend piece for critics vs. audience.


Mark Bialczak is a veteran journalist who has lived in the Syracuse area since 1983. In early 2013, he was set free to write about whatever he wants. Click here to read Mark's BLOG.
[fbcomments url="" width="100%" count="on"]