Arts
From Sizzling Schwarz To Austen's Power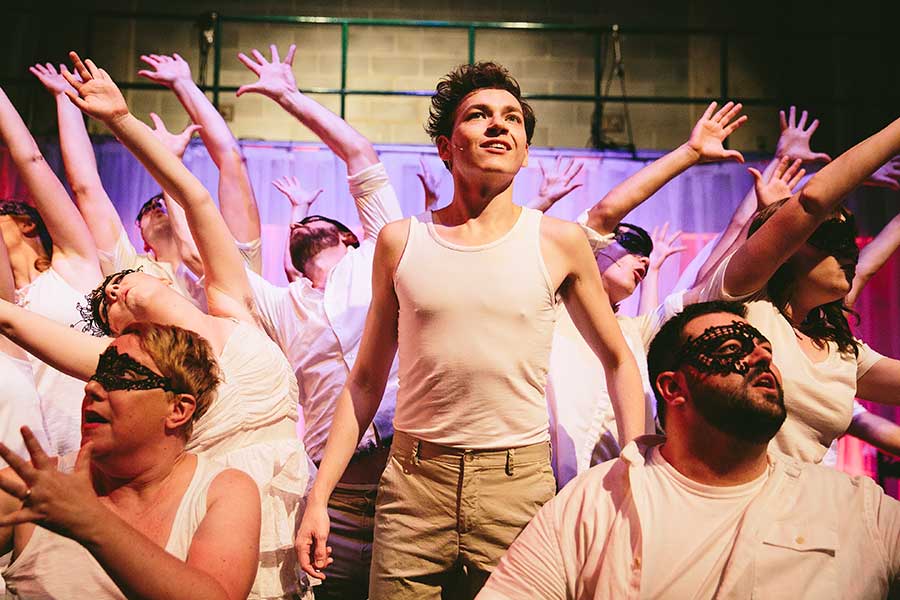 Pippin
A massive hit in 1972 and the 34th longest-running Broadway musical of all time, Stephen Schwartz's Tony Award-winning Pippin has been strangely absent from local floorboards for some time. That may be because it has been a favorite of high school programs, as it is a story of maturation and calls for a large cast.
Yet director Garrett Heater's Syracuse Summer Theatre mounting of Pippin, running through Aug. 5 at the Mulroy Civic Center's BeVard Room, is no kids show. The frequent eroticism in Bob Fosse's dance numbers would addle the school board. And choreographer Jodi Bova-Mele's recreation of those steps is something only well-trained performers could handle.
The Pippin of the title was a historical character of whom almost nothing is known. Freshman students will remember his name as the improbable, insignificant-sounding heir of Holy Roman Emperor Charlemagne (possibly "Charles the Magnificent"). The rest is cheerfully anachronistic, especially in Heater's own costumes. Charlemagne never fought the Visigoths, as vile as they sound, because both father and son are our contemporaries in the search for fulfillment.
Although the stage is bare, the space is filled with a human parade of fluctuating numbers known as the Players. The dark, vaguely Mephistophelian Leading Player (Joshua Kimball) breaks through the fourth wall to narrate the action and also speaks to Pippin. No mere tool, the role of the Leading Player made a star of Ben Vereen in the original production. Schwartz's collaborator Roger O. Hirson is evoking the theater of Bertolt Brecht by reminding us of the artificiality of what we're seeing.
For the title role of Pippin, Heater called up Liam Collins from the Manhattan School for Music and Musical Theatre, and for the dominating father he pulled imposing baritone Bruce Paulsen from the Syracuse Opera Chorus. Collins looks light and agile, but he has to be there for many of the show's most important numbers, like "Corner of the Sky." Paulsen's day job is being a witty announcer at WCNY-FM 91.3, and he turns out to be a lumberjack-sized mountain of a man, adroit at ego-cutting put-downs. He was also Rasputin in Heater's The Romanovs (November 2011).
Three women play important roles, starting with Julia Berger as the flame-haired stepmother Fastrada, who plots against father and son. Ellen Kotzin portrays the grandmother Berthe; Kotzin's first-act number, "No Time at All," with the actress sounding like an eighth-century Auntie Mame, is a show-stopper. And Cassie Angerosa as lovely Catherine helps Pippin to find serenity.
Syracuse Summer Theatre is the name Heater chose for this once-a-year outfit (Spring Awakening, 2017; Cabaret, 2016) that is actually the successor of his Covey Theatre Company that dominated the Syracuse New Times Syracuse Area Live Theater Awards for five years. It is also the only local company to make use of the Civic Center's BeVard Room, one of the most congenial spaces in town.
Heater has moved the mobile seats over where the performances usually are, on the right as you enter, and placed the seven-member orchestra, led by Dan Williams, under the balcony. This puts most of the action in front of the orchestra but allows for some characters to run on the balcony and for the space above that to serve as a projection screen. No one has ever used the BeVard so well.
Pride and Prejudice
The stage is likewise sparse during the run of Pride and Prejudice, through Saturday, July 28, at Ithaca's Hangar Theatre. The production is another literary adaptation from a voice that has become familiar in this neck of the woods.
In 2017, The Wall Street Journal named mid-30ish Kate Hamill "playwright of the year." Within a 12-month period, three Hamill works were mounted locally: Sense and Sensibility from Le Moyne College's Boot and Buskin troupe (March 2018), Pride and Prejudice at Syracuse Stage (March 2019), and now this Hangar production of Pride and Prejudice. The reader has already noted that both titles are adaptations of Jane Austen novels. We had a boom in Austen movies during the 1990s, but what Hamill delivers is faster-paced and funnier, yet somehow actually more faithful to the originals.
Hamill's not-so-secret motive is that she is an actress who wanted to write her own roles, as well as for the whole cast. With doubling up of roles including cross-gender costume changes, every player gets a bravura moment. The set is nearly bare, and there is a lone keyboard, but the actors carry the whole show. Curiously, the role of Elizabeth Bennet (Mari Vial-Golden) that Hamill wrote for herself might get many of the best lines, but she participates least in the madcap mayhem.
The model for what Hamill is doing comes from the many stripped-down spoofs of long, lumbering narratives, like Around the World in 80 Days or The 39 Steps, in which action is sped up and a handful of actors take on many parts. The difference with Hamill is that, despite the regular delivery of guffaws, she's not spoofing. She's a Janeite herself and wants to keep that cult happy. Thus she slows down in the last of two-hours-plus of action with lengthy dialogues spelling out what we missed, like who will be paired with whom, which miscreants will be punished for lying and who is shame-faced for believing them.
The plot, one of the best-known in western culture, is honored. Girl meets Boy. Boy insults Girl, but we sense that she thinks he's cool. Boy nonetheless becomes smitten with Girl and proposes marriage. Having been misled, she dumps him. Girl realizes her misapprehension and also learns that Boy is more affluent than presumed. A happy day follows.
Under director Suzanne Agins' skilled hand, Hamill's tricks begin to reveal themselves slowly. As we learn the names of the five Bennet sisters, we see that the supposedly least marriageable, Mary, is played for laughs by a stumbling guy (Jared Brendon Hopper) in drag, but when back in male attire turns out to be a blond cutie. In contrast, dark-browed Hal Miers is dastardly Mr. Wickham in male attire, but becomes a swan-like beauty as Caroline Bingley, trailing hauteur.
In a cast of scene-stealers, the most experienced members take the prize. Diminutive Socorro Santiago cuts a distinctive figure as the fussbudget mother Mrs. Bennet, but with a change of hat and a palsied hand, she becomes the condescending Lady Catherine De Bourgh. Austin Jones, an Ithaca College Drama faculty member, scores as the oleaginous Mr. Collins, and he's even better as the stern Mr. Bennet.
[fbcomments url="" width="100%" count="on"]