The holidays used to mean curling up in front of a Philco boob tube to watch It's a Wonderful Life or White Christmas. Now there are 60-inch-wide wall TV monitors that overwhelm viewers, even though the usual yuletide suspects still turn up on cable channels, with umpteen runs of The Polar Express and A Christmas Story, while charming oldies such as Holiday Inn and The Bishop's Wife are dusted off one more time.
Beyond the standard go-tos, however, the joyous season has been employed as a backdrop for plenty of other cinematic efforts:
The Cowboy and the Indians (1949)
The Cowboy and the Indians is a better-than-average western programmer from the Gene Autry stable, with special bonuses for Lone Ranger fans. The star lends a hand to post-World War II Navajos (including Jay Silverheels) who are getting hornswoggled by a trading-post scalawag and other villains (including Clayton Moore). Autry also gets to warble his big hit "Here Comes Santa Claus" in this horse opera, which explains why it always merits broadcasts during the holidays on cable's Encore Westerns channel. See it Monday, Dec. 25, at 8:08 p.m. and 2:06 a.m.
O. Henry's Full House (1952)
O. Henry's Full House rounds up a fab fivesome of the writer's short stories (including "The Ransom of Red Chief"), but only one is related to the yuletide. "The Gift of the Magi" features Farley Granger and Jeanne Crain as financially strapped lovebirds that make ultimate sacrifices in their separate bids to ensure a happy holiday, while an ironic twist ending demonstrates the true meaning of Christmas. During the 1960s and 1970s, WHEN-Channel 5 would broadcast this entertaining anthology at 1 a.m., following the annual Christmas Eve special Time of Wonder, Time of Joy, which featured seasonal vignettes from the station's holiday archives such as Gordon Alderman's narration of the "Carolee" Christmas tale.
3 Godfathers (1948)
Director John Ford's Technicolor western 3 Godfathers offers a crowd-pleasing reworking of the Three Wise Men story. John Wayne, Pedro Armendariz and Harry Carey Jr. portray a trio of hapless bank robbers on the lam from a posse, as they wind up crossing a burning desert at Christmastime with a newborn infant, no water for miles and the village of New Jerusalem as their goal. Ford's sturdy mix of sentiment, drama and occasional rowdy humor (Jane Darwell is a hoot in her small role), combined with Duke Wayne's manly tenderness during the comical baby scenes, make this a Christmas classic to cherish.
Black Christmas (1974)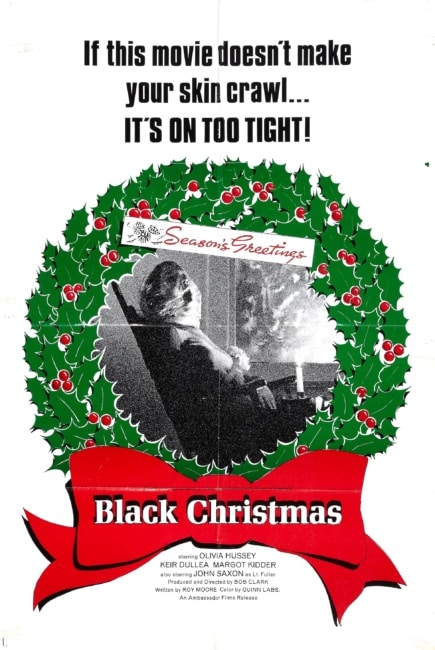 Before Canadian director Bob Clark guided A Christmas Story, he was in charge of low-budget horror flicks like Black Christmas, now regarded as one of the earliest examples of slasher cinema. As sorority sisters enjoy a Christmas party, they're unaware that a twisted killer named Billy has broken into the building and is now hiding in the attic, as he picks off the gals one by one. Clark expertly juggles the sinister atmosphere and pop-up shocks for this socko creepshow. Margot Kidder steals much of the film for a while (uh-oh) as the sorority's raunchiest resident, with B-movie veteran John Saxon also on duty and Keir Dullea as an obvious red herring.
The Lemon Drop Kid (1951)
Bob Hope will always be remembered for his frequent Christmastime USO tours to entertain overseas troops during the course of several wars, so maybe he just didn't have time for a Hollywood holiday flick. The Lemon Drop Kid, based on a Damon Runyon short story, is a rare exception; Hope plays a racetrack tout in money trouble with gangsters, so he sets up a seasonal charity scam to raise the dough. The Jay Livingston-Ray Evans standard "Silver Bells" is warbled by Hope and fetching co-star Marilyn Maxwell in this breezy comedy.
Remember the Night (1940)
The first of four pictures starring Fred MacMurray and Barbara Stanwyck, Remember the Night features Fred as a gruff prosecutor and Babs as a shoplifter who must spend the yuletide together during a court recess. The terrific script by Preston Sturges ably blends sass and sentiment for a timeless holiday package. Check it out on Friday, Dec. 22, 10 p.m., on Turner Classic Movies.
Lady in the Lake (1947)
Star-director Robert Montgomery's Lady in the Lake adapts a Raymond Chandler detective novel involving hardened gumshoe Philip Marlowe. But Montgomery adds some new wrinkles, such as resetting the sleuth's adventures to a Christmastime backdrop and using a first-person camera technique that allows the viewer to vicariously participate in the movie from Marlowe's perspective. It's still an engaging novelty, especially whenever co-stars Audrey Totter and Lloyd Nolan are acting up a storm in front of the subjective camera lens.
Die Hard (1988)
The Library of Congress adds 25 new pictures each year to its National Film Archive for their "importance to American cinema and the nation's cultural and historical heritage." This year director John McTiernan's thriller Die Hard made the list, and it's still a dynamite doozy. Bruce Willis vaulted to big-screen stardom (and big-time paychecks) as a Big Apple cop who flies to Los Angeles to visit his estranged wife (Bonnie Bedelia) for Christmas Eve. Unfortunately, his better half is being held along with her co-workers inside a skyscraper that is being burgled by a gaggle of high-tech Eurotrash thieves (headed by a sublime Alan Rickman), and only Willis can stop them. Audiences lapped up this rousing movie's explosive action sequences and its unexpected bursts of comedy keyed by Willis' wiseacre style. As the limo driver Argyle (De'voreaux White) comments at the very end, "If this is their idea of Christmas, I gotta be here for New Year's!"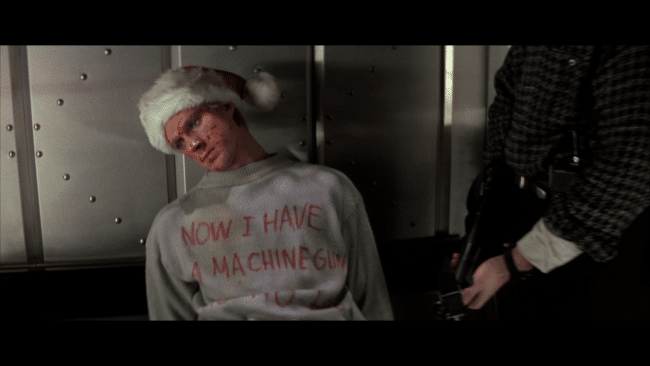 Continue Reading
[fbcomments url="" width="100%" count="on"]