Art
Trio of local veteran artists on display at Edgewood Gallery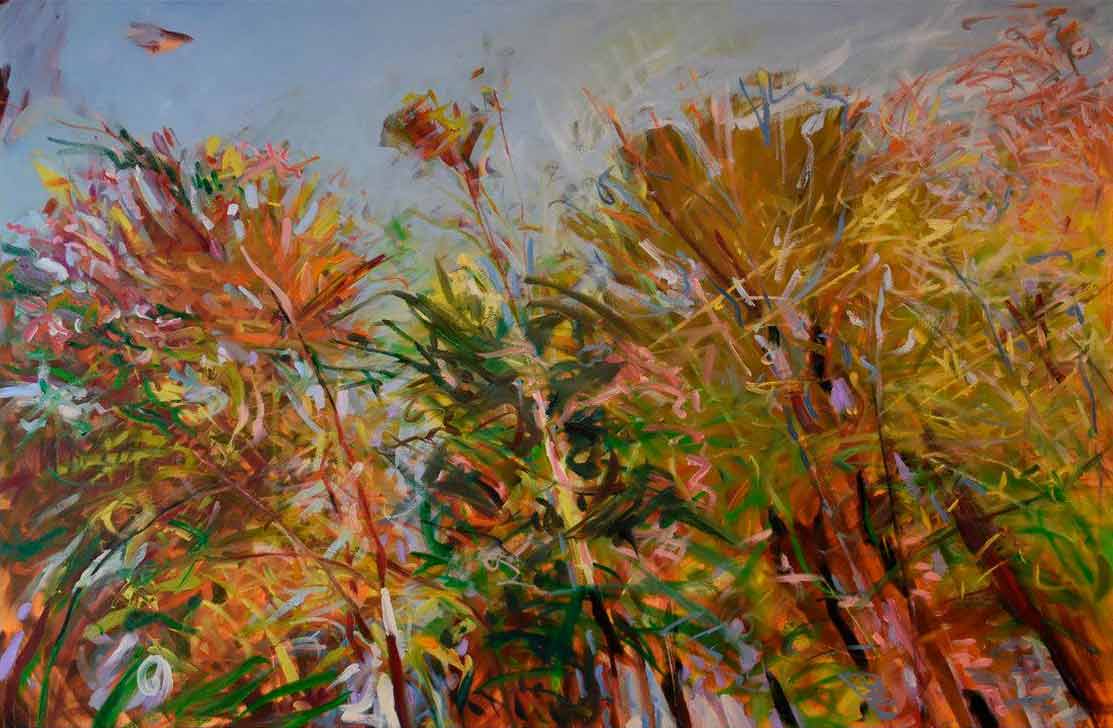 Edgewood Gallery's A Touch of Light exhibit focuses on creations from three veteran artists: John Fitzsimmons' paintings, Carmel Nicoletti's art glass and Dana Stenson's jewelry. The show not only connects with current projects but also highlights variations in the local trio's works.
Many of Fitzsimmons' pieces come from his "Treetop Series," a group of oils that he began 14 years ago and returns to periodically. These paintings reflect a non-figurative approach. "Sea of Green" is large, vibrant, and full of green color that dominates the canvas. Similarly, explosive red and gold colors rule "When I Look to The East"; indeed, they envelop any trace of trees.
Those works clearly aren't part of a pattern. Also on display is "Untitled II," with more subdued colors, and "My Spirit Is Crying," which features frail branches and trees battered by wind, conveying a sense of turbulence. And "Lies on The Whispering Wind" utilizes orange and gold hues.
The show also presents a series of small oils, nature studies depicting a variety of subjects. They range from the droopy leaf seen in "Nature Study XXIII" to the leafy outline of "Nature Study XVIII" and the skeleton portrayed in a third piece. These works further an appetite for painting various subjects. The "Treetop Series" is just one of several ongoing projects for Fitzsimmons; he also does landscapes and portraits.
Nicoletti, meanwhile, showcases bowls and small plates. The bowls, in particular, emphasize a penchant for playing with patterns and color. She has decorated one piece with wavy colors and a mix of hues. In another, pink and black colors coexist. A third bowl, a very pretty work, is covered mostly by shades of purple. And yet another bowl merges touches of blue and dots.
There are other variations in the artworks, such as using stripes of color side by side or split apart, and a nice integration of eight tiny lines for one piece. The bowls reflect technical proficiency, an ability to communicate an illusion of motion, being comfortable working with various elements.
Finally, Stenson's pieces include bracelets, necklaces and broaches, as well as a jewel box topped by a mandala pattern. Several works incorporate images from nature; that's clearly not a new motif for the artist, who does stone and metalsmith jewelry. In the past, she created a distinctive piece depicting a cicada and a work entitled "Forest Floor."
A Touch of Light deals with the possibility that a viewer might have little or no familiarity with a particular local artist, yet the selection of pieces is extensive enough for a first-time viewer to get a sense of the work. And the show doesn't consider the artists solely in isolation. It traces some connections between them.
The exhibit is on display through Nov. 16 at Edgewood Gallery, 216 Tecumseh Road. The venue is open Tuesdays through Fridays, 9:30 a.m. to 6:30 p.m., and Saturdays, 10 a.m. to 2 p.m. For information, call (315) 445-8111. SNt
[fbcomments url="" width="100%" count="on"]