There is so much silly stuff bouncing around the screen during Let's Be Cops, most of it surrounding the smirking guy named Ryan.
How could a schmo like this ever have quarterbacked Purdue to success in the Big Ten?
How could the father who picks his son up from the football game at the park let his kid continue to hang out with this grown-up turd as the only alleged adult in a pack of boys?
How could his best friend Justin, also living in LA but a classmate from Purdue, continue to be his roommate haplessly approach the age of 30 and only of them has a job. Yes, that would be Justin, who's not confident enough to successfully pitch the video game "Patrolman" he's invented to his too-smug bosses, but hey, somebody's got to do something more substantial than play pickup football in the park and live off a couple thousand bucks made from a herpes commercial.
That's the back story of this buddy comedy written by Luke Greenfield and Nicholas Thomas and directed by Greenfield.
And then one day dumbass Ryan mistakenly tells Justin that a masquerade alumni ball is a costume party, and they show up wearing the real cop uniforms he brought home after failing to pitch his video game. Thoroughly humiliated as they walk downtown, they're mistaken for real policemen. And like it.
So the adventure begins.
Surprise.
Jake Johnson, as the overconfident Ryan, and Damon Wayans Jr., as the under confident Justin, have great chemistry . The plot escalates from seemingly harmless domestic skirmish calls that cause Justin to get walloped by a couple of sorority sisters to complicated capers that force the duo in deeper and deeper.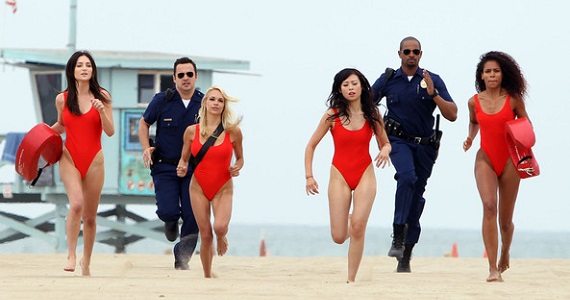 Nina Dobrev sparkles as Josie, a waitress who wins Justin's heart, and Rob Riggle glowers as a real cop who befriends the pair of phonies. Andy Garcia bristles every short second he's on the screen as a mysterious bigwig.
The full house Friday night crowd at Destiny USA laughed and squirmed with the ups and downs as Ryan and Justin dug deeper and deeper into places the former knew they had to be and the latter wanted to sprint away from as fast as he could.
When you're only pretend cops and the bad guys all have Russian accents and real bullets …
Outlandish? Sure. Unlikely? Totally. Enjoyable? Unfortunately.
***

Mark Bialczak is a veteran journalist who has lived in the Syracuse area since 1983. In early 2013, he was set free to write about whatever he wants. Click here to read Mark's BLOG.

[fbcomments url="" width="100%" count="on"]