I liked Birdman, don't get me wrong. In fact, my review  for the New Times was quite complimentary about the work of leading man Michael Keaton as the former superhero actor attempting to reclaim a career. I called it a compelling little art movie.
But best picture, no.
That finest of the finest, the final golden statue awarded after more than three hours of Hollywood glitter, glamor and God-what's-Travolta-doing-this-year I thought should have gone to Boyhood. It's a masterful work. Oscar-worthy.
No biggie. I don't get all steamed up over who wins these things. I'm more upset when a worthy player or director doesn't get nominated at all. That to me is more career-crushing for them and more soul-sucking for their fans. Picking the winner in the major categories is, really, just a popularity contest for the Academy voters. And, as a good story from the New York Times about Birdman taking the top honor pointed out, the Oscar-winning films in 2012 and 2013, The Artist and Argo, also both used the movie industry as an important story line. Inside track with those voters, anyone? That story also mentions that all eight of the films nominated for best picture won at least one Oscar Sunday night.
So as much as I thought that Richard Linklater's brilliant concept of filming Boyhood over the course of 12 years should have won both he and his film the two awards that director Alejandro G. Iñárritu earned for Birdman, I figure Linklater will get his respect for years to come.
Speaking of respect, there were highlights.
Patricia Arquette, picking up her Oscar for best supporting actress, did the whole Boyhood cast proud with her love for that piece of work. And then she made a passionate speech for all citizens, and then all women, calling for equal pay for equal work. That earned a standing ovation, as it should.
Julianne Moore and Eddie Redmayne, winners of the best actress and actor awards for their work in Still Alice and The Theory of Everything did much to further even more the fight against Alzheimer's and ALS, the diseases battled by their characters, with touching acceptance speeches.
The performance by Common and John Legend of Glory, from Selma, with choir and marchers brought back the passion and determination of Martin Luther King Jr. and his Freedom Fighters of 1965. Their acceptance speech rocked, too.
Lady Gaga was beautiful of voice and striking of costume when she performed the medley to celebrate the 50th anniversary of The Sound of Music. And the look on her face and the face of the original star of that classic, Julie Andrews, when they took in the proportion of Gaga's stunning performance, wrapped two eras into one precious second.
There was the peculiar, as John Travolta and Idina Menzel were sent out to make the most of last year's botch of his pronunciation of her last name as she sang the ever-present song from "Frozen." Which they did with humor, until the smiling old actor had to touch her face. And touch her face. And touch her face …
Moving right along to worst of show: Neil Patrick Harris stunk it up as master of ceremonies. He came to the role with a long list of success, four times for the Tony Awards and twice for the Emmy Awards. Stage and TV, most obviously, did not prepare him for what this biggest of platforms could and would wrought.
The former Doogie Howser and Barney Stinson was awful from his lame singing routine to start the broadcast to his overblown and underachieving magic box gag about locking away his list of predictions for the major awards to his arching smirk as he tried unsuccessfully to ad-lib his way around the dead-upon-arrival material written for him.
It was so awkward to watch.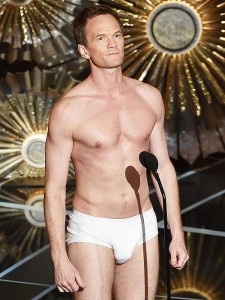 Jack Black outdid him with a rant that ran down the ills of Hollywood while NPH and Anna Kendrick sang about the golden moments of moving pictures. He uttered a bad pun about her dress seconds after a winner gave a heartfelt tribute to her suicidal son. He strode through the backstage audience in his tighty whities to the stage, reliving a memorable Keaton scene in Birdman. At least he looked fit.
Never giving up, though, Harris was able to tie the show up in a bow with his last line.
To close a ceremony that was rocking with talk about racism from the nominations, when Selma director Ava DuVernay and actor David Oyelowo were overlooked, the Academy chose Sean Penn.
Who then gave the #OscarsSoWhite hash-taggers more fodder.
Opening the envelope for best picture, Penn looked to see who won and then said, to the world, "Who gave this sonofabitch a green card?"
Really.
So the classy director dedicated the Oscar to "his fellow Mexicans" and said, "I just pray [the ones who live in this country] can be treated with same dignity and respect of the ones who came before, and built this incredible immigrant nation."
Responded Harris, signing off, "Buenos noches, everybody."
CLICK HERE for a list of Oscar winners for 2015.

[fbcomments url="" width="100%" count="on"]