Go for the guy, go for the girl, or go for the goods.
No, you can't say that Focus, written and directed by the team of Glenn Ficarra and John Requa, will whisk you away to a world where their movie premise is bright and fresh.
But yes, as I sat in the Regal chain theater for an early Friday matinee, I allowed that the team that also put together Crazy, Stupid Love certainly had raised the ante this time to include more good looking people and high stakes drama amid the romantic stakes involved.
Will Smith is decidedly dapper as Nicky Spurgeon, a street-wise guy who knows how to run the sleight-of-hand scam so well that he's built a crew that includes Horst and Farhad, two trustworthy operatives played with the right amount of cool sneak and curious creep, respectively, by Brendan Brown and Adrian Martinez. We find this out only when Nicky is hit upon in an exclusive hotel restaurant by blonde beauty Jess, portrayed with sex appeal and motivated intelligence by Margot Robbie. Jess takes Nicky up to her hotel room, tries to have a third wheel shake him down only to be foiled and …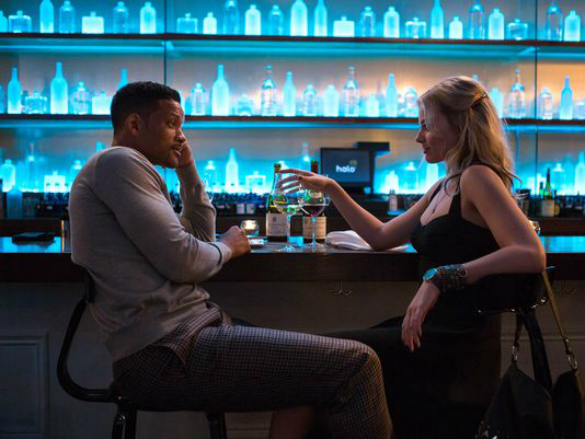 Focus is off to the races, the attraction between Nicky and Jess always as equally evident as their shared desire to be really great confidence artists together. The plot layers the complexity and conflicts of those two issues, but not confusingly so, and at a pace that allows the heat to rise on both levels. There's plenty of back-and-forth as she pleads for a tryout, passes an audition, does exceedingly well with the Super Bowl crew, and curries special favor with big boss Nicky.
B.D. Wong is wildly fantastic as a big bucks gambler they encounter in the Superdome.
And then everything changes with a few twists.
Gerald McRaney and Rodrigo Santoro show up three years later as important players in the European auto racing industry, and Nicky is working different angles in their shop when who but Jess catches his eye linked with big boss Garriga (Santoro) from across the room to alter his mind set.
There's not a dull moment as Nicky and Jess try to figure out their trust issues, to put it mildly.
It's been 22 years since Smith worked the confidence game on the big screen in Six Degrees of Separation, but the time has done him well. He's easy to buy here as a seller and a taker. Robbie was just 3 years old when Six Degrees came out, but the Australian-born actress' chemistry with Smith, 21 years her elder, seems more natural than many of these Hollywood mash-ups. Following her turns in About Time and The Wolf of Wall Street, expect her star to continue to rise.
Are Nicky and Jess meant to be or not to be? Were they just trying for the big score once more?
Those are the big questions.
No spoilers here, but sometimes when it seems like certain characters were born to carry through their mission to the end.
***

Mark Bialczak is a veteran journalist who has lived in the Syracuse area since 1983. In early 2013, he was set free to write about whatever he wants. Click here to read Mark's BLOG.

[fbcomments url="" width="100%" count="on"]