Because there's no shortage to my interest when the words Insane and Hilarious are bandied about with just one word between them, of course my click came quickly to this Cinema Blend headline during my search to share the best of this week's Movie News:
The 7 Most Insane and Hilarious MTV Movie Award Nominations
Writer Sean O'Connell goes on to point out how MTV has become famous — infamous, some would say — for going against the grain with who and what and how they honor what we've seen up on the big screen.
For example, he writes: "This is the ceremony, after all, that one time handed a Golden Popcorn trophy to Friday the 13th slasher Jason Voorhees for his Lifetime Achievement. They gave Jim Carrey a Best Male Performance trophy for Ace Ventura: When Nature Calls … which is the worst Ace Ventura movie. And they honored the Twilight films with Best Movie trophies ON FOUR SEPARATE OCCASIONS!"
Wait a second, here. Silly, yes. Insane? Ummmm. Hilarious? Not a hint of funny, even.
Onward we go …
O'Connell proceeds to "whittle through this year's crop of potential MTV Movie Award winners to see who's surprised to be included, and what bizarre categories in which they find themselves in."
He presents:
Jennifer Lopez, Best Scared-As-S–t Performance
Rosario Dawson and Anders Holm, Best WTF Moment
Kate Upton, Best Shirtless Performance
Rosamund Pike, Breakthrough Performance
Meryl Streep, Best Villain
No Birdman in the Movie Of The Year Race
Eddie Redmayne, Best On-Screen Transformation
J-Lo's movie didn't come out until this year, O'Connell points out. She must have promised she's show up at the televised ceremony on April 12 to earn this nomination … He's got some interesting and humorous comments, which you can find by clicking the link to his full story. Still … The dude has one helluva headline writer.
Some good grief will arrive in November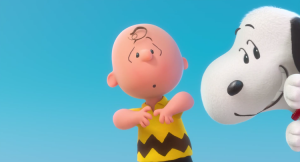 In case you haven't heard, The Peanuts Movie is set to hit theaters on Nov. Nov. 6. The little type under the title on Movie Insider reads Dream big. Which is about as perfect two words for Charlie Brown, Linus, Lucy and Snoopy as they can come up with, in my book.
Steve Martino, of Ice Age: Continental Drift will direct this animated "comedic adventure" based on the beloved characters created by the late Charles Schultz. Movie Insider says it took two years for Fox and Blue Sky to convince the Schultz family to allow them the right to put out this film.
The plot will pit flying ace Snoopy against his arch nemesis and leave Charlie Brown and the gang in more down-to-earth adventures. It's release will coincide with the 50th anniversary of the favorite A Charlie Brown Christmas.
Some news about the U.K. version, which will have the long and winding title of Snoopy and Charlie Brown: The Peanuts Movie came out Wednesday on Empire, and it included posters and a trailer.

[fbcomments url="" width="100%" count="on"]