Stock up on Ramen Noodle soup. Cancel all of your plans. Skip work. Don't leave your couch. It's here: Shark Week 2014.
Shark Week, the popular summer television event on the Discovery Channel, began as a series of purely educational filler programming, airing in mid-summer when we'd all rather be outside anyway. Now, it is a widespread media phenomenon complete celebrity endorsements and hoax promotions. Shark Week 2013 was watched by more than 53 million people.
As the legend has it, Shark Week began when someone scribbled the idea on a cocktail napkin at a bar in 1987. That's where all great ideas come from, right? On July 17, 1988, the series premiered with a special titled Caged in Fear, about the dangerous job of climbing into a cage and plunging into the sea to visit with the ocean's most vicious creatures.
A decade earlier, Jaws had taught pop culture audiences that sharks were pure evil. The reputation stuck, and so did our fascination. Twenty-seven years later, Discovery's Shark Week is the longest running television event in history.
Discovery declared Shark Week the "King of Summer" in this year's ridiculous promo, which features actor Rob Lowe waterskiing on the backs of two sharks, while a mermaid clings to his leg and other sharks and sea life fly through the air around him. It is set to the epic track "2808" by UK dubstep artist Nero. Discovery is clearly taking some queues in tone and humor from its sister phenomenon, SyFy's Sharknado – making sharks ridiculous since 2013. Sharknado 2: The Second One premiered on July 30. Coincidence? I think not.
Right beside the "King of Summer" sits its creator: Discovery Communications itself. If the communications giant deserves a similar title, it is "Queen of Viral Marketing." Though the social appeal of Shark Week has been well documented (Demi Lovato, Jimmy Fallon, Stephen Colbert and Snooki have all tweeted about the event), Discovery took its campaign to a new level this year. Central and northern New Yorkers will remember a leaked video from mid-July that seemed to show a shark biting onto a fisherman's line in Lake Ontario. The video, which appeared to have been shot on a cell phone camera, turned out to be an elaborate hoax – a cleverly veiled promo for Shark Week 2014. That didn't stop local media from covering it and covering the hoax. Well-played, Discovery.
In spite of all the hype, Shark Week will offer some fascinating programming this week: 13 new shows, beating last year's record high of 11 new shows. The series will focus on the mysteries of the sharkverse.
Zombie Sharks, which has its premiere Wednesday night, "explores tonic immobility, a catatonic zombie-like state that can be achieved in sharks." In seven different programs throughout the week, scientists and filmmakers will investigate, search for, and track down elusive legendary sharks and attackers around the world. This "mystic legends" theme is frustrating to some scientists, who wish the channel would focus on education rather than spectacle.
The network is also bringing back its late night talk show, Shark After Dark, airing live each night at 11:00 pm.
Whether you're in it for the blood and guts, the thrill, the education, or Rob Lowe's windblown hair, it's finally here! Take advantage! Celebrate! Try to do more than peek at the TV through your trembling fingers!
Tune in every night at 9:00 pm to catch the new shows, and set your DVR to Discovery all week to stock up on shark-related programming around the clock. That should hold you over until next year. I can't say the same about the all of those Ramen Noodles.
Shark Week New Show Schedule:
Monday:
9:00 pm – Jaws Strikes Back
10:00 pm – Monster Hammerhead
11:00 pm – Shark After Dark
Tuesday:
9:00 pm – Alien Sharks: Return to the Abyss
10:00 pm – Lair of the Mega Sharks
11:00 pm – Shark After Dark
Wednesday:
9:00 pm – Zombie Sharks
10:00 pm – Spawn of Jaws: The Birth
11:00 pm – Shark After Dark
Thursday:
9:00 pm – I Escaped Jaws 2
10:00 pm – Sharkageddon
11:00 pm – Shark After Dark
Friday:
8:00 pm – Megalodon: The Extended Cut
10:00 pm – Megalodon: The New Evidence
Saturday:
9:00 pm – Great White Matrix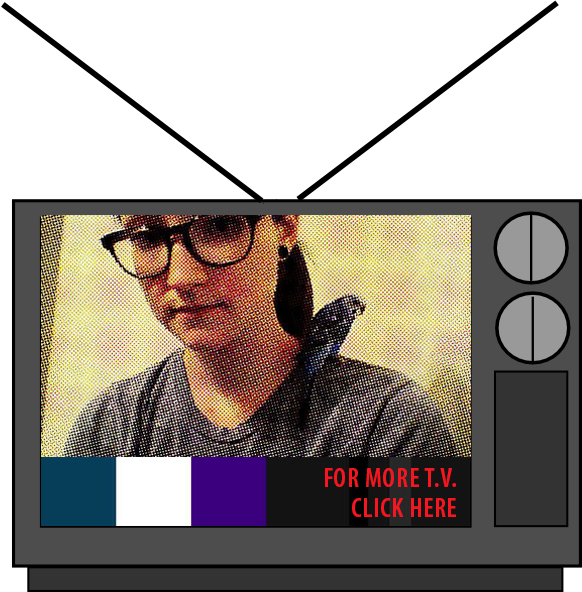 Sarah Hope is a graduate student at Syracuse University, where she focuses on television, entertainment history and classical music. Find her on Twitter @sarahmusing.
[fbcomments url="" width="100%" count="on"]