Last week, I sat down to watch something featuring Robin Williams. In the wake of his death, I'm sure many of us have wanted to watch little else. The great comedian is known for his crazy vocal antics in Disney's Aladdin (1992), as well as the great dramatic achievements Dead Poets Society (1989) and Good Will Hunting (1997). But I think many of us – particularly those of us who grew up loving and learning from the Genie and Mrs. Doubtfire – forget that Williams' career began and ended on the small screen, not the big one.
Williams studied acting at Juilliard, but dropped out in his junior year after his mentor, John Houseman, told him there was nothing more he could teach him. After a brief stint on The Richard Pryor Show (1977), Williams, 26, was cast in the role of Mork from Ork on Happy Days (1978-1984). It was a seminal moment in the history of television comedy.
Mork was an alien sent to Earth to study human life in the 1950s. His misunderstanding of social and cultural norms was a source of hilarious slapstick and verbal humor in his interactions with Fonzie (Henry Winkler) and Laverne (Penny Marshall). For the first time, Williams' signature vocal play and physical shenanigans were introduced to a national audience. Mork's appearance on the popular ABC sitcom was so well received that a year later, the network created a spin-off: Mork & Mindy.
Mork & Mindy (1978-1982) followed the adventures of Mork and his earthly roommate Mindy McConnell (Pam Dawber). Williams' improvisation impressed the show's writers, who – rumor has it – left gaps in the script, with directions only for him to freely ad-lib. Mork, with his trademark greeting "nanoo, nanoo," became a cultural phenomenon.
Mork & Mindy launched Williams' rich 40-year career. He became a remarkably diverse film actor, running the gamut from slapstick family comedies to heartwarming dramedies to serious dramatic masterpieces. One look at the actor's IMDB page is enough to spin anyone's head around in astonishment. His career was prolific, his characters prismatic. The man himself was a friend of Hollywood.
In 2013, Williams returned to television. The Crazy Ones, which premiered on CBS on September 26 of last year, followed a father (Williams) and daughter (Sarah Michelle Gellar) who were partners in an advertising agency. The show was silly and "safe," as The A.V. Club's Erik Adams put it. But Williams still had his energy, if a bit subdued from his former sprightly self. Toward its finale, the show began to find its footing, growing more creative and charming. Unfortunately, The Crazy Ones became a casualty of the crowded landscape of television programming: just as it hit its stride, it was cancelled.
The celebrity news website TMZ has reported that sources close to Williams say he considered the cancellation a "personal failure," and that it sent him into a deep depression. He has also recently been diagnosed with Parkinson's disease, and was having trouble finding satisfying roles.
The ultimate reason(s) for Williams' suicide will never be known – and frankly, they're not the point. Depression is a deadly disease that is both misunderstood and misjudged. Throughout his life, Williams was open about his struggles with cocaine and alcohol abuse, and with bouts of depression. His death is evidence that it can affect even the most successful and seemingly happy people.
Despite the tragedy of Robin Williams' death, thanks to the wealth of his material available on the Internet, we can continue to celebrate his life and the gift of joy and laughter he brought to the world for nearly half a century. President Obama put it best:
"[H]e was one of a kind. He arrived in our lives as an alien – but he ended up touching every element of the human spirit."
Binge Pick of the Week: Everything Robin Williams (TVf)
The Richard Pryor Show (NBC, 1977) was a short-lived variety program starring famous comedian and rabble rouser Richard Pryor. The fun and provocative program featured Pryor's unique brand of racial commentary, a style later picked up by Dave Chappelle for his Chappelle's Show. Where to watch: All four episodes – all featuring Robin Williams – can be found on YouTube.
Mork & Mindy (ABC, 1972-1984) is set in the late 1970s and follows an alien, Mork, from the planet Ork, and his friend and (spoiler alert) later wife, Mindy. It's a Robin with lots of hair and rainbow suspenders. Where to watch: About a third of the series 95 syndicated episodes are available on Hulu Plus. Much of the balance can be made up by searching YouTube.
The Crazy Ones (CBS, 2013-2014) stars Robin Williams as Simon Roberts, an eccentric ad man (like Don Draper, but more bonkers, less broody) whose daughter, Sydney (Sarah Michelle Gellar), has just come on as partner at the advertising agency alongside him. He's wacky, she's level-headed. Antics ensue. Where to watch: VUDU and Amazon Prime both have the series available for $1.99 per episode, and there are a number of great clips on the show's YouTube channel.
With a quick YouTube search, one can also find several of Williams' many cameo and one-off appearances: Homicide: Life on the Street (1994); The Larry Sanders Show (1992, 1994); Friends (1997); and Louie (2012).
***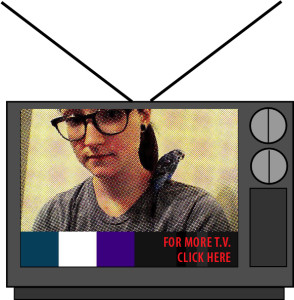 Sarah Hope is a graduate student at Syracuse University, where she focuses on television, entertainment history and classical music. Find her on Twitter @sarahmusing.
[fbcomments url="" width="100%" count="on"]