On Monday night, the 66th annual Primetime Emmy Awards will celebrate the best of the best across all genres of television programming from the past year. This year's host is SNL funnyman-turned-late-night-host Seth Meyers. In addition to handing out statuettes and indulging in dozens of "I'd like to thank God and my mom" speeches, the awards will feature a musical performance by Sara Bareilles (uh, random?) and what is sure to be a moving tribute to Robin Williams by his friend and colleague, Billy Crystal.
There are a number of nominees this year with central and upstate New York connections. Some were born here. Others attended high school or college here. When you're watching on Monday night, here are some "hometown heroes" to root for!
1. Comedienne extraordinaire Kristen Wiig was born in Canandaigua on August 22, 1973.
After spending part of her childhood in Lancaster, Pennsylvania, her family moved to Rochester, where she graduated from Brighton High School. The queen of funny faces is nominated for an Emmy for Outstanding Lead Actress In A Miniseries Or A (TV) Movie, for her role as Cynthia Morehouse in IFC's The Spoils of Babylon.
2. Christine Baranski, who plays lawyer Diane Lockhart on The Good Wife, was born in Buffalo on May 2, 1952.
She attended Villa Maria Academy, a Roman Catholic school in Cheektowaga in Erie County, which closed its doors in 2006. Hopefully the door won't be closed on Baranski, who is nominated for an Emmy in the category of Outstanding Supporting Actress In A Drama Series.
3. Also from the cast of The Good Wife, Dylan Baker was born in Syracuse, on October 7, 1959, though he was raised in Lynchburg, Virginia.
He also attended a Catholic high school, but that didn't stop him from later playing an accused wife killer on The Good Wife, earning him an Emmy nomination for Best Guest Actor In A Drama Series.
This award has already been awarded at the Creative Arts Emmy Awards show, held last Saturday, August 16. The prequel to Monday's more familiar Primetime Emmy Awards honors technical and behind-the-scenes achievements, along with a handful of guest actor/actress and television host awards. The full list can be found here. Baker lost to Joe Morton, who played Olivia Pope's father and creepy "Command" (head of the CIA) on Scandal. Nonetheless, Baker's performance on The Good Wife is worth watching. Film buffs may also recognize Baker as Lizard (Dr. Curt Connors) from the Sam Raimi Spider-Man trilogy.
4. Kate Mulgrew (Red) from Orange Is The New Black, played Margaret in Tenesee Williams' Cat on a Hot Tin Roof at Syracuse Stage in the fall of 1982.
Mulgrew is nominated in the category of Outstanding Supporting Actress In A Comedy Series for her role as the prison's tough-as-nails Russian cook.
5. Danny Zuker, an executive producer for Modern Family, graduated from the S.I. Newhouse School of Public Communications at Syracuse University in 1986.
Modern Family is nominated for ten awards, including Outstanding Comedy Series, which it has won for the last four consecutive years.
6. Chuck Lorre's name is all over the comedy nomination pool this year, with seven nominations for The Big Bang Theory and two for Mike & Molly.
Lorre attended SUNY Potsdam for two years. He dropped out to become a songwriter (and later, a TV guy), but the college gave him an honorary degree in 2009. The Big Bang Theory has already nabbed one of its awards (Outstanding Multi-Camera Picture Editing For A Comedy Series) at the Creative Arts Emmy Awards, and Mike & Molly has already lost one to How I Met Your Mother (Outstanding Cinematography For A Multi-Camera Series).
7. Brad Falchuk is an executive producer and writer for American Horror Story: Coven, which is nominated for a whopping 17 Emmy's this year.
(The record for most nominations for a miniseries is held by the 1977 hit Roots.) Falchuk attended Hobart and William Smith Colleges in Geneva where he studied theater and film, graduating in 1993. He was the 2014 commencement speaker there.
8. Michael Slovis, the cinematographer, holds a bachelor of fine arts degree in professional photographic illustration from the Rochester Institute of Technology.
He was nominated for his work on Breaking Bad, in the category of Outstanding Cinematography For A Single-Camera Series – another Creative Arts Emmy given out last weekend. He lost to True Detective's Adam Arkapaw.
9. Three well-known Cornell alumni are nominated this year:
Jane Lynch '84 (master of fine arts., theater) had two nominations, both of which were announced at the Creative Arts Emmy's: Outstanding Narrator for Discovery's Penguins: Waddle All The Way (she lost to Jeremy Irons), and Outstanding Host For A Reality or Reality-Competition Program for Hollywood Game Night (she won). Bill Maher '78 (English and history) has three nominations, two for HBO's Vice (both losses) and one for HBO's Real Time With Bill Maher, in Monday night's Primetime Emmy category of Outstanding Variety Series. David Wild, a music and television writer and mid-1980s Cornell grad (he was a freshman when John Lennon died), is nominated for co-writing the CBS special The Beatles: The Night That Changed America.
10. R.A. Clark, an executive producer of The Beatles:
The Night That Changed America, does not have an upstate New York connection of his own, but he is the brother of famed television host Dick Clark, who was a 1951 graduate of Syracuse University.
A full list of nominations can be found here. See any locals I've missed? Let me know on Twitter @sarahmusing.
The Primetime Emmy Awards will air Monday night, August 25, at 8:00 pm on NBC.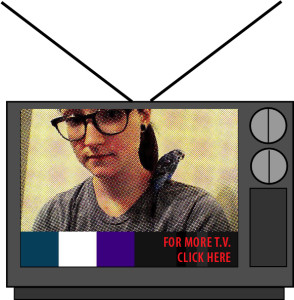 Sarah Hope is a graduate student at Syracuse University, where she focuses on television, entertainment history and classical music. Find her on Twitter @sarahmusing.
[fbcomments url="" width="100%" count="on"]