Artist Roger DeMuth recently went downtown to snap photos of buildings and to study the city's architectural details.
DeMuth, an associate professor at Syracuse University's College of Visual and Performing Arts, has been gathering images for his work on this year's Syracuse Poster Project — a collaboration that pairs local poets' haiku with original artwork from university students.
DeMuth, who co-founded the project in 2001 with coordinator Jim Emmons, leads the class of 30 college seniors who create visual interpretations of about 15 of the poems. Eventually, the finished works end up inside the green poster panels on Salina and Warren streets.
DeMuth said he guides his young artists in the early stages but tries not to get between them and their own creative processes.
"The students kind of find their own way. I just help them along and make some suggestions along the way," he said.
Those suggestions include tightening up initial sketches with his teaching partner in the illustration department, John Thompson, who will head the class when DeMuth retires, in December.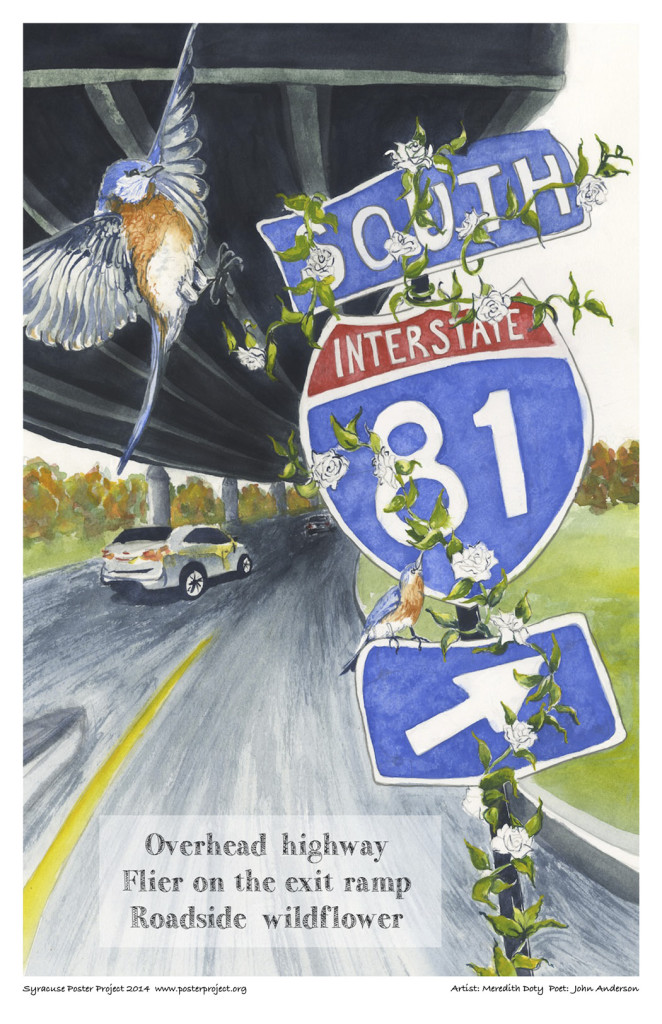 Before any of that happens, poets from Syracuse and the surrounding communities can submit up to three haiku each. Emmons and other organizers sort through the initial pot to find the "best" poems, or the ones that adhere to a five-seven-five syllable count and aren't overly commercial or political.
Then, Emmons and his colleagues print the selected haiku onto tiny, Chinese fortune-sized slips of paper and hand them over to DeMuth and Thompson. The project doesn't choose a theme for poetry or visuals, but some poets will mention specific locations, DeMuth said. Some of the student artists may venture to those spots and take visual notes, like DeMuth did, and work them into their posters.
Though the poems may describe concrete scenes, ultimately the artists decide the finished look of the posters, Emmons said. That includes setting the text of the poem within the visualization, either by hand or digitally.
"There's a wide range of what people are writing about. Some people are writing feeling-type haiku, and others are very observational," Emmons said. "The selection process takes place more in the hands of the artists."
The biggest challenge, Emmons said, has been keeping the initiative alive. The project receives its money entirely through donations, sponsorships and sales of products like poster prints and haiku booklets. None of that covers salaries or benefits, meaning Emmons and his colleagues are a volunteer-only staff.
Still, DeMuth said, the collaborative spirit among poets, artists, the school and the city keeps the project moving forward year after year.
"We like community projects where the community gets involved with the university," DeMuth said. "All these years, we've had such great results."
The 2014 Syracuse Poster Project is accepting haiku submissions until Sept. 5. To contribute, fill out an entry form at posterproject.org. The winners will be announced in December, and the posters are set to be unveiled in April.

[fbcomments url="" width="100%" count="on"]