The annual White House Correspondent's Dinner is well-known for its pointed comedy and humor skits by both professional comedians and the presidential administration. However, this year's dinner ended on a tenser note after viewers and attendees had poor reactions to comedian Michelle Wolf's routine.
Wolf has previously been a writer for Late Night with Seth Meyers and a correspondent on The Daily Show with Trevor Noah. She is also slated to host her own Netflix program, The Break with Michelle Wolf.
During her 20-minute routine, Wolf picked fun at herself, mainstream media's apparent obsession with the Russia-Trump campaign investigation and dwindling viewership, men accused during the #MeToo movement and more, but it was her comments on other women like Sarah Huckabee Sanders and Kellyanne Conway that seemed to draw the most backlash.
"I love you as Aunt Lydia in The Handmaid's Tale," one punchline directed toward Sanders ended.
President Trump, who did not attend the dinner for the second year in a row, later tweeted: "The White House Correspondents' Dinner is DEAD as we know it. This was a total disaster and an embarrassment to our great Country and all that it stands for. FAKE NEWS is alive and well and beautifully represented on Saturday night!"
Margaret Talev, president of the organization that puts on the dinner, said the event has always been to honor great reporting, and that Wolf's routine did not uphold the spirit of their mission, instead creating more division, according to the Associated Press. Several media outlets said they'd consider financial support from the dinner if the comedy portion is not reeled in – or removed from – next year's dinner, the Washington Post stated.
Other comedians took to social media to defend Wolf. Some, including Wolf herself, clarified that she was not making fun of Sanders' looks in any of her jokes, while others pointed out that the administration has said much more "mean" things in the past online. Jimmy Kimmel told critics (whom he named "the media") that maybe the dinner organizers should "hire a juggler" next year if they can't take the humor.
We're asking you: Do you think Michelle Wolf's routine went too far? Should comedy be dropped from the Correspondent's Dinner entertainment lineup? Vote now and share your thoughts.
Here are the results of last week's poll, which asked if marijuana should be legalized nationwide: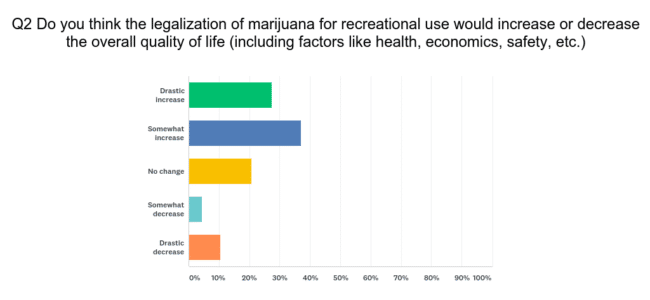 [fbcomments url="" width="100%" count="on"]