Variety will triumph again on local floorboards. We'll have Jane Austen, a plant that eats people, Richard Nixon and Mr. Hyde (not together). The Redhouse will move into a huge new venue, Syracuse Stage's new artistic director Robert Hupp will make his directing debut and someone will call to send in the clowns.
Top of the Heap
Artistic director Robert Hupp can dance to the company rhythm established over the last two decades at Syracuse Stage (820 E. Genesee St.; (315) 433-3275). This means starting with an hors d'oeuvre, peaking with a family-friendly lollapalooza at the holidays, and taking a risk in January, but he will do this while choosing his own steps.
Hupp will make his Syracuse Stage directorial debut with Catherine Bush's adaptation of Alexander Dumas' The Three Musketeers (Sept. 20-Oct. 8). Bush, best-known for children's theater projects, opened this Musketeers in Virginia two years ago. Although she is Canadian, Bush's text should be distinguished from Peter Slaby's version at the Stratford Festival four years ago.
Simon Stephens' Tony Award-winning The Curious Incident of the Dog in the Night-Time (Oct. 25-Nov. 12) adapts the admired but quirky novel of the same title by Mark Haddon. Afflicted with something resembling autism, 15-year-old Christopher talks like an idiot savant, knowing every prime number up to 7,507 but unable to report on the everyday world around him. But he has the self-possession to respond when he is wrongly accused of murdering a neighbor's dog.
The Wizard of Oz (Nov. 29-Dec. 31), officially an offering of the Syracuse University Drama Department, should be the biggest box-office draw of any local production of the season. Press announcements imply it will not resemble the hugely successful Robert Moss-Anthony Salatino collaboration of 2003. New York City-based director Donna Drake will lead the cirque-like choreography of the 2 Ring Circus company. Brian Cimmet will deliver the great Hollywood score by Harold Arlen and E.Y. Harburg, and students will fill the male and female choruses. This is the one story Americans know better than any other, including Huckleberry Finn and Hamilton.
Director Hupp returns along with choreographer Anthony Salatino for the Pulitzer- and Tony-winning rock musical Next to Normal (Jan. 17-Feb. 4). Composer Tom Kitt and lyricist Brian Yorkey give musical expression to a woman's profoundest fears, that she might be gradually slipping into madness. African-American specialist director Timothy Douglas (Jitney, Gem of the Ocean) will breathe new life into A Raisin in the Sun (Feb. 21-March 11), Lorraine Hansberry's Eisenhower-era drama of white resistance to blacks in the suburbs. The show will be co-produced with Indiana Repertory Theatre.
Halena Kays directs the season closer, a co-production with Portland Center Stage. Andrew Hindraker's The Magic Play (April 25-May 13) depicts a successful young magician reeling from a recent romantic breakup, as he struggles to keep his offstage angst from undermining his stage illusions.
New this season but not part of the subscription package is Cold Read: A Winter Festival of New Plays (Feb. 8-11). Playwrights, professional actors and directors will read and compare scripts, one of which will have a staged reading for possible acceptance on a future Syracuse Stage roster. Hors d'oeuvres and local craft beer will be served.
"Upstate's only off-Broadway theater," the slogan for the innovative Kitchen Theatre Company (417 W. State St., Ithaca; (607) 272-0570), will need some revamping. The much-loved former artistic director Rachel Lampert always reminded audiences of her New York City roots, and several of her original works were set in Manhattan or Brooklyn.
Under new artistic director M. Bevin O'Gara, who moved here from Boston, only one of the seven scheduled shows premiered in Manhattan, whereas three are Beantown-based. As in the Lampert era, every production is an area premiere. Every playwright is also a distinguished prize-winner, maybe even a few years younger than those of recent seasons.
Lydia Diamond's incisive 2014 comedy Smart People (Sept. 3-24) portrays conflicting attitudes toward race in the Harvard community: Are motivations hard-wired or learned in the environment? Brahman/I: One Hijra Stand-Up Comedy Show (Oct. 8-29) by Indian-Bulgarian playwright Aditi Brennan Kapil is a comic drama, despite the title, about the Hindu deity Vishnu. O'Gara will direct the show.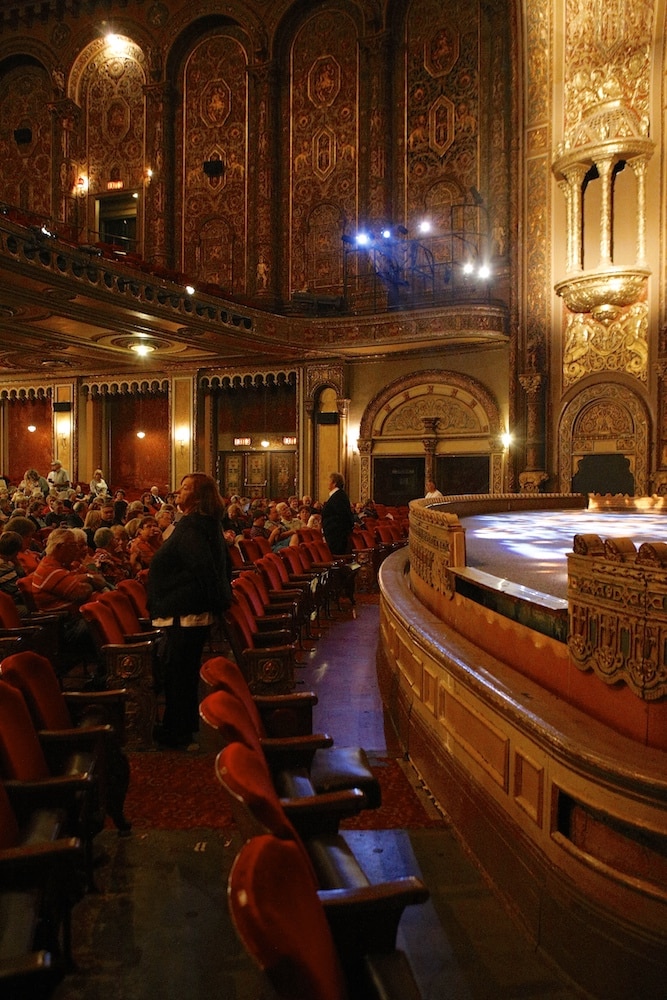 Every Brilliant Thing (Nov. 10-Dec. 10) by Duncan MacMillan promises to be an uproarious comedy about overcoming depression and includes audience participation. MacMillan's Lungs was featured in the Lampert era; company regular Wendy Dann will direct.
O'Gara will direct Martyna Majok's Ironbound (Jan. 21-Feb. 4), about two decades in the life of a Polish immigrant woman searching for the American dream in New Jersey. Women are also the focus of Tanya Barfield's Bright Half Life (March 4-18), about the trials and poignancy of an ongoing, interracial lesbian love affair. Sara Lampert Hoover directs.
Macho athleticism dominates Walt McGough's Brawler (April 8-22), about the scariest man in the National Hockey League who finds himself demoted to the minors. O'Gara directs this world premiere. There could be some gender-bending in Mindy Kaling and Brenda Withers' Matt and Ben (May 27-June 10). Matt Damon and his pal Ben Affleck set out to do an adaptation of Catcher in the Rye but came up with Good Will Hunting instead. In the original production, Kaling (the Indian-American comic actress from NBC's The Office) and Withers played the leads themselves.
Generations of Central New Yorkers have been introduced to Broadway glamour through Famous Artists/NAC Enterprises (241 W. Fayette St.; (315) 424-8210), the series Murray Bernthal founded after World War II. Two big hits will run at the Landmark Theatre (362 S. Salina St.). Disney's The Lion King (Oct. 26-Nov. 12) is already the most popular show in the history of the cosmos, and another three weeks in town will give people the chance to see it for perhaps the fourth or fifth time. And a passionately remembered 1988 American movie is the basis for Dirty Dancing (May 15-20), as Baby, the pampered daughter of a privileged family, crosses the class barrier.
The Mulroy Civic Center's Crouse-Hinds Concert Theater (411 Montgomery St.) will host a trio of Famous Artists musicals. Opening the season is the Tony Award-winning A Gentleman's Guide to Love and Murder (Oct. 10-12), Robert L. Freedman's musical based on the 1907 novel that also inspired the classic film comedy, Kind Hearts and Coronets. An ambitious rogue must bump off eight senior claimants to an inheritance, all played by the same actor. Winter brings the singular sensation of Marvin Hamlisch's A Chorus Line (Feb. 20-22). And Kinky Boots (March 13-15) employs a Cyndi Lauper score to adapt the 2005 British movie.
The 43rd season of Syracuse Opera (411 Montgomery St.; (315) 476-7372) plays favorites with three classics: Bizet's Carmen (Oct. 20, 22), Verdi's La Traviata (Feb. 2, 4) and Puccini's Madame Butterfly (April 13, 15). The productions will take place at the Mulroy Civic Center's Crouse-Hinds Concert Theater (411 Montgomery St.).
There are also a few shows left in the pipeline from Auburn's Merry-Go-Round Playhouse (Emerson Park, 6877 East Lake Road (Route 38A); (315) 255-1785, (800) 457-8897). The season continues with Ghost: The Musical (Aug. 30-Sept. 16) and Always, Patsy Cline (Sept. 21-Oct. 11).
Showstoppers
The big news at the Redhouse Arts Center (201 S. West St.; (315) 425-0405) is not what's on stage but where that stage will be. At press time the move to [email protected] in the former Sibley's Department Store on South Salina Street was expected to be in midwinter. Thus the first three productions will be in the smaller Armory Square space, and the other two in springtime, both wide-market crowd-pleasers, will be in the new, larger digs.
Opening the season is the area premiere of the Tony Award-winning comedy, Douglas Carter Beane's The Little Dog Laughed (Sept. 7-24). Mitchell, an impossibly handsome Hollywood star, is trying to come out of the closet while Diane, his tough-talking agent, tries to keep him in. Founding Redhouse artistic director Laura Austin returns, joined by Max Emerson, the rising star and underwear model. The fast-paced, funny and frightening comedy of Jeffrey Jones' 70 Scenes of Halloween (Oct. 19-29) follows. Jeff (company favorite John Bixler) plans to spend a quiet night at home with his wife, Joan, but things do not work out that way. The farewell toast to the original venue will be Tom Jones and Harvey Schmidt's I Do! I Do! (Nov. 30-Dec. 17). We follow Michael and Agnes through 50 years of marriage on one set for this musical version of Jan de Hartog's The Four Poster.
With the move to the bigger space comes Ernest Thompson's On Golden Pond (March 8-18). Acerbic Professor Thayer is on vacation in Maine, irritated to be 80 and fearing losing his faculties. Audiences should know that Thompson's Thayer is crabbier than Henry Fonda was in the much-sweeter 1981 film version. The big production for the big new stage will be the Jerry Herman musical La Cage aux Folles (May 31-June 10). Harvey Fierstein adapted the immortal French film farce about ZaZa and the Cagelles puttin' on the straights on the Riviera.
Now in its 13th year, Dan Tursi's always adventuresome Rarely Done Productions (performances at Jazz Central, 441 E. Washington St.; (315) 546-3224) brings back two favorites along with five provocative area premieres in four features (one is a double-header). Company favorite Jimmy Curtin will appear in the title role of Daily Show writer David Javerbaum's An Act of God (Sept. 15-30), based on the playwright's best-selling book, The Last Testament: A Memoir By God. That divine title role was a hit for TV's Jim Parsons on Broadway. Love and AIDS are themes in William M. Hoffman's As Is (Oct. 13-27). Young writer David (Joshua Kimball) is about to break up with his longtime lover Saul (Jason Timothy) but changes his mind.
In the company's most ambitious venture, two political dramas will be presented in repertory, Nov. 3-18. Beau Willimon's Farragut North deals with the final days of the 2008 Iowa presidential primary; it was adapted into the George Clooney film The Ides of March. In Keith Reddin's Frame 312, a retired magazine editor tells her grown children that she is in possession of the unedited, original Zapruder film of events in Dallas, Nov. 22, 1963. Although in tandem, the two productions have different casts.
For the holidays, Rarely Done expects to bring back (rights pending) one of its biggest hits of recent years, Danni Giacino's Disenchanted (Dec. 1-16), an often lethal spoof of a bevy of folkloric princesses in their Disney costumes. Following a winter hiatus will be Defying Gravity: The Songs of Stephen Schwartz by Stephen Schwartz (April 6-21). His first hits were Godspell and Pippin, and his Wicked has been running for more than a decade. Ending the season is William Finn's Falsettos (April 27-May 12), a repeated sellout for the company over several years. Marvin struggles to create a tight-knit family out of disparate relationships. Peter Irwin and Aubry Panek will appear.
Not yet 10 years old, artistic director Dustin Czarny's Central New York Playhouse (Shoppingtown Mall; (315) 885-8960) has now become the biggest community company of them all in its 4,500-square-foot space by doing everything, including French farce and Shakespeare.
The season begins with the most elegant of all Stephen Sondheim musicals, A Little Night Music (Sept. 8-23), with his all-time hit, "Send in the Clowns." Longtime dancer and choreographer Shannon Tompkins sharply switches gears to direct Arthur Miller's The Crucible (Oct. 13-28), ostensibly about the Salem witch trials but implicitly an indictment of McCarthy-era intimidation. British playwright Peter Morgan edited the words of a memorable television interview to produce the electrifying Frost/Nixon (Nov. 10-18). David Frost, a presumed lightweight, exposed the dark soul of the disgraced president; Justin Polly directs. For the holidays, Patricia Catchouny will direct the bittersweet part-musical, The 1940s Radio Hour (Dec. 1-15).
The company's annual winter farce will be Marc Camoletti's Boeing, Boeing (Jan. 12-27), about one roué and three airline hostesses. Daniel Keyes's Flowers for Algernon (Feb. 9-17), about a mentally challenged man briefly thrust into intellectual brilliance, is perhaps better-known under the title of its 1968 film adaptation, Charly; William Edward White directs. Experienced Shakespearean Trevor Hill will direct Hamlet (May 11-19). And Korrie Taylor will helm Stephen Sondheim's Into the Woods (June 8-23), the fractured fairy tale musical.
Favorite Faces
Baldwinsville Theatre Guild (performances at the Presbyterian Educational Center, 64 Oswego Road, Baldwinsville) has only one production at press time: Michael Frayn's three-part farce Noises Off (Sept. 22-Oct. 7), directed by Korrie Taylor. The area's longest-running community theater group is embargoing word of other productions until rights are secured, but we are likely to see the area premiere of a new musical in January and the revival of a vintage 1930s comedy in April or May.
Josiah Benedict of Atonement Housing Corporation announces that Appleseed Productions (116 W. Glen Ave.; (315) 492-9766) is awaking from its two-year sleep. Award-winning director Tina Lee will stage Horton Foote's Trip to Bountiful (Oct. 6-22) featuring Becky Bottrill in the lead. How far does she have to travel to revisit the dream of her youth? Tina Lee will return for a springtime mounting of The Bridges of Madison County, a romance of middle-aged adultery based on Robert James Waller's best-selling novel.
Now in its 58th year, Onondaga Hillplayers ((315) 447-8251), the last dinner theater in town, continues its annual best buy productions at the Marcellus Golf Club (formerly the Links at Sunset Ridge), 2814 W. Seneca Turnpike, as the company survives founder Jack Skillman's retirement. Director Tank Steingraber and stage manager Nancy Morrison will continue with Neil Simon's comedy California Suite (Oct. 27-29, Nov. 3-5), about four couples in a posh Beverly Hills hotel.
The Syracuse Shakespeare Festival (315) 476-1835) has been winning friends with free Shakespeare shows in Thornden Park for 15 years. Energetic company artistic director Ronnie Bell was early in announcing titles, and details will follow on the website syrsf.org.
Bell writes and directs Ebenezer Scrooge and the Shakespeare Ghosts (December), an original musical parody using familiar Christmas songs with a mash-up of Dickens' A Christmas Carol and famous Shakespearean ghosts at the Community Foundation Ballroom, 431 E. Fayette St. A repertory production follows of Tracy Letts' August, Osage County and Shakespeare's Macbeth (February), as Sara Caliva and Tony Brown will direct a single cast at the New York State Fairgrounds' Empire Theater. Jenn DeCook and Lynn King will coordinate 24 Hour Show (April) in which preregistered and last-minute writers, director and actors will produce their own best 10- to 20-minute plays in 24 hours. The shows go on at downtown's Cantor Warehouse Theater, 350 W. Fayette St.
Young At Heart
No one else programs Chekhov and Gershwin, Isabelle Allende and Audrey II in the same season except the Syracuse University Drama Department (820 E. Genesee St.). The first of the three musicals is Ken Ludwig and Mike Ockrent's revamping of classic George Gershwin tunes in Crazy for You (Oct. 6-15). Newcomer Brian J. Marcum will direct and choreograph.
Although she hailed from Chile, Isabelle Allende's The House of the Spirits (Nov. 10-18), based on her much-esteemed novel, is set in an unnamed country. Celia Madeoy directs this powerful and poetic stage adaptation about a woman imprisoned for unspecified reasons. Rob Bundy, another new faculty member, will guide Anton Chekhov's The Seagull (Feb. 23-March 4), one of the undisputed pinnacles of European drama. Discussion of literature and unrequited love calls for the subtlest of performances.
Paula Vogel's Baltimore Waltz (March 30-April 8) is a satiric comedy about a teacher named Anna who takes a madcap world tour after her brother contracts a mysterious, fatal malady. Wrapping the season is the Howard Ashman-Alan Menken musical adaptation of Roger Corman's allegorical B-movie The Little Shop of Horrors (May 4-12). Brian Cimmet directs this dark comedy about the carnivorous plant that ate Skid Row.
Over at the Le Moyne College Boot and Buskin Drama Club (1419 Salt Springs Road; (315) 445-4523), Professor Matt Chiorini, one of the most skilled directors in the area, emphasizes contemporary playwrights, starting with a fresh take on a classic English novel. American comic writer Jeffrey Hatcher (Three Viewings) usually unsettles the staid, as will be the case with his adaptation of Robert Louis Stevenson's Dr. Jekyll and Mr. Hyde (Oct. 27, 28, Nov. 2-4). Winter semester brings American absurdist Peter Sinn Nachtrieb's Bob: A Life in Three Acts (Feb. 9, 10, 15-17), a comic exploration of the treacherous pursuit of happiness.
Later in spring comes Kate Hamill's playful new adaptation of Jane Austen's Sense and Sensibility (March 16, 17, 22-24), about the fortunes and misfortunes of the Dashwood sisters in Regency England. And a one-weekend lagniappe at the end of the season will be Macbeth: In Concert (April 26-28), with new music assigned to the Scottish play about a husband and wife consumed with bloody ambition.
[fbcomments url="" width="100%" count="on"]