Christmas, New Year's and Valentine's Day have come and gone. Green beer won't be delivered to Coleman's for another couple of weeks. But there is Downtown Syracuse Dining Weeks to whet your interest and appetite.
Dining Weeks, presented by the Downtown Committee of Syracuse, began Monday Feb. 16 and continues through March 1. The three courses for $25 (or less) promotion is a smart way for the nearly 30 participating restaurants to keep the customers coming in during this typically slower season — and a great way for diners to break out of their routines and try something new.
We asked Kelly Gaggin, 35, an adventurous diner and seasoned Dining Week enthusiast to share her experiences and perspective on Dining Weeks. Gaggin is a communications and public relations professional and graduate student and adjunct professor at the Newhouse School at Syracuse University.
A complete list of participating restaurants is below, and you can find more information HERE.
"I love dining week!," says Gaggin. "I always try to select a new restaurant and it's a great excuse to visit the tried and true…."Like many people, I have a specific dish at my favorites and I rarely, OK never, stray from it. The restaurants put their top dishes on the menus for dining weeks and I take advantage of the fixed pricing to try something new at a favorite place. This is also the only time anyone will see me eat dessert. I prefer savory over sweet so I am much more likely to order an appetizer any other time of year. Dessert is included in the price during dining weeks so I owe it to myself to eat dessert!"
New (to me) places discovered over the last few years
Bittersweet Wine Bar and Dessert Bar: "Loved the atmosphere and find it a great place to relax after the dinner hour or after a show downtown."
Black Olive Mediterranean Taverna: "I really like Black Olive. Great lunches and dinners. I like the friendly staff at lunch who banter with customers casually… It's a nice break in the day!"
Ale & Angus Pub: "Haven't been back but no real reason for it. I remember it being enjoyable."
Namu/Sakana-Ya:  "I like to check out restaurants known for their sushi during Dining Weeks to see what else they offer and how their gyoza are. I had the most amazing, melts like butter on your tongue, yellowtail (fish) at Morimoto (in NYC)… Since then nothing has lived up to that experience so I stopped eating sushi/sashimi altogether. By sampling during Dining Weeks, I know I can happily have a meal with friends at these places and not feel forced into fish. I love a great dumpling in any fashion.
bc restaurant: Gone but not forgotten.
Lemon Grass:  "I lived out of state in my 20s and had never been to Lemon Grass before that. When I saw Lemon Grass listed as part of Dining Week upon my return I had to go. I remember it being one of the 'nice places' people took their parents from out of town during college. It was delicious and I recommend it often for classy Thai."
Oldies but goodies
Pastabilities: "My usual here is penne with spicy hot tomato oil and a side of meatballs… I will try something new and not straight pasta!"
The Mission:  "I always get the enchiladas verde; I think the Pollo Mole will be it during Dining Week this year."
Empire Brewing Company:  "I like the atmosphere here… Dining Week encourages me to try something different. Plus, it's a great place to meet friends."
On deck for this year
Byblos Bar and Grill:  "I frequent the cafe so I am excited to experience the new location. If I had to choose one regional cuisine it would be Mediterranean/Middle Eastern/Turkish.  I cannot get enough of the food from that region of the world."
Prime Steakhouse:  "All this time and I have never been!"
Modern Malt: "It has been the talk of the town and it's hard to resist a Fruity Pebble French toast! It reminds me of the Captain Crunch and Frosted Flake pork chops I've made in the past! Coatings are delicious!"
Closing thought – and a suggestion
"There will be more, but I like to let my friends choose, too," Gaggin says. "Dining Week is an ideal time for any burgeoning foodie to experience what we have locally and I have a few friends who fit that description.
"I only wish the restaurants on the North Side were included. The community is so diverse and the food culture is growing all the time with residents opening up restaurants with recipes from around the world."
Maybe next year!
Downtown Syracuse Dining Weeks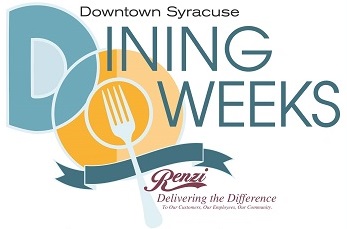 During Dining Weeks, nearly 30 restaurants in downtown Syracuse offer three-course meals for $25 or less. Beverages, tax and gratuity are additional. Some restaurants may require reservations.
For more information, visit the Downtown Committee website. Menus are being posted there as they become available.
317 at Montgomery, 317 Montgomery St., 214-4267
Bamboo House, 252 W. Genesee St. 424-8800
Ale 'N Angus Pub, 238 Harrison St. 426-9672
Bistro Elephant Steakhouse, 238 W. Jefferson St. 475-1111
Bittersweet Wine & Dessert Bar, 127 W. Fayette St. 474-9463
Black Olive , 250 S. Clinton St. 399-5599
Bull & Bear Pub, 125 E. Water St. 701-3064
Byblos Bar & Grill, 316 S. Clinton St. 299-6512
Byblos Mediterranean Cafe, 223 N. Clinton St. 478-3333
Dinosaur Bar-B-Que, 246 W. Willow St. 476-4937
Empire Brewing Company, 120 Walton St. 475-2337
Funk 'n Waffles, 307 S. Clinton St. 474-1060
Indian Tandoor, 232 Harrison St. 565-4099
Kitty Hoynes Irish Pub, 301 W. Fayette St. 424-1974
Lemon Grass, 238 W. Jefferson St. 475-1111
LoFo, 214 Walton St. 422-1974
Maxwell's, 122 E. Genesee St. 299-6633
The Mission, 304 E. Onondaga St. 475-7344
Modern Malt, 325 S. Clinton St. 471-6258
Namu, 215 Walton St. 475-0220
Otro Cinco, 208 S. Warren St. 422-6876
Pastabilities, 311 S. Franklin St. 474-1153
Prime Steakhouse, 101 E. Water St. 299-8047
Sakana-Ya Sushi Bar, 215 Walton St. 475-0117
Small Plates, 116 Walton St. 373-0031
Syracuse Suds Factory, 320 S. Clinton St. 471-2253
Tang Flavor, 413 S. Warren St. 472-0279
Margaret McCormick is a freelance writer and editor in Syracuse. She blogs about food at eatfirst.typepad.com. Follow her on Twitter, connect on Facebook or email her at [email protected]

[fbcomments url="" width="100%" count="on"]