Stage
'Mamma Mia!' kicks off summer season for Merry-Go-Round Playhouse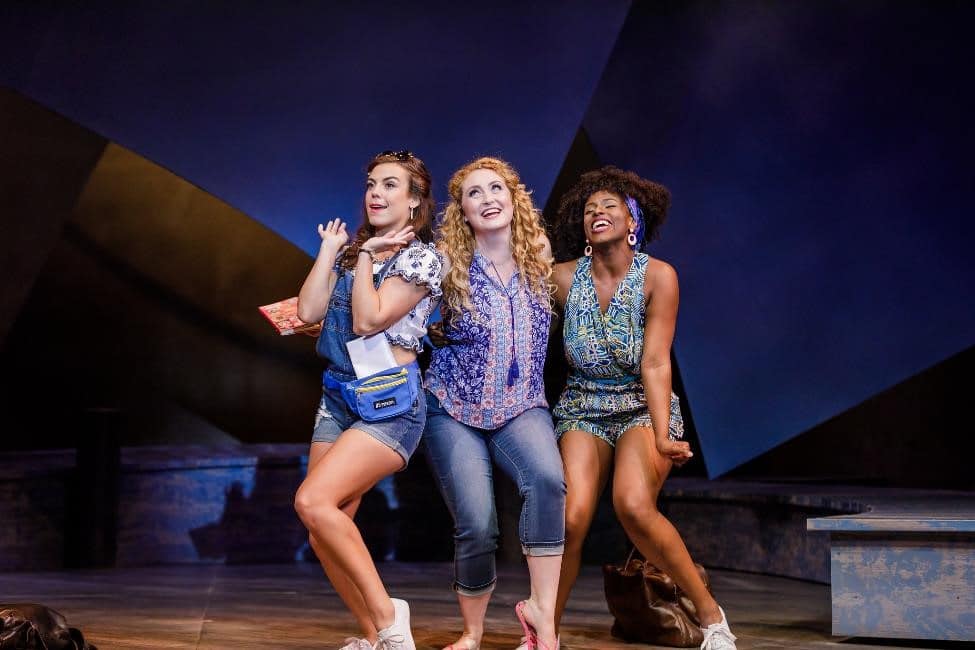 The biggest jukebox musical of them all has been drawing huge regional crowds for nearly two decades, but only with touring companies. That's ABBA's Mamma Mia! which launches the summer season at Auburn's Merry-Go-Round Playhouse as part of the annual Finger Lakes Musical Theater Festival. The show runs through June 27 at MGR's scenic Emerson Park venue near the shore of Owasco Lake.
Local companies have not wanted to touch Mamma Mia! for many reasons. One is that it's such a big show, with 52 dancing feet, sometimes bare, sometimes in flippers. Costumes call for about an acre of silver spandex to sculpt shapely thighs.
Read: A Shakespearean Summer: 12 venues for live theater in CNY
Paternity is the MacGuffin that leads the plot. Twenty-year-old Sophie (Emily Kristen Morris) is about to get married on a sunny, idyllic Greek island. Her free-spirited and still youthful mother, Donna (Sally Wilfert), had many suitors back then but has never identified the seed donor. DNA tests were not the rage in 1999 when the show opened that they are now.
So Sophie invites all three: Sam (Gary Milner), an American architect, Harry (Geoffrey Allen Murphy), a British banker, and Bill (Joe Gately), an Australian adventurer in heavy boots. Only one can walk her down the aisle. Ah, suspense, suspense.
Paternity is also the question of Mamma Mia's origins. Swedes Benny Andersson and Bjorn Ulvaeus from the pop rock group ABBA, assisted by the band's manager Stig Anderson, wrote the songs in the show between 1972 and 1982. Then a team of people, led by Judy Cramer, hammered out a narrative, written by Catherine Johnson, to accommodate each number. Altogether eight people had hands in it.
This means that the best-known songs, like "Dancing Queen," now has a narrative meaning not implied in the original lyrics. Donna's pals, the carefree Rosie (Jodi Kimura) and much-married Tanya (Nicolette Hart), sing it to cheer her into thinking she could be the girl she once was, not really a key moment in the plot.
Recognizing the appeal of the song, however, the showmakers feature it during the post-bows, along with "Mamma Mia!" and "Waterloo," the latter which could not find a berth in the story despite its musical appeal.
Given that this is a regional premiere production of such a popular show, Merry-Go-Round has put the A-team in charge. Producing artistic director Brett Smock gives his personal imprimatur to both direction and choreography and every one of the dance numbers is a show-stopper, especially the "Under Attack" tune that opens the second act.
Hearty-voiced newcomer Emily Kristen Morris, who has appeared with symphony orchestras, knocks out Sophie's opening solo, "I Have a Dream." Along with company favorites like Sally Wilfert (Light in the Piazza, The Best Little Whorehouse in Texas) as Donna and Nicolette Hart (Always . . . Patsy Cline) as Tanya, is pint-sized Hawaiian import Jodi Kimura as the comic third, Rosie.
Music director Jeff Cox and an ensemble of eight deliver the score with conviction, melting the hearts of cynics who have yet to embrace Mamma Mia's charms.
[fbcomments url="" width="100%" count="on"]