In this 40-minute presentation, Nintendo President and CEO Satoru Iwata brought the press and the public up to speed on April 1 with the latest offerings from Nintendo. Announced with barely 24 hours notice, Nintendo took great care to point out this was no April Fool's Day hoax. Here's a recap of the major news.
Iwata kicked off the presentation with the following announcements concerning Super Smash Bros:
Mewtwo trailer:
A dramatic trailer revealed the legendary Pokemon Mewtwo would be available as DLC on April 28, $3.99 for individual 3DS or Wii U consoles, or $4.99 both. As previously announced, Mewtwo will be free for Club Nintendo members with both the 3DS and Wii U versions, and will receive Mewtwo early on April 15th
The Mewtwo update will feature DLC, Tweaked Character Balancing, and Sharing functionality on Wii U for things like screenshots and custom characters.
Future Updates:
More costumes for Mii fighters, inspired.by the Zelda, Xenoblade, and Mega Man series. The costume DLC will be available for 75 cents for individual 3DS or Wii U consoles, or $1.15 for both.
Lucas DLC: The protagonist of the Japan-only RPG Mother 3, Lucas, will return to Super Smash Bros. in the form of a DLC character planned for release in June.
Smash Bros fighter ballot: You can vote for what character you would like to see featured in future Smash Bros. DLC. The ballot is viewable here.
Amiibo: Amiibo are small plastic figures of Nintendo characters, which "come to life" when scanned into the game. The previously-announced Wave 4 will release in the US May 29. This wave features the characters Wario, Pac-Man, Ness, Robin, Lucina, Charizard, and Jigglypuff. They also announce future waves: Dark Pit and Palutena are coming in July, with Olimar, Bowser Jr., Dr. Mario, Zero Suit Samus, and Ganondorf in September. Iwata added that some of these may be retailer exclusives. He also said that DLC characters Mewtwo and Lucas will also get amiibo figures in the future.
Amiibo Tap: Nintendo's Greatest Bits:
 A new free game in which players can use amiibo to unlock demos of NES and SNES titles. Each amiibo will unlock random demos, which Iwata compared to a "Box of Chocolates." It will be available as a free download this spring
Mario 30th anniversary celebrations:
Mario Maker, a title which allows players to design and share custom made Mario levels, will launch in September.
Iwata also said that more 30th anniversary celebrations are coming soon.
Iwata then passed the presentation to Bill Trinen, Nintendo of America's Senior Product Marketing Manager, who announced the following concerning these upcoming products:
Yoshi's Wooly World: More details on the upcoming Wii U platformer:
The game will support  Yarn Yoshi amiibo. Unline existing hard plastic amiibo, the Yarn Yoshi amiibo will be knit plush toys. scanning it in adds Double Yoshi, to make gameplay even easier.Yarn Yoshi amiibo will come in green, pink, blue.
Yoshi's Wooly World launches this fall.
Splatoon: Additional information on the upcoming multiplayer third-person shooter:
 A new online mode: Ranked Battle. It will be simillar to the existing 4 on 4 mode, but with online ranking.
Battle Dojo: a 1 on 1 mode, with one player on the screen, and another on the gamepad
 Amiibo of the game's Inkling characters will be available at launch. Using them will unlock special missions and gear exclusive to amiibo. The boy, girl, and squid Inkling amiibo will be available in a 3 pack, plus the boy and girl sold separately.
Splatoon launches May 29.
Virtual Console: Some news for Nintendo's Virtual Console service:
Nintendo 64 and Nintendo DS titles are coming to Virtual Console
 DS titles will have multiple screen layout options to accomodate the original system's dual screens.
 N64 titles will have multiple control configurations
N64 titles will be priced from $9.99 to $11.99 but ones previously purchased for the Wii Virtual Console and transferred to the WII U will be available for $2 each.
DS titles will be priced from$6.99 to $9.99
 Yoshi's Island DS and Super Mario 64 were released immediately, with Yoshi Touch & Go, WarioWare: Touched, Donkey Kong 64, Mario Kart DS, Paper Mario coming soon.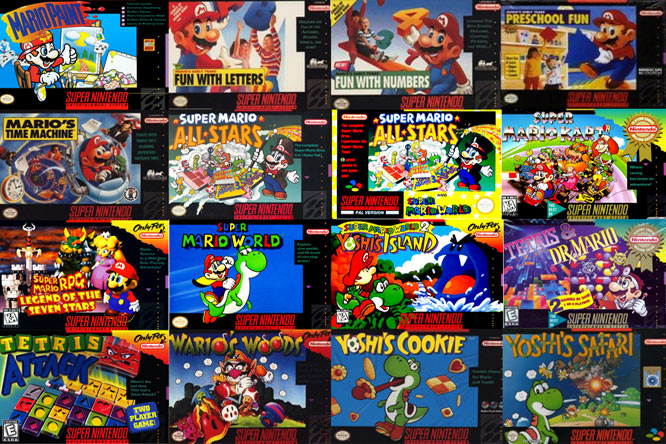 Trinen then passed the presentation to Damon Baker, Senior Manager in Marketing and Licensing for Nintendo of America, who talked about some upcoming indie titles:
Adventures of Pip: a retro-style sidescroller.
Octodad: Dadliest Catch: A fumble-control game in which an octopus must masquerade as a human father
Mutant Mudds: Super Challenge: A sequel to acclaimed platformer. It will have 3DS/Wii U crossbuy, and a loyalty discount will be offered if you own the original game.
Don't Starve: Giant Edition: The woods-survival simulator makes its way to the Wii U. Purchasers will get a second copy to give to a friend.
Baker then handed the presentation back to Bill Trinen, who made a few more announcements:
A trailer for the Fire Emblem/Shin Megami Tensei game: Announced way back in 2013, Trinen thanked everyone for their patience.
Fatal Frame: A new entry in this photography-based horror series will use the Wii U as camera. Coming later this year.
Box Boy: Charming plaformer from Hal Software. Available to download from eShop starting today.
Pokemon Rumble World: A free action-platforming title with in-game transactions. will be available April 8th
Puzzle & Dragons/Puzzle & Dragons Super Mario Edition: These previously announced puzzle RPG titles will be available in a $29.99 bundle, which will be available May 22. A demo will be available on the eShop April 30.
Attack on Titan: Humanity in Chains: A fast-paced action game based on the smash-hit anime series. Features local and online four-player multiplayer. To interest fans further, the first two episodes of the Anime series are available to view on the eShop. The game comes to the eShop in May.
Codename S.T.E.A.M: The recently released turn-based strategy game will have an update allowing the player to fast-forward through enemy turns. In addition, amiibo of the Fire Emblem character Marth, which is compatible with Codename S.T.E.A.M, will recieve a re-issue in May for those who missed buying it the first time around. There will also be an online "Hijinks" tournament (named for literary character Tom Sawyer who appears in the game), which runs until April 5th. Trinen also added there will be more tournaments in the future.
Streetpass Mii Plaza: Nintendo's friend-encounter based 3DS minigames add two more games to its library available for $4.99 each (or in a 7.99 bundle): Ultimate Angler, a fishing simulator, in which the player must use bait obtained by other 3DS users, and Battleground Z, in which players use weapons obtained from their Streetpassed friends to fight hordes of zombies. Also added is a 'VIP Lounge' content pack, which allows for paid premium content such as birthdays for Streetpassed characters. The update launches April 16.
Xenoblade Chronicles 3D: A new trailer for the New 3DS remastering of the last-gen RPG. The game will release April 10th.
Fire Emblem: A new trailer for the still-untitled entry in the Fire Emblem series. They announced that this time, the player's customized character will be the game's main protagonist, as opposed to the secondary role they played in prior games. The game will launch in 2016.
Amiibo cards and Animal Crossing: Happy Home Designer: The long-standing rumors are true, Nintendo will be releasing trading cards that use the same near-field technology as amiibo. The first game  to use them will be Animal Crossing: Happy Home Designer. Players scan in a card featuring an Animal Crossing villager, and then design them a home interior based on their desires. The cards as well as the game will be released this fall. In addition, they will release a device allowing amiibo devices to be scanned into older 3DS units that lack amiibo functionality.
Trinen then handed the presentation back to Iwata, who made these final announcements concerning Mario Kart 8:
Mario Kart 8 DLC Pack 2: The second DLC pack for Mario Kart 8 will feature characters and stages from the Animal Crossing series, as well as a live studio-recorded version of the Animal Crossing theme. The pack will be released April 23 for $7.99
Amiibo content for Mario Kart 8: In addition to the existing amiibo compatibility, newly-released amiibo will function in much the same way: Scanning them in unlocks costumes for Mii racers.
200cc update: Ever since the first Super Mario Kart, the difficulty levels were 50cc, 100cc, and 150cc. However, a free update on April 23 will add the new, insanely difficult 200cc level.
Iwata then thanked viewers for watching, and concluded the presentation.

[fbcomments url="" width="100%" count="on"]