It is a movie that got many, many folks all geeked up about what can be done depicting a futuristic world with cutting-edge cinematic technology.
So those fans most likely let out a disappointed yelp at this news.
Sandy Schaefer reported for Screen Rant Wednesday that director James Cameron has decided to delay Avatar 2 until 2017.
Writes Schaefer: "James Cameron is currently working alongside a team of screenwriters on not just one, but three Avatar sequels, with the intent of shooting the scripts simultaneously and then releasing the films one year after the other. It's a pretty ambitious way to follow up the highest-grossing movie of all time, so it doesn't come as a huge surprise to learn that Cameron has now decided the project could use more development time."
A story by ABC News goes further, saying it will be late 2017, but quotes Cameron from his homeland New Zealand as saying, "so we've designed all the creatures and the environments."
But still, late 2017 is a long time from now.
Maybe all will be forgiven because, Schaefer writes, "In typical fashion for the filmmaker, he's aiming to push the technological envelope with the movies (shooting at a high frame rate, generating underwater mo-cap performances), while still continuing to use the Avatar universe as a parable for the real world."
In case you've forgotten, the 2009 epic science fiction film written, directed and co-produced by Cameron was the first movie ever to gross more than $2 billion. It now stands at $2.787 billion. That buys some patience from the studio side.
Chappie is a robot with a kind soul, it seems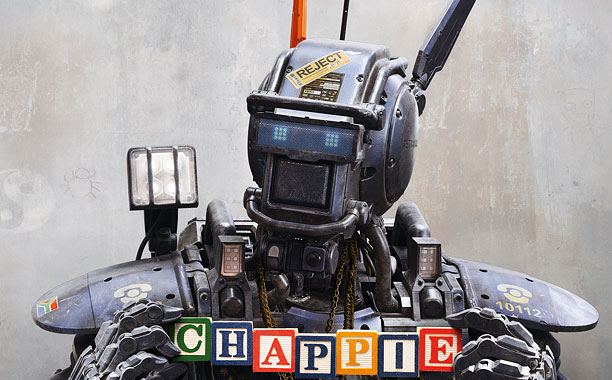 When I saw the trailer for Chappie I thought, do I really want to care so much about this robot?
The sci-fi comes from Neil Blomkamp, who previously directed District 9 and Elysium It stars Dev Patel, of Slumdog Millionaire on the big screen, and more recently, a computer-geek-with-press-freedom-principles hero in the final season of Aaron Sorkin's The Newsroom on HBO.
My jury was out. I didn't know if I wanted to feel sad about the plight of a robot.
H. Shaw-Williams wrote Wednesday for Screen Rant that indeed the problem with the U.K. Chappie trailer is that the artificial intelligence displayed by the robot is just too darn nice.
"The main challenge that Chappie (the movie, not the robot) has to overcome is the fact that the subject of artificial intelligence that approaches human intelligence has been explored countless times before in science fiction, whether as a potentially good thing or a potentially very bad thing. The new UK trailer for Chappie, much like the previous ones, seems to fall down on the 'very good' side (with those opposed to Chappie acting appropriately villainous), but perhaps Blomkamp will surprise us at the 11th hour by having Chappie turn evil," Shaw-Williams wrote.
So I'm not alone on this thing.
Chappie opens on this side of the big pond on March 6.

[fbcomments url="" width="100%" count="on"]