American Sniper was always going to haul the weight of a nation on its shoulders theater to theater even before Thursday morning's announcement officially anointed the movie about the life of Navy SEAL Chris Kyle as a big daddy with six nominations, including for best picture.
American Sniper is directed by Clint Eastwood, justice-spitting detective Dirty Harry himself in an earlier acting lifetime. It stars Bradley Cooper, People magazine's sexiest man alive in 2011 and was adapted for the screen by Jason Hall from a book written by Kyle, the SEAL credited as the most lethal sniper in U.S. military history, with 160 confirmed kills and 100 unconfirmed. A trailer of unbearable tension features a closeup of the sweaty, dirty, tense Cooper on a rooftop fighting the war on terror, deciding whether or not to pull the trigger on a young boy who may be carrying a huge and live grenade toward a group of U.S. soldiers Kyle is up there to protect.
And that scene is how the movie started on the first widespread showing of the movie on a late Friday morning matinee in front of a crowd that mostly filled the top stadium portion and some of the lower section of the theater.
But before sniper Kyle decides whether or not to take that finger the last oomph back to fire this bullet at that boy, Eastwood's direction shoots the film to Kyle's youth, to a hunting scene in the woods with his father and subsequent lessons in which we learn how the Texas cowboy was instilled with his credo of God, faith, country and the desire to protect his own.
And if that seems simple enough, well, of course as he becomes a man, word of how Americans are dying at the hands of foreigners muddies his world enough for him to enlist, and when he meets a beautiful woman in a bar during SEAL training and she agrees to marry him only to have him get news of deployment at their reception, that complicates things even more.
Kyle goes over there and kills. A lot.
His wife has his their first son while he's home after his first tour, and then he goes back, and she has their daughter, and he goes back again. He never stops killing or believing that he's protecting his children.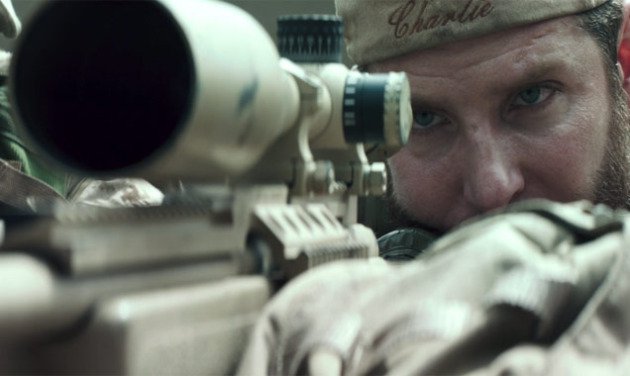 Cooper turns in an admirable performance as a SEAL who nevertheless becomes more and more conflicted as he shuttles back and forth from his family at home and his brothers in country. He squirms well as the Kyle who hated the crown of legend, but not because of the killing. He's convinced himself that comes with the territory of defending his country, his family and his brothers in arms. His discomfort comes from a feeling that he's let down those he's seen his counterpart for the Taliban pick off, literally and figuratively. In turn, Cooper also shines with a big light as the Kyle who expands like a superhero in the heat of battle. Writer Hall and director Eastwood are the stars here, too, for setting up a war plot of chase and escape that'll put your heart in your throat because it's so tense, and so sad.
Sienna Miller matches Cooper emotion for emotion as his wife, at first just puzzled by his vacant stare when he's home and then just angry at the way he refuses to deal with the demons in his head that threaten to escape into physical misdeeds.
The late scenes when Kyle reconciles his needs and thus reconnects with his wife and young children are pure gold.
And then, of course, comes the tragic ending, real life proving once again that war is hell over there, over here, for them, for us, forever.
Mark Bialczak is a veteran journalist who has lived in the Syracuse area since 1983. In early 2013, he was set free to write about whatever he wants. Click here to read Mark's BLOG.

[fbcomments url="" width="100%" count="on"]