Business
After large fire, Herkimer Diamond Mines is ready for summer prospecting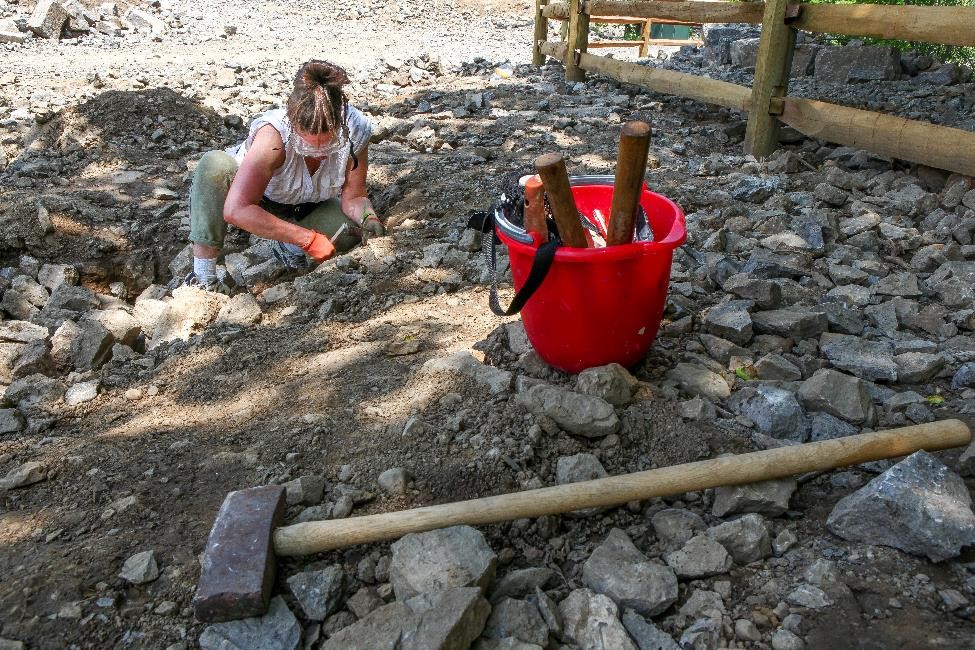 Herkimer County is the only place on the planet where the world-famous Herkimer Diamonds — a beautifully faceted, double-terminated quartz product of nature — can be found. These Herkimer Diamonds are said to be some 500 million years old, and nearly as tough as real diamonds.
Both professionals and the public come from all over the world to dig for their own at the Herkimer Diamond Mines KOA Resort. But last October, a devastating fire destroyed the resort's retail, registration and museum buildings.
The mines and the campground were undamaged by the fire, as was the Miners' Table Restaurant — one where owner and staffers can truly claim a mine-to-table commitment to quality since they use Herkimer Diamonds as a filtering medium. No one was injured in that blaze, and they lost no time at all in the business, as dedicated staff opened that very day and stayed open for the rest of the season.
"We had to really think outside the box," owner and president Renée Scialdo Shevat recalled, "but we kept it going." To add to the challenge, the rough weather certainly wasn't a boon to any renovations for them through the winter and spring either, she said.
A new beginning was forged from those flames, as the resort plans a gala grand opening of a newly constructed Miners' Village on Father's Day weekend, Friday, June 15, through Sunday, June 17. Miners' Village will feature The Village Hall, a new registration entry; The Trading Post retail store; The Rockhound Academy education venue; The Canteen, a café for refreshments; and The Build to Wear, Build and Share jewelry activity center. The Diamond Rush — a restored barn — along with a picnic area and restrooms complete the Miners' Village.
The new Prospector Pete's Panning Place sluicing area was opened in April by Dan Baldwin and his family, who became the first customers. There are also all-new lodging opportunities at the KOA Resort.
Shevat stressed that these additions will be brand-new. "We bought all fresh, new stock so nothing looks like it came from a fire sale," she promised.
While not truly diamonds, the glasslike Herkimer Diamonds are the hardest of all quartz formations, and can be cut into dazzling stones. Those quartz prizes taken from the Herkimer Diamond Mines can be found in collections around the world. Shevat herself wears a variety of gems from their mines.
Shevat said Herkimer Diamond Mines KOA Resort is committed to education. This summer there will be Rock, Gem and STEM Camps offering educational outreach to students. Local schools often send their students to the location to see in-person the mining of those famed gems.
Guests from all over the world can stay at the 250-acre resort, which boasts camping and specialty lodging like the Great American Mining Treehouse, two astronomy lodges complete with telescopes, and The Windmill, where the rotation of the blades provides power for the building. There is a solar-powered colony of cabins; four creekside deluxe cabins; pet-friendly cabins; a cabin where guests can search for dinosaur fossils; and a variety of other hilltop cottages, cabins, RV and tent sites.
Shevat said their accommodations take into consideration that not everyone enjoys braving the outdoors. They also target much of their offerings toward the women of the families who visit; Shevat said that in some 75 percent of instances it is actually Mom who makes the decision to stay there.
Proving her point were Colleen and Joel Davis of Albany, who came out recently with daughter Delilia and her friend Ellie Jagger, both 9 years old. It was Colleen who prompted their visit, after hearing raves from friends who had stayed at the KOA Resort. They booked their Memorial Day weekend stay last September — just to make sure they got in, she said.
The girls said they were having "a blast" as they sluiced for colorful gemstones — sold randomly inserted into bags of dirt so the buyer will be surprised when that dirt is washed away by the sluice waters. Shevat told them she was impressed by their attractive haul, as they lined their new gems up along the wooden waist-high waterway.
They stayed in the solar-powered cabin, and that was perfect for Colleen, she admitted. "It was just amazing. I'm not a camper so that was ideal for me."
Shevat regularly visits with guests, asking if staff can do anything to improve the facilities. She says her approach to business is simple: Treat their consumers like they would want to be treated themselves. And she tells the 62 employees not to rest until they have made at least seven people happy during the day. It's not always the tangibles that people remember, she says, but that genuine feeling of care they will receive when they visit.
Shevat also owns Gems Along the Mohawk in Herkimer, a one-stop destination for shopping New York products, cruising the Erie Canal, dining, and learning about other attractions throughout the Mohawk Valley.
Whether used for jewelry, displayed in their natural state, as filtration in restaurants or for telecommunications research, all of the Herkimer Diamonds that come from the mines have a purpose. Shevat said the mines came into the family back in 1979 because of her dad, Rudy Scialdo, a general contractor who thought it might be a good "retirement hobby." Shevat herself had earned a doctorate in collegiate administration, and was called in by her dad in 1997 to help out when the business was going global.
"I came in for a year, but I loved it so much I stayed," she said. "It is a lot of fun to be able to share nature's beauty with our visitors."
The mines have been world-recognized for more than 30 years and attract 150,000 visitors annually. With thousands of well-wishing messages received from all over the world after last year's fire, Shevat said she knew there was no way she could let that hold them back.
"I had thoughtful comments coming in from people all over the world encouraging me. I felt it was not only my responsibility, but also my honor, to rebuild," she said. "We took a lemon and made lemonade: It's just that simple. This all just gives us more of an opportunity to give our guests an experience they will never forget."
Herkimer Diamond Mines is located at 4601 State Route 28 in Herkimer, with the Miners' Table restaurant next door and the KOA Resort across the street. Admission for prospecting in the mines is $13 for ages 13 and up, $11 for ages 5 to 12, and free for ages 4 and under. It's open daily, 9 a.m. to 5 p.m., through Nov. 1. For information, visit herkimerdiamond.com.
[fbcomments url="" width="100%" count="on"]