What if we told you that you could have a healthy, gourmet, chef-inspired dinner on the table in six minutes? What if we told you that many of the core ingredients are local/regional and non-GMO? And that your choice of entrees includes things like cumin lime-roasted salmon, served with coconut black rice and sesame carrots, topped with a herbed yogurt sauce? Or slow-roasted lamb shank with root vegetables, spaetzle and kale? Or turkey ricotta meatballs with whole grain pasta?
Shopping for all of the ingredients for those meals could take you hours, not to mention the time required for kitchen prep, cooking and cleanup. This is where RealEats steps in.
RealEats describes itself as the first sous vide-style vacuum-packed meal delivery service. Unlike HelloFresh, Blue Apron, Purple Carrot, Plated and other meal prep subscriptions out there, RealEats delivers fully prepared, vacuum-sealed meals to your door that are ready in minutes and stay fresh for up to seven days.
Other meal kits can take 40 minutes or more to prep and cook, plus cleanup time. RealEats meals are ready in six minutes; simply place the packs in a pot of boiling water.
RealEats launched last year and is the concept of founder and CEO (and single dad) Dan Wise. Wise created RealEats for the busy yet mindful consumer who wants to eat well. Like many working parents, Wise says he struggled with balancing the duties of a full-time job and finding the time to cook for his family at the end of a long workday. He created RealEats for those seeking healthy, quick, convenient and tasty options for dinner.
Wise chose Geneva as the RealEats production center because the city is in the heart of the Finger Lakes, one of the richest agricultural areas in the Northeast, and because the company wants to be as close as possible to local food sources and producers. RealEats operates out of the Innovation Kitchen at the Geneva Enterprise Center. The company was connected to Geneva by Cornell University's Tech Farm.
"The location gives RealEats a real advantage," notes Wise. "We're able to responsibly source many of the meal ingredients from local farms and purveyors.''
RealEats partners with some of America's top chefs to create healthy meals that are full of flavor, to be enjoyed at home. Past and current chef collaborations with RealEats include Dale Talde, Bill Telepan, Kat Turner, Lien Lin and Silvia Baldini.
Meals are prepared in the RealEats kitchen, then vacuum-sealed in recyclable pouches. The most popular menu items, to date, include grain and rice bowls, Moroccan chicken and just about any salmon dish on the menu. "Our salmon dishes are usually the best sellers along with our rotating chef menu, which changes each week,'' Wise says.
RealEats plans range from four to 12 meals per week, including rotating signature chef dishes. Plans range in price from $60 a week for four meals to $153 a week for 12 meals.
What kind of customer feedback are the RealEats meals receiving? "Without exaggerating, the response has been overwhelmingly positive,'' Wise said in an email. "Our customers are repeating a lot, which means they are enjoying the food and concept.
"It's so hard to eat right these days or to even know what's in your food. Because we provide nutritional info for each meal and because the meals are designed by professional chefs, there's no trade-off between health and taste. That's resonating really well with our customers and we're grateful for the response so far.''
For more information, visit realeats.com.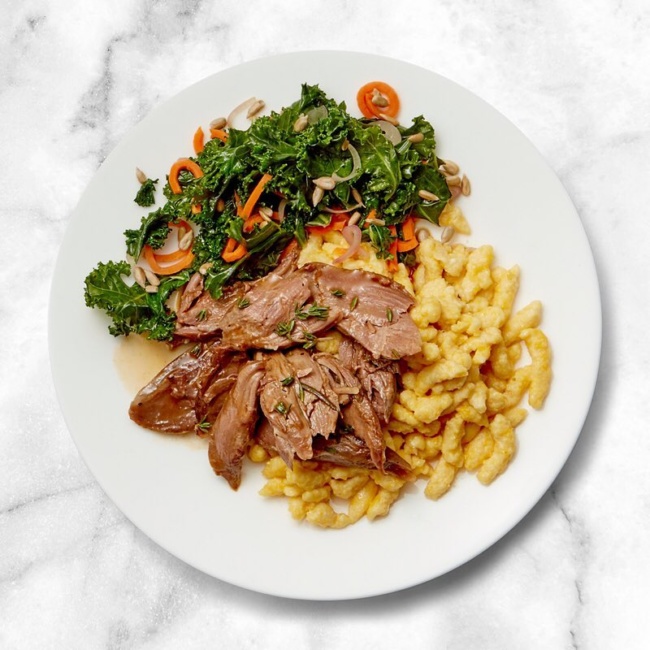 Margaret McCormick is a freelance writer and editor in Syracuse. She blogs about food at eatfirst.typepad.com. Follow her on Twitter, connect on Facebook or email her at [email protected].
Continue Reading
[fbcomments url="" width="100%" count="on"]