You might not think of Jamesville as a food destination. It's the hamlet you pass through on your way to the Balloon Fest at Jamesville Beach County Park or on your way to take a hike at Pratts Falls. But if you like to dine out, Jamesville has a couple new restaurants that should be on your radar.
Notch 8 Cafe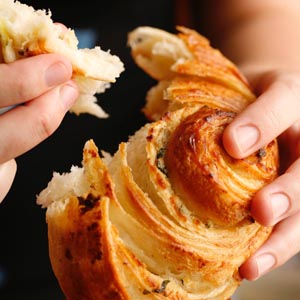 Notch 8 Cafe, the first phase of the planned TRiNiQ dining and event venue at the former Glen Loch Mill Restaurant, opened in December at 6523 E. Seneca Turnpike (in the site formerly occupied by Split Rock Grille, Sotiris Greek Taverna and the Village Eatery).
Notch 8 does a little of everything – breakfast, brunch, lunch and dinner, plus coffee, gelato and homemade baked goods. The weekend brunch menu has proven to be so popular that it's now available on weekdays, too, with items like pancakes and waffles with New York maple syrup, eggs Benedict, omelets and more. The cafe serves coffee by Utica Coffee Roasting Company.
The restaurant has a chalkboard menu, offering a daily pizza, soup and slider special and changing selection of sandwiches and paninis.
Stop in for dinner and your first bite will be an amuse bouche, a complimentary bite-size appetizer that changes daily. Amuse-bouche (French) literally means "entertain the mouth." Recent offerings have included crispy fried lemon pepper garbanzo beans and guava sriracha gelato with smoked ghost chile pepper sea salt. The dinner menu features small plates, burgers, steaks and chops, seafood and housemade pasta dishes.
Notch 8 is a railroad term that refers to the eighth notch of the throttle control, or full power. Railroad references are on the menu, like junction wings, New York Central pizza and the Big Caboose Burger: an 8-ounce patty topped with pulled pork, fried egg, crispy fried onion, smoked bacon jus, cheddar and lettuce.
In addition to breakfast, lunch and dinner, Notch 8 hosts special events, like beer and wine pairing dinners and the "Taste of TRiNiQ" Valentine's Day dinner coming up Saturday ($110 per couple, plus tax and tip; call for reservations).
Information: 870-9132, notch8cafe.com/home
School & Vine Kitchen & Bar
The "now open" flag is flying at School & Vine Kitchen and Bar, a couple miles west of Jamesville. The restaurant, which opened in late January, is in the former Southwood Two-Teacher School, a vine-covered brick building at 4621 Barker Hill Road, just off Route 173.
The building is listed on the National Register of Historic Places. It formerly housed a hair and tanning salon, among other businesses. New owners Dennis and Katie Yost, who own and operate Panini's downtown (and formerly operated the Clinton Park Cafe on South Clinton Street) gutted the building, and in the process uncovered chalkboards and other original architectural details, some of which have been preserved..
According to the restaurant's website, the winter menu offers appetizers like housemade kettle chips and duck bacon wontons, dinner salads, sandwiches and burgers and pasta. The restaurant is open Tuesday to Saturday for dinner and is expected to also serve lunch. The restaurant can accommodate about 50 guests for private parties.
Information: 469-4227, schoolandvine.com
While you're there
Jamesville might be small, but it boasts two bakeries across the street from each other. The Pastry Palace, at 6499 E. Seneca Turnpike (492-1905), makes some of the best rugelach around and offers strawberry whipped cream cake and other treats reminiscent of the former Snowflake Pastry Shop in Syracuse. Half Moon Bakery and Bistro, at 6500 E. Seneca Turnpike, is noted for its half moon and other cookies, as well as cupcakes and custom cakes. It also offers bistro lunches. Information: 492-0110, thehalfmoonbakery.com
Margaret McCormick is a freelance writer and editor in Syracuse. She blogs about food at eatfirst.typepad.com. Follow her on Twitter, connect on Facebook or email her at 

[email protected]

[fbcomments url="" width="100%" count="on"]