Hold on to your undahpants! This Friday, quirky Cory Matthews and smartypants Topanga will return to take us all on a trip back to the '90s, when ABC's "TGIF" lineup ruled our Friday nights and backyard chats with Mr. Feeny prepared us for real life. Right?!
NOT. Sadly, that's not what "Girl Meets World" is like at all. For all millenials eagerly awaiting the sequel to the hit show "Boy Meets World" and hoping for a rollicking nostalgiafest, I invite you to rein in your expectations. Unfortunately, this is not a show aimed at us. It's a modern Disney Channel show aimed at a modern Disney Channel audience (read: children).
"Boy Meets World" (or for superfans, BMW) ran for a stunning seven seasons from 1993-2000. The new series aims to reboot the coming-of-age gem for a new generation, and premieres Friday, June 27 at 8:45 pm. The pilot has been available online to Disney subscribers since May.
Many of the new characters will feel familiar to hardcore BMW fans. In the first episode, we meet protagonist Riley Matthews (Rowan Blanchard), a chirpy tween with an oddball personality fabulously similar to that of her father, Cory (Ben Savage), star of the original series. Cory is his daughter's middle school history teacher.
Riley's mom and Cory's wife, Topanga (Danielle Fishel), is now a lawyer and – unsurprisingly – a strong female role model for her daughter and her friends. Riley's younger brother Auggie (August Maturo) is an apt replacement for Cory's precocious baby sister and the queen of one liners, Morgan. There's a new nerdy ladies man in town, Farkle Minkus (Corey Fogelmanis). That's right, it's Stuart Minkus' (Lee Norris) son. Mr. Feeny (William Daniels) makes a cameo in the first episode. Teen Beat hunk Rider Strong (Shawn) will reportedly return for two episodes, including a reunion episode that also features Cory's parents.
The pilot's storyline serves as an adequate – albeit hokey – "passing of the torch." As if to knock us squealing millenial fangirls and -boys down a notch, the episode involves Riley's quest to "meet the world," and make it hers (read: NOT Cory's). Riley's best friend Maya (Sabrina Carpenter) is a troublemaker from a troubled home (not unlike Cory's best friend Shawn on BMW). Riley wants to be like Maya, and this ambition gets her into a bit of trouble.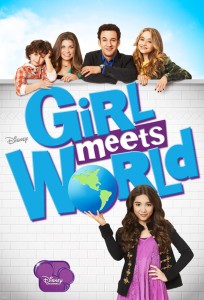 From a logical, adult perspective, the pilot's premise is confusing. Cory and Topanga tell Riley that she lives under their roof and must obey their rules, but then they encourage her to make it "her world."
"I've already met the world," Cory says. "Now it's your turn."
Aw. But which is it? Follow the rules or rebel? The whole episode feels somewhat disjunct, a barrage of cornball BMW references (mostly in the form of Riley channeling the awkward Cory we know and love) pasted together with decidedly unsubtle life lessons. Clearly, the showrunners are trying to appeal to both kids and their nostalgic parents. The result feels a bit like a circus.
With themes of being yourself and the importance of sticking by your friends, the show gets off on what feels like the right footing. Still, something is missing. The pace is too fast. The characters are too overt. It doesn't feel real – especially if you do what I did, and watch the GMW pilot and the BMW pilot back-to-back. Cory is no Mr. Feeny, and the new relationships feel forced. I would say, "well, it's kids' TV, and I'm an adult now. Maybe I just don't get it." But BMW was kids' TV too, and its sincerity still holds up today. So far the sequel lacks that splendid truthfulness that made BMW so terrific.
For now, chock it up to first season growing pains and give the show a fair shot. It has the potential to be just as charming and well-rounded as the original. Hopefully in time it can strike the right balance and grow into the best thing millenials can do with their kids on a Friday night.
If not, then there's no better time to buy the original and re-watch that instead.
Binge Pick of the Week: St. Elsewhere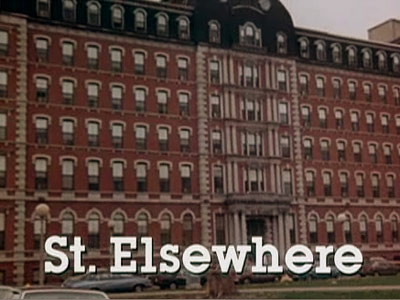 Bummed you won't see much of 87-year-old mentor-for-the-ages William Daniels (Mr. Feeny) on "Girl Meets World"? Nostalgic for something older or more sophisticated than a '90s kids' sitcom? Queue up one of television's earliest medical dramas, "St. Elsewhere" (NBC, 1982-1988).
Set in Boston's South End, the series follows the lives of the staff of St. Eligius teaching hospital. Unlike "Grey's Anatomy"'s Seattle Grace, St. Eligius is not a well-respected hospital. In fact, people refer to it as "St. Elsewhere, a dumping ground." The series is peppered with up-and-coming stars of the time, including Ed Begley Jr., Howie Mandel, Mark Harmon, Denzel Washington and Alfre Woodard. And of course, Mr. Feeny himself.
"St. Elsewhere" has a famously provocative surprise ending – one that many critics still reference and debate today. If you want an untainted viewing experience, don't google it.
For fans of: William Daniels, Grey's Anatomy, ER, Chicago Hope
Where to stream: Hulu, Amazon Instant Video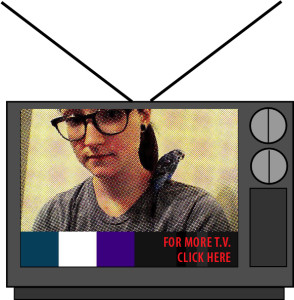 Sarah Hope is a graduate student in the Goldring Arts Journalism Program at the Newhouse School at Syracuse University, where she focuses on television, entertainment history and classical music. In her free time, she also experiments with vegan and gluten free baking, and tries to teach her parakeet to sing TV theme songs. Find her on Twitter @sarahmusing.
[fbcomments url="" width="100%" count="on"]