In keeping with the tradition of an action-packed penultimate episode followed by a wrap-up, Sunday night's Game of Thrones finale, "The Children," spent a little time with (almost) everyone. (Spoilers ahead.)
At the end of the battle at the wall, Jon Snow heads north with plans to kill Mance Rayder, the king of the wildlings. In a parley, Mance says that all the free folk want is to escape south because "winter is coming." Just as they reach an agreement, Stannis Baratheon shows up with an army and ends the conflict. Jon Snow shows respect for his father's former king but, along with Mance, refuses to kneel.
So where will Jon's loyalties lie next year? Stannis is large and in charge, and that means the Melisandre is also in town. Surely, Melisandre's strict adherence to the Lord of Light's rules (and the choke collar she has on Stannis) won't mesh well with Jon's newfound love of liberty.
Back at King's Landing, in an effort to avoid marriage to Loras Tyrell, Cersei confesses her incestuous relationship with Jaime to their father. Jaime, who has little to lose and is apparently feeling brave for the first time in months, liberates Tyrion from prison, saving his little brother's life. Before Varys can pack Tyrion away and ship him off to a new life, Tyrion has some business to take care of. In pursuit of his father, he finds his former lover Shae asleep in Tywin's bed. The dark and tortuous scene that follows is a breaking point for Tyrion, much like Ygritte's death was a breaking point for Jon.
After killing both Shae and his father (a serious reminder to always lock the bathroom door), where will Tyrion go now? What is Varys running from – or toward? What will happen to Jaime? Will he and Cersei confess their sins to the masses and rule over the Kingdom of Brotherly Love? Where will Margaery and her sneaky, saccharine scheming come in?
Brandon Stark, Jojen, Meera and Hodor – still on their Lord of the Rings-style pursuit of the three-eyed raven – finally arrive at their destination, where they are saved from a wight attack by a tree. Remember: "wights" are the zombie skeletons; "White Walkers" are those icicle-faced baby stealers. The tree is a Weirwood; it has feelings.
They are led into the tree by a girl who identifies herself as one of "the Children," a race of earthy people who long preceded the race of men. Inside, Bran learns that he will never walk again – but he will fly. So, uh, what does that mean? Commence all supernatural theories. As a reader of the books, I can tell you that things get pretty freaking weird in Bran's world.
In Meereen, Daenerys must come to terms with her fire babies' power; one of them killed a little girl. The charred body is brought before the young queen, who locks two of her dragons up in a cave. Drogon, the fiercest of the trio, is still missing. What will the Mother of Dragons, Breaker of Chains do now? How can she peacefully rule a city that fears her beloved "children?"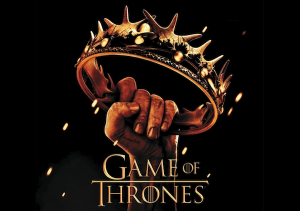 In the last few episodes, we've waved goodbye to a few other important characters, for now. Sansa has come out of her shell and learned to scheme, but loyalty to Littlefinger is a tricky game. Samwell Tarly, Gilly and the baby have lived to see another day. What's next for them, and for all of the Night's Watch? And will Theon Greyjoy ever return to his true self, or has nutcase Ramsay Bolton made him "Reek" forever?
Despite how satisfying the Tywin Lannister death scene was, it was Arya Stark's story line in this episode that left me feeling most transported. With the surprise help of Brienne of Tarth, Arya escapes her complicated captor, takes fist-pump worthy revenge on him, and sets off on her own. In the episode's final shot, we see her at the stern of a ship, not quite Titanic-style but with the same "my whole life is ahead of me" expression. Things are about to get pretty weird for this Stark child, too.
As a book reader I must say: no one is the same after this. This episode marks a turning point for everyone, and there could be no better ending for this season than Arya's young but weathered, dirty but determined face looking ahead to a new life in Braavos.
Arya and Tyrion have long journeys ahead on which to ponder their next moves. We viewers will have almost a year to wonder what all of this means. In keeping with the production schedule so far, we probably won't see any new Game of Thrones until April 2015.
Binge Pick of the Week: Rectify
Some shows, like Game of Thrones and Orange Is The New Black, get so much media coverage it's nearly impossible to miss them even if you're not a big television watcher. Other shows fly so far under the radar that a whole season goes by before we even realize what we're missing. For me, Rectify is one of those sleepers.
Set in rural Georgia, this Southern Gothic gem tells the story of Daniel Holden (Aden Young), a man convicted of raping and killing his girlfriend at the age of 16. After nearly two decades, he is released due to new-found DNA evidence and must adjust to his former life in his hometown, where few people believe his innocence.
The series has received praise for its unusually slow pacing and interesting character development. The first season premiered in April 2013 and is only six episodes – perfect for a binge. The second season premieres this Thursday, June 19 at 9pm on the Sundance Channel. BuzzFeed has the first 12 minutes, for those who just can't wait.
For fans of: Top of the Lake, Mad Men, True Blood, True Detective
Where to stream: Netflix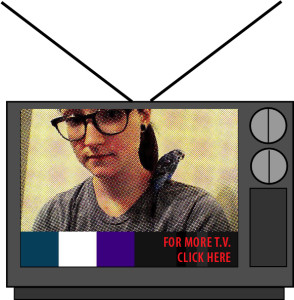 Sarah Hope is a graduate student in the Goldring Arts Journalism Program at the Newhouse School at Syracuse University, where she focuses on television, entertainment history and classical music. In her free time, she also experiments with vegan and gluten free baking, and tries to teach her parakeet to sing TV theme songs. Find her on Twitter @sarahmusing.

[fbcomments url="" width="100%" count="on"]