This year's Syracuse International Film Festival celebrates everything from Bollywood to Hollywood, with classic cinema mixing with short subjects from newbie filmmakers, and celebrities ranging from septuagenarian actress Sally Kirkland to talented director Nick Cassavetes, son of the late indie-film pioneer John Cassavetes.
The 2014 blowout actually opened Oct. 5 with star-director Charles Lane screening his 1989 drama Sidewalk Stories, unseen for more than two decades. The fest, now in its 11th year, continues this week at locations including Eastwood's Palace Theatre, 2384 James St. (463-9240), and downtown's Landmark Theatre, 362 S. Salina St. (475-7979), while two campus shows take place at Menschel Media Center's Watson Auditorium, 316 Waverly Ave., on the Syracuse University Hill.
One of the festival's signature achievements is the screening of a silent treasure accompanied by a new score composed especially for the event. This year's presentation will be Harold Lloyd's 1923 comic triumph Safety Last, which climaxes with the daredevil performer climbing the side of a multi-story building, at one point dangling from the hands of a clock. Deemer will also be on hand to conduct a seven-piece ensemble. Also on the bill, which takes place Wednesday, Oct. 8, 7 p.m., at the Palace, will be the 1914 Charlie Chaplin short Mabel's Strange Predicament with a piano score by Nathalie Khoriaty.
Israeli filmmaker Dani Menken visited a previous Syracuse Film Festival edition and was apparently so taken with the area that he filmed a movie here last summer with a cast and crew of Salt City performers. His romantic comedy Is That You? makes its American premiere on Thursday, Oct. 9, 7 p.m., at the Palace. The movie receives another showing on Sunday, Oct. 12, 1 p.m., at the Landmark Theatre.
The Sophia, the festival's highest honor, will be presented to a pair of cinema talents on Saturday, Oct. 11, at the Palace. Sally Kirkland will receive the accolade during the 7 p.m. screening of her 1987 drama Anna, which earned the actress a surprise Academy Award nomination. And filmmaker Madhur Bhandarkar will get his Sophia during the 9:30 p.m. unspooling of his acclaimed 2012 drama Heroine, which charts the travails of a diva portrayed by Kareena Kapoor. Incidentally, Bhandarkar's 2008 Bollywood epic Fashion will be screened at the Landmark on Saturday, Oct. 12, 1 p.m.
Filmmaker Nick Cassavetes, who has been on campus all week teaching budding film students, will be represented with two films on Saturday at the Landmark. The 4:30 p.m. showing of 1997's She's So Lovely features Sean Penn, John Travolta and James Gandolfini will be followed at 7 p.m. with Melanie Griffith in the 2012 drama Yellow. The Landmark will also host the 9:30 p.m. homecoming of two noted SU alums: actor Sam Lloyd, who played the harried lawyer on the long-running sitcom Scrubs, and composer Paul Perry.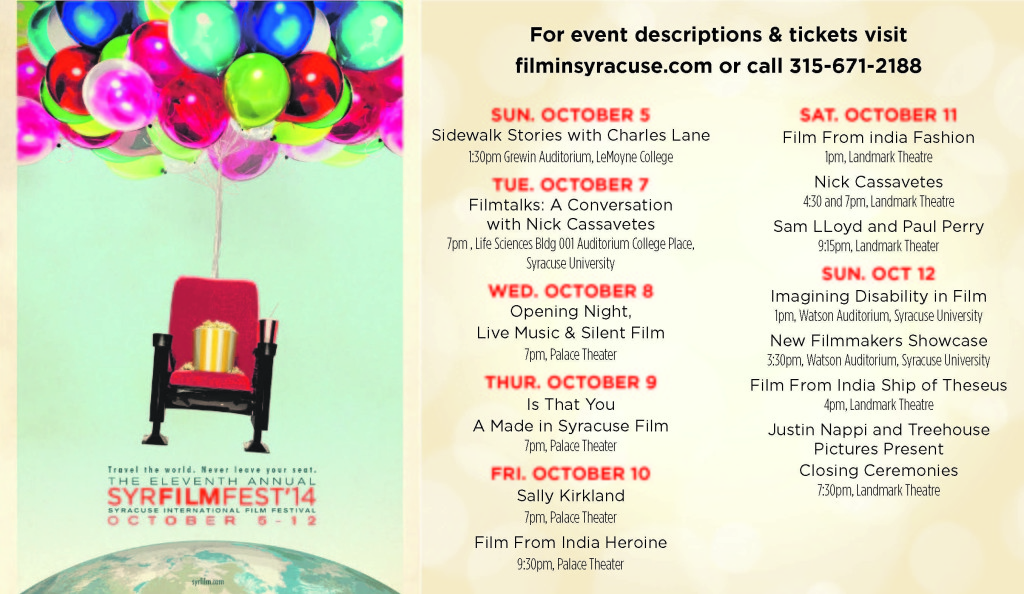 The festival's annual Imaging Disability in Film Showcase on Sunday, Oct. 12, 1 p.m., at Watson Auditorium, presents another round of inspirational works. Another festival mainstay is the Carol North Schmuckler New Filmmakers Showcase, Sunday at 3:30 p.m. at Watson, featuring seven works by student filmmakers.
Then it's back to the Landmark for the 4 p.m. screening of Ship of Theseus from acclaimed India filmmaker Anand Ghandi. Winding up the festival will be the 7:30p.m. showing of the 2013 fact-based drama Fruitvale Station, with actor Michael B. Jordan and producer Justin Nappi on hand to introduce the feature.
Single tickets are $12, with a full festival pass, which includes all movies and meet-and-greet receptions, available for $75. There is also a $125 pass that gains entrance to the movies, meet-and-greets, a black-tie-only fashion show at Armory Square's Museum of Science and Technology on Saturday, 6 to 10 p.m., and the Sunday closing party at Benjamin's on Franklin. For more details, call 254-5062 or 706-2147, or visit filminsyracuse.com.
[fbcomments url="" width="100%" count="on"]