Here's another benchmark to measure the popularity of a really popular film.
A movie made mucho money, says the reports on entertainment TV shows. You overhear everybody from students to mall walkers talking about how much they loved it. The soundtrack went to No. 1 on Billboard's album chart.
And now this.
Reporter Eric Eisenberg writes a piece for Cinema Blend about what was supposed to happen in Guardians of the Galaxy, but ended up on the cutting room floor. " … the good news is that writer/director James Gunn is around to deliver," Eisenberg reports in his story for the site. "He has been sharing behind-the-scenes photos and info from his movie for months now, and this week it seems he's hit a theme of deleted scenes."
Yes, fans of this Marvel Universe hit — still No. 3 on the box office list after week No. 7 following last weekend's gross, according to boxofficemojo.com, if you were wondering, trailing just debuting films No Good Deed at the top and Dolphin Tale 2 and with a total domestic take now of $305,987,190 — can now buzz about what might have happened but didn't.
Eisenberg's story includes a photo posted by Gunn of actress/model Simara Dixon in full blue-faced costume as her character. She was in footage flirting twice with Star Lord, star Chris Pratt. And then she wasn't in the movie.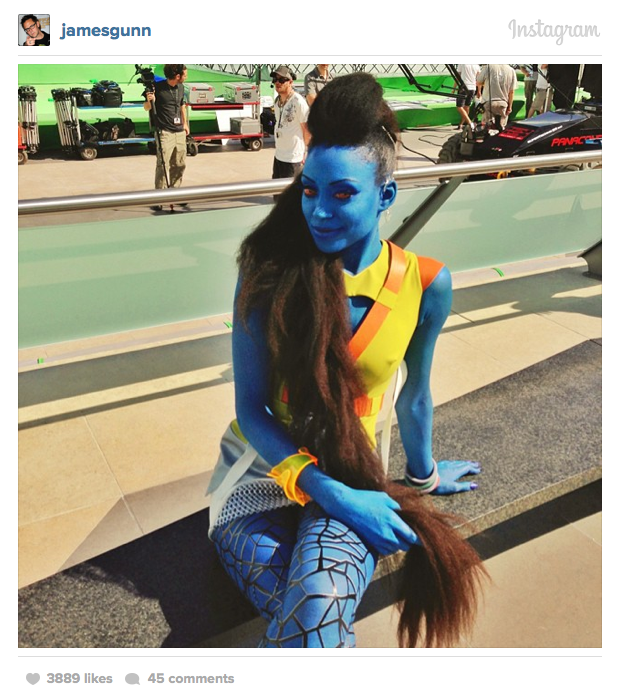 Eisenberg points out to fans that perhaps her scenes will be in the DVD/Blu-Ray version to be released later this year. And that the sequel is scheduled for release on July 28, 2017. Buzz buzz buzz.
Ill child becomes all ears for Captain Picard
Add Patrick Stewart to the seemingly growing list of show business people who made it to the top who know this stature carries certain responsibilities far into the future.
The man who played Captain Picard in the Star Trek franchise — and his Next Generation chapter started on TV in the 1990s and then with the 1994 movie Star Trek: Generations, mind you — this month was scheduled to attend Dragon Con, a sci-fi convention that's held annually in Georgia.
Reporter Gregory Wakeman writes for Cinema Blend about Dawn Garrigus, an 11-year-old from Statesboro, Ga., who is a huge Trekkie. She's also awfully ill with mitochondrial disease, sick enough that the Make-A-Wish Foundation delivered when her wish was to attend Dragon Con.
"Dawn's reason for visiting the event was because a special panel of Star Trek: The Next Generation had been scheduled, and she pined to learn more about her favorite TV series," Wakeman writes.
Stewart heard of that wish, and he made sure to do more than speak at the panel.
Photos from James W Barker Photography capture the young fan's happiness at the encounter. She's wearing a content look, Trekkie shirt and Spock ears.
Her parents, Danny and Kristy Garrigus, say in the Cinema Blend story, that this made Kristy "the happiest (they) had seen her in a long time."

[fbcomments url="" width="100%" count="on"]