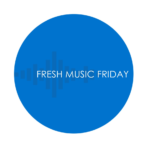 Hailing from rural Missouri, Nathaniel Rateliff has garnered national attention with Nathaniel Rateliff & The Night Sweats, an R&B group formed in 2013. Other band members include Luke Mossman, Wesley Watkins, and Andy Wild.
The New York Times dubbed him a Denver local folk-pop hero. Spin praised his "massive, alluring" voice. Billboard dubbed the unsigned singer-songwriter a "must hear."
Take a listen to this toe-tappin', hand clappin' single titled "S.O.B." from their self-titled debut album:
For more Nathaniel Rateliff & The Night Sweats:
Feature photo by Brantley Gutierrez
Fresh Music Friday is designed to widen your musical horizons, and to give a taste of different artists and musical styles to explore. While some of the artists featured here may not be "new," they promise to freshen your catalog of music.
Ty Marshal is the Executive Director at the Center for the Arts in Homer, N.Y — one of the Central New York region's preeminent presenter of the arts and a proponent of community enrichment through world-class entertainment and arts education.
[fbcomments url="" width="100%" count="on"]