News
Baseball Hall of Fame gears up for 2 years of Yankees ceremonies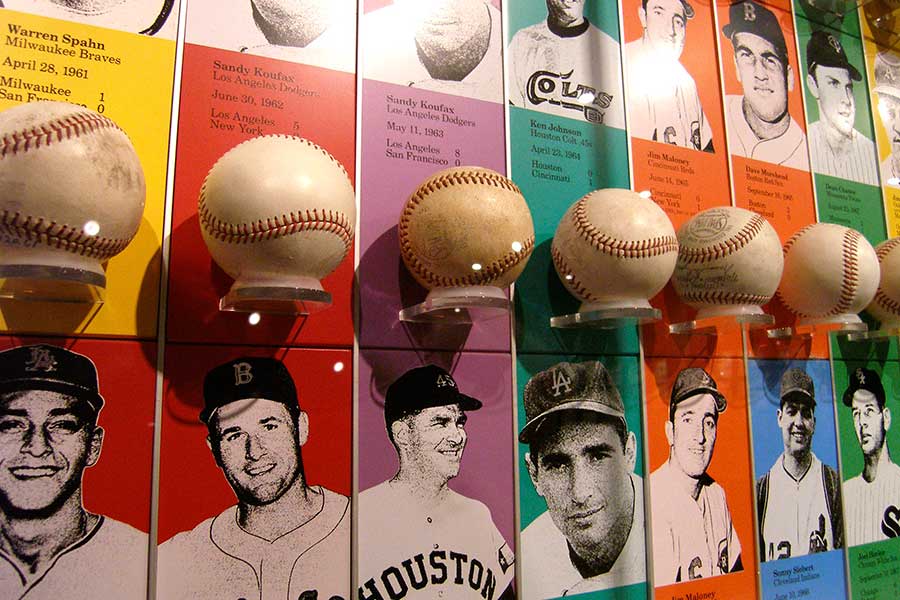 On July 29, Cooperstown's National Baseball Hall of Fame welcomed its largest class of inductees since 1971 in front of the second-largest crowd in the history of the induction ceremony.
An estimated 53,000 people crammed on the lawn and hills behind the Clark Sports Center, about a mile from the Hall of Fame Museum, to attend the induction of Chipper Jones, Jim Thome, Vladimir Guerrero, Trevor Hoffman, Jack Morris and Alan Trammell.
In the news conference following the ceremony, Trammell said, "The second-largest crowd ever? That's pretty cool."
Alan, you ain't seen nothing yet.
If next year's induction ceremony doesn't break the record of 83,000 for Cal Ripken Jr. and Tony Gwynn in 2007, then the 2020 ceremony certainly will. That's because Mariano Rivera and Derek Jeter, the most popular of the "Core Four" New York Yankees who helped the team win five World Series championships from 1996 to 2009, are locks to enter the Hall of Fame in 2019 for Rivera and 2020 for Jeter.
"Everybody knows the former Yankees are the biggest draw and you couldn't ask for two bigger Yankees," said Vincent Carfagno, the owner of the Seventh Inning Stretch sports apparel and memorabilia store on Main Street in Cooperstown since 1995 and owner of the Cooperstown Connection store at Destiny USA. "Those are going to be two big years, probably bigger than has ever been here."
Rivera, who retired after the 2013 season, is baseball's alltime saves leader (652) who was even better in the postseason (a record 0.70 ERA and 42 saves). Jeter, who retired after the 2014 season, ranks sixth in baseball history with 3,465 hits and provided a litany of memorable moments, from the Jeffrey Maier home run in the 1996 playoffs to his game-winning, walk-off single in his final game at Yankee Stadium.
There is no doubt Rivera and Jeter will earn induction in their first year of eligibility on the Baseball Writers Association of America ballot.
"Oh my gosh, crazy," Hall of Fame pitcher and former Yankee Rich "Goose" Gossage said when asked about the next two years in Cooperstown. "There have been some big inductions, but (with Cooperstown) being in New York and with such great Yankees as Mo and Derek, it's going to be, 'Katy, bar the door!'"
That's another way of saying there's trouble ahead, and that's what many local merchants were saying about the next two years when fans from New York City will flock to Cooperstown, a leafy village of fewer than 2,000 people on the tip of Otsego Lake.
But getting to Cooperstown and getting into Cooperstown for the next two induction weekends will be two different things. Sarah Mower, who has been the manager for 14 years at Mickey's Place sports memorabilia and apparel store on Main Street, has two words for fans who are planning to attend the next two years: Be prepared.
"I don't know if any of us can be completely prepared for what is about to happen," Mower said. "But for New York fans who want to come into the village, understand that you're going to have trouble finding parking and getting into the village, and you should book your rooms well in advance, if there are any left."
Mower, who is also a member of the Cooperstown Chamber of Commerce, said the local merchants and residents looked at this year's large induction as a "cushion year." In other words, the large crowds for the induction weekend this year enabled the village to get a better idea how to handle the even larger crowds the next two years.
"This year should prepare us for the next two years and help us get plans in motion for additional parking and security," Mower said.
Mower and other merchants said they usually order their items about a year in advance, and they've already placed large orders for Rivera items for next year. Others, like sports memorabilia dealer Aaron Strayer of Williamsport, Pennsylvania, are also thinking ahead.
Strayer sets up tables at flea markets in Williamsport, home of the Little League World Series. But anticipating the Rivera and Jeter inductions, Strayer wisely reserved a table at this year's annual sports memorabilia show at American Legion Post 579 on Main Street in Cooperstown.
"I got in this year so I can be here next year for Mo and then Jeter," said Strayer, who said he has been stockpiling Rivera and Jeter cards and autographed items for several years. "There's going to be at least 75,000 for Mo and maybe 100,000 for Jeter that weekend."
Fans who want to stay in and around Cooperstown during those weekends are probably already out of luck. The Major League Motor Inn, which is located on Route 28 in Fly Creek, about 3 1/2 miles from the Hall of Fame Museum, already has an agreement in place to satisfy overflow reservations from the ritzy Otesaga Resort Hotel, where the Hall of Famers and their families stay during induction weekend.
That three-year agreement expires after 2019, so there's a chance rooms will be available for 2020, manager Heather Madaras said. The Major League Motor Inn does have a sister operation called Old Maiden Lane that has vacation homes available for the next two years, but you'll need to rent for the entire week and you won't know the date of Jeter's induction until next year's induction. At the July 29 ceremony, it was announced that the 2019 ceremony would be held July 21.
Madaras said in both years, she fully expects traffic on Route 28 (one of two ways to get into the village) to be backed up to the Motor Inn and beyond during the next two years.
"It's going to be crazy," Madaras said. "They'll be closing roads and using only shuttle buses. If anybody wants to get anywhere near the village those weekends, you better start moving now."
At the Lake Front Hotel at the edge of Otsego Lake, manager Tulsa Lepetich said the family-run business has always given previous customers first dibs for the next year's induction weekend. They have 46 rooms, and maybe two or three open each year, Lepetich said. Their waiting list is 60 deep, and they're expecting to turn away hundreds of people who will ask about the next two years.
The Lake Front Hotel owners also operate a restaurant, run boat tours and rent pontoons, kayaks and paddle boards. So Lepetich, who has been managing the hotel for 16 years, is bracing for large crowds at her hotel the next two years.
"It's usually nice and quiet down here, but that's going to be chaos," Lepetich said, smiling. "Controlled chaos."
Mower, from Mickey's Place (named after former Yankees great Mickey Mantle, of course), said that on the Friday of this past induction weekend, she made sure to get into work at 7:30 a.m. to beat the traffic and rush. For the next two induction weekends, she jokingly said, "I might just have to sleep in the store.
"There's really no way for any of us to prepare for the crowds," Mower said. "You just have to get in the baseball spirit and hope for the best."
[fbcomments url="" width="100%" count="on"]