Auto
Give my regards to Brockway: Truck show celebrates Cortland's vehicle manufacturing past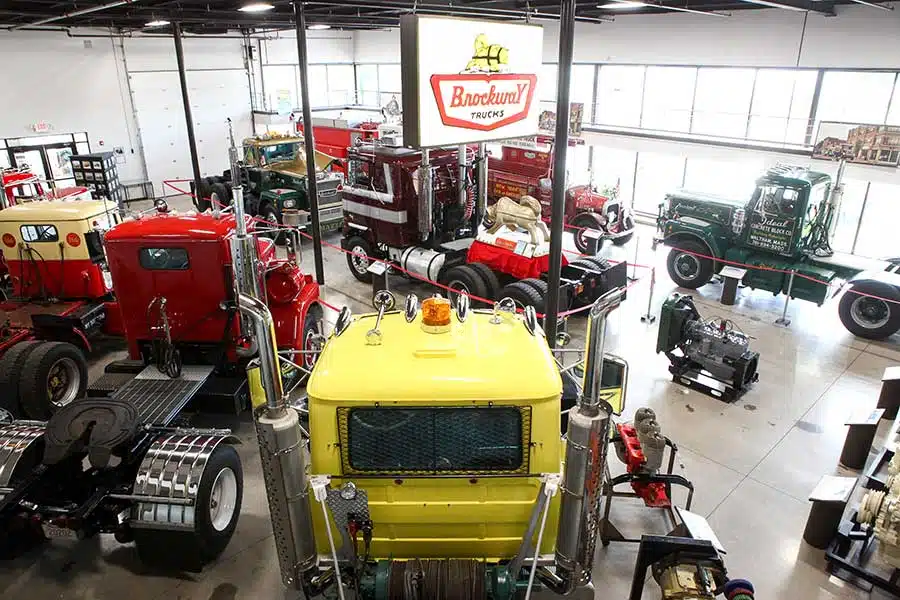 Consider this quote: "I believe that ultimately the electric motor will be universally used for trucking in all large cities," the author predicted. "It will not be long before all the trucking in New York City will be electric."
Those words could reasonably have come from Elon Musk, the founder of the electric car maker Tesla, a company about to market a battery-powered semi-truck. Or from Sweden's Volvo, or from Germany's Daimler or from the Workhorse Group in Cincinnati or from the Chinese manufacturer BYD, all of which are either marketing or are about to market electric trucks.
But, surprisingly or not, it was Henry Ford, the pioneering producer of affordable gasoline- powered cars, looking ahead in 1915.
See Photo Gallery:Behind the wheel at the Brockway Museum in Cortland
Even at that early point in auto manufacturing, electric vehicles were nothing new. Traceable back to the mid-19th century and the invention of the rechargeable lead-acid battery in 1859, electric cars rivaled their gasoline-powered cousins in appeal and sales in the early 20th century before fading away due to convenience and cost issues.
About the same time, 1909, the Brockway Carriage Works, the Cortland-based carriage maker established in 1875, reinvented itself as the Brockway Motor Company, and by 1912 was manufacturing commercial gasoline, and later diesel-powered trucks. Brockway offered models for every common commercial purpose: semis, tankers, flatbeds, stake racks, military vehicles and buses.
Ornamented with a charging husky at the tip of the hood, Brockways eventually shared the highways of America with other imposing highway titans of the era, including Macks, Freightliners, Peterbuilts, Kenworths and extinct brands like Diamond Rio. Acquired by Mack Trucks in 1956, the Brockway Motor Company was shut down in 1977 due to labor and financial issues.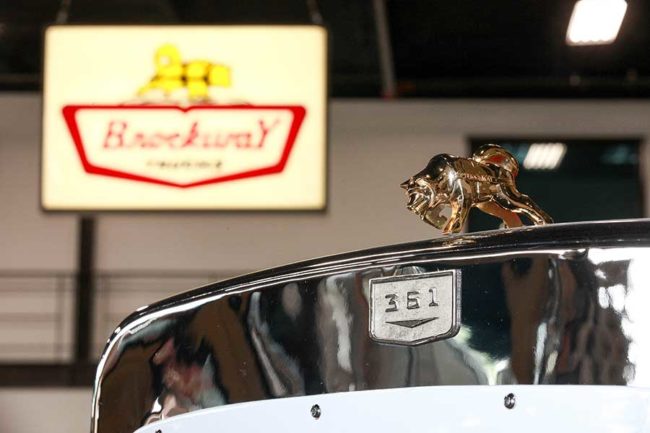 As memorable as the heyday of Brockway diesels is in Huskytown, Cortland's self-applied sobriquet, it may be that a brief and virtually forgotten moment in the company's history stands out most significantly.
Suffering from a serious dearth of conventional truck sales in the Depression, Brockway began building electric-powered trucks in 1933. An advertisement for the Brockway Show of 1934, a "Winter Tour" of the Northeast, presents the three initial models: the smallest 50E, a side-door delivery van with a payload of 500 to 3,000 pounds ("compact, easily turned, easy entry, good driver vision"); the 100E ("2 to 3 tons capacity"); and the largest 170E ("3 to 6 tons capacity, 14 to 17 mph").
Eventually expanded to six models, the Brockway electrics were "mechanically identical to standard Brockway models," except for the motors, provided by both General Electric and Westinghouse, sharing chassis and other structural elements. Even then the technology Brockway used was well established. Nine years earlier, in 1924, Brockway had built five electric buses or "trackless trolleys" for use in Rochester's urban rail system.
All the Brockway electric trucks, like the buses, were made in Cortland. Yet most, if not all of the nearly 100 units produced were sold to businesses in New York City, where Brockway had a headquarters at 46th Street and 12th Avenue. There the "quiet, clean, and odorless" electrics served as delivery vehicles for businesses like the Dairymen's League (Dairylea), the department store giant R.H. Macy, and Horn and Hardart, a chain of automats or "nickelodeon restaurants" where popular Depression-era entrees (macaroni and cheese, creamed spinach), sandwiches and desserts were available in glass-doored cubicles opened by dropping in a nickel.
The same trucks also served Horn and Hardart's retail stores, hauling cargos of pies, cakes and other items in overhead racks. The smaller models served "milk, baking, brewing, laundry, express, and package delivery" outfits.
It was further claimed that electrics were more efficient and faster ("The electric truck works faster as stops increase") than gasoline-powered trucks on "multi-stop routes" of 30 to 40 miles, the trucks' usable range. With lead/acid batteries recharged overnight at company garages, the "cab forward" design gave the Brockway electrics a more economical footprint, taking up "20 percent less garage space." Even more reassuring, it was stated that Brockway electric trucks and vans were "safe to drive and leave unattended."
While specifics on the destiny of these elusive trucks seem to have faded into the murk of the past, there is a paper trail, however scanty. The Brockway production records, located at the Mack Truck Historical Museum in Allentown, Pennsylvania, since 1977, have yielded "build sheets" (technical component data) on several models, including a 170E bought by Horn and Hardart in 1934, a 50E ordered by Macy's in 1935 and a 125E sold to another customer in New York City.
And promotional literature from 1933 to 1937, the Brockway electric's production life span, touts the trucks' "performance, suitability, and economy," and notes that these models were "modern in design and appearance." Indeed, surviving photos show designs that are both surprisingly contemporary and quaint at the same time, their cab-forward profile, round headlights and outboard fenders giving them an endearing charm.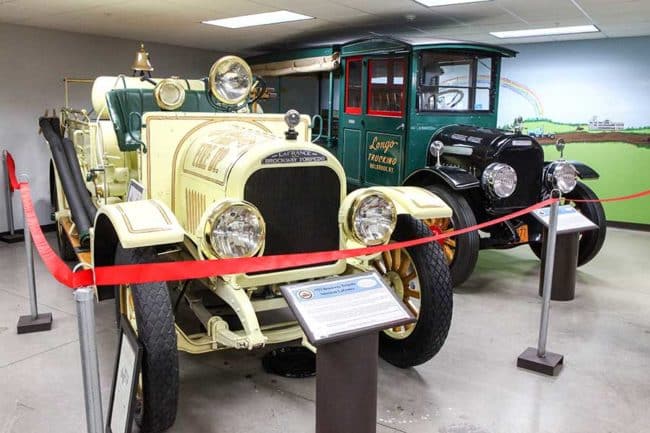 Brockway, however, was not alone in the electric truck market of the 20th century. The Walker Vehicle Company in Chicago produced electric delivery trucks from 1906 until 1942, when the demands of World War II superseded commercial vehicle production. Similar to the Brockways in form and function, including a 30- to 40-mile range at 12 to 15 mph, there are thought to be 10 surviving Walkers, including a completely restored 1911 "stand-and-drive" van at the Jcrist Museum in Manchester, Pennsylvania, and two others, one of them operable, at the Iowa 80 Trucking Museum.
The Brockway electrics, however, seem to have dropped into a black hole, with no sign of a surviving milk, bread, or pie van. The fact that they required substantial recharging equipment meant that there was no secondary use for these vehicles, and it could be that they all wound up on the scrap heap.
But who knows? Someone's garage, barn or back lot may yet yield one of these precocious vehicles. It would be something that Cortland's Brockway Museum would love to know about. And even though the sun had set on all these prescient electrics by the middle of the 20th century, they served as harbingers of a distant usefulness, presaging the dawning of a new age for their kind. As Henry Ford said more than 100 years ago, "All trucks must come to electricity."
Although there has not been a new Brockway truck produced in more than 40 years, these proud, upright road warriors are neither gone nor forgotten. Prized by collectors and preservationists, a few of the more than 91,000 Brockways produced can be seen at the Brockway Museum. A part of the Living History Center's three-section museum, the truck museum includes models from 1914 through the 1970s, many of them completely restored, and most on loan for a period of one year from private owners.
The other end of the former department store, which opened as a museum in 2012, houses the collection of Kenneth Eaton, a collector of military memorabilia from both world wars, the Civil War and the Korean conflict, including an Abrams tank (sans the motor) in the parking lot. And across the street, TOYS (Tractors Of Yesteryear) displays antique farm machinery, much of it, like the Brockways, carefully restored.
The Living History Center is located at 4386 U.S. Route 11 in Cortland. The museum is open Tuesdays through Saturdays, 10 a,m. to 5 p.m. Admission is $10 for adults, $9 for seniors, $5 for ages 6 to 18, and free for ages 5 and under and active military members. Call (607) 299-4185 or visit cnylivinghistory.org.
For a more extensive, close-up look at operable Brockway trucks, consider the 19th annual National Brockway Truck Show in downtown Cortland, running Thursday, Aug. 9, through Sunday, Aug. 12. A celebration of Cortland's vehicle manufacturing past, the show includes food, fireworks, a parade (Saturday, Aug. 11, 8:30 a.m.), an auction and as many as 150 Brockways (gas and diesel; no electrics) lined up on Main Street, some of them still in active service on the road. Call (607) 299-4185 or visit
brockwaytrucks.org.
[fbcomments url="" width="100%" count="on"]