Top among the 2013 highlights in local theater included:
The year's best offstage performance came from Joseph Graves, dressed as an assertive, homeless panhandler. He scrounged around the corner of Crouse and East Genesee streets before the curtain for Lisa Peterson's adaptation of The Iliad (May) at Syracuse Stage. Once inside audiences were aghast to see that Graves was the narrator of the one-man show. It worked every time.
It was also a banner year for Ty Marshal, who helped unite the three companies that comprise The District: Redhouse Arts Center, Rarely Done and Appleseed Productions. He enjoyed his best role in years as the good but no-good brother in Appleseed's Lost in Yonkers (February). Fulfilling a long-held dream, he staged the three one-acts in The World of Ray Bradbury (November) for Rarely Done. And his disciplined stage managing of the Syracuse New Times Syracuse Area Live Theater (SALT) Awards in May resulted in the shortest ceremony in recorded history.
One of the area's newest companies, Terry LaCasse's CNY Shakespeare ended a hot three-year run with a passel of SALT Awards. Following Simply New Theater's John Nara lead, LaCasse is pursuing a master's in fine arts at the theater department of the University of Alabama in Tuscaloosa.
At year's end tens of thousands of area theater fans are voting in the online BroadwayWorld Central New York Awards until Dec. 31 in 16 categories. Most local professional companies participate: Syracuse Stage, Merry-Go-Round Playhouse, Cortland Repertory Theater, Ithaca's Kitchen and Hangar theaters, and Rochester's Geva. Along with these are some outliers, like IATI and Barrow Street of New York City and Secret Theatre of Long Island. The smallness of a venue is no limit to popularity: The 98-seat theatre at West Shore Station in Newburgh racked up 10,000 votes in two categories. Voting will be monitored for possible fraud and duplication before results are announced.
Many of the year's most memorable moments came in short-run shows, starting with Binaifer Dabu's dynamite A Doll's House (September). Jodie Baum got back for all the times she was turned down for Jesus Christ Superstar by belting out "I Don't Know How to Love Him" at her one-woman cabaret, Don't Tell Me What I Can't Do (November). At Syracuse Stage, Marie Kemp's Sutton Pavilion cabaret production of the review Cole (April), in memory of SU alum and World Trade Center 9/11 victim Laura Rockefeller, delivered quite possibly the most brilliant "Anything Goes" ever heard in town.
Syracuse Stage. It's 1969 in Pittsburgh's Hill District in Two Trains Running (February), this year's installment of artistic director Timothy Bond's commitment to August Wilson's celebrated cycle of 10 plays of black life in America. Urban renewal threatens to raze the neighborhood diner. An aging housepainter (Abdul Salaam El Razzac) speaks sardonically of history, as a light-footed ex-con (Robert Manning Jr.) heralds a new generation of taking action. And a stalwart diner-owner (G. Valmont Thomas, mixing humor with pathos) resists local crooks and the predatory city government.
The first non-holiday collaboration between Syracuse Stage and the Syracuse University Drama Department made Shakespeare's A Midsummer Night's Dream (March), one of the biggest, flashiest productions ever. The presence of 39-year-old director Bill Fennelly, from Ashland, Ore., assured the pizzazz and polish of a festival production. Even with a full stage, the role of Puck was written for scene-stealing, and William L. Townsend never let an opportunity go by.
It was street-tough South Boston against the pretensions of posh Chestnut Hill in David Lindsay-Abaire's Good People (April-May). A down-and out single mother (husky-voiced Kate Hodge) seeks out her long-ago boyfriend (David Andrew Macdonald) to see if he will help her out. She has some other news to share too. Hodge, who is familiar (without the Boston accent) from the Citracal ads, had the crowd roaring in the first act but broke hearts in the second. Saturday Night Live alumna Denny Dillon batted a thousand as the landlady.
Michael Barakiva's deeply satisfying direction of Noel Coward's Blithe Spirit (September-October) felt like Niagara's Shaw Festival come to town. Jeremiah Higgins' lead excelled with perfect timing, but Patricia Hodges as Madame Arcati was dottier than usual, Joey Parson as the living wife was sharper than is usually allowed, and Brazilian-born Gisela Chípe as the ghost wife was a pouty playmate. SU Drama student Antonieta Pereira committed grand larceny with physical comedy as the scene-pilfering maid Edith.
Director Marcela Lorca applied a steady hand on the epic reach of the intense family drama Scorched (October-November), originally
written in French as Incendies by Quebec-Lebanese playwright Wajdi Mouawad. Former SU Drama favorite Nadine Malouf created a wronged mother worthy of Sophocles, with borrowing from Shakespeare and Alfred Hitchcock. René Millán was, at different times, a seductive lover and Mephistopheles himself. Too rich for some tastes, this production will nevertheless be remembered for years.
Although Dickens' A Christmas Carol (November-December) is the most familiar of all stage works, this production, directed by Peter Amster, succeeded in getting us to look at it anew. Playwright Romulus Linney's revisions helped, but not as much as Linda Buchanan's ingenious set and Tracy Dorman's cornucopia of costumes, many allowing players to assume multiple identities. Steven Hendrickson as Scrooge barked out those well-worn lines as if he had just thought them up.
Redhouse Arts Center. The deaths of a crusty literature professor (Laura Austen) from ovarian cancer and a young librarian (Adam Perabo) from AIDS might have ushered two evenings of grief. But Stephen Svoboda's convention-defying stagings of Margaret Edson's W;t in tandem with Paula Vogel's Baltimore Waltz (January-February) showed that we may follow a path through laughter before we find our way to tears. Kate Metroka delivered contrasting performances in both, but John Bixler popped up in more than 20 roles
The David Yazbeck-Terrence McNally musical adaptation of the British film, The Full Monty, packed houses as part of the first District Festival, with Appleseed and Rarely Done. Director Stephen Svoboda called on some professional favorites, such as Temar Underwood as Horse in "Big Black Man," and John Bixler as Dave, a key ringleader, with some top community theater players, like Jodie Baum as Georgie and Sara Weiler as Vicki. Tamaralee Shutt as the pianist Jeannette got off some resounding zingers.
Tim Brown's set for Michael Frayn's three-act farce Noises Off (March-April) was bigger than the stage, but could still fold and rotate on casters. Out-of-towner Martin Glyer took over a major role as Garry/Roger on less than a week's notice, mastered all his lines and learned how to fall down three flights of stairs. Karis Wiggins juggled and dropped both telephones and plates of sardines. Many familiar faces played against type, including Navroz Dabu as an incompetent burglar and Carmen Viviano-Crafts as a white corseted floozy.
In one of his most ambitious projects ever, director Steven Svoboda squeezed 33 people on stage for John Caird and Trevor Nunn's revisionist Peter Pan (May). This time Peter is played by a boy, Jamaal Wade, and a tall one at that. Narrator Todd Quick inserted many of J.M. Barrie's observations. Sara Weiler's charming Wendy really does grow up. Jordan Glaski's Hook and William Edward White's Smee sparked a traveling comedy team.
Composer Jeanine Tesori and playwright David Lindsay-Abaire brought top Broadway credits to Shrek: The Musical (July-August). They built four meaty musical roles while retaining the original plot. Tops was the quarrel duet, "I Think I Got You Beat," with Shrek (Kody Bringman) and Princess Fiona (Becca Orts). The tyrannical midget Farquaad (Martin Glyer) celebrates himself in his own ballad, while the jivey Donkey (Antonio Tillman) roars along with "The Travel Song."
Alex Timbers and Michael Friedman's Bloody, Bloody Andrew Jackson (October) proclaimed the American history they did not teach in school but should have. Our violent, profane seventh president was also a rock star, clobbering despised foreign enemies and the pansy elite. Brian Detlefs was in prime form, like putting Jim Morrison in power. Director Steven Svoboda's exuberant style was perfect for one of the most trenchant shows of the year.
It might have been billed as "not your grandfather's Music Man" (December), but the Meredith Willson evergreen was well-served by golden-voiced soprano Caitlyn Oenbrink as Marian the Librarian. The major innovation was Stephfond Brunson's urban-theming of the otherwise dated novelty song "Shipoopi."
Kitchen Theatre Company. The Whipping Man (January-February) by Puerto Rican playwright Matthew Lopez posits that there were Jewish slave owners and Jewish slaves in the Confederacy. When the master (Daniel Berlingeri) stumbles home wounded after Appomattox, the wise paternal slave (Alexander Thomas), and a witty one (Darian Dauchon) give new meaning to the words of "Go Down Moses" and just who really were the children of Abraham.
The title of Catherine Trieschmann's Crooked (February) referred to the disfigured back of 14-year-old Laney (Molly Stoller), a girl twice set apart as a Wisconsin Yankee in the Mississippi Bible Belt. Her liberal mother (Erin Jerozal) is taken aback when a local girl (Ally Poole) starts preaching the healing powers of Jesus to overcome daily humiliations, but also the thrill of a forbidden relationship.
One of the hottest tickets of the year came with the most memorable title: The Motherf**ker with the Hat (April) by Stephen Adly Guirgis. Set in Spanish Harlem, ex-con Jackie (Vaniek Echeverria) tries to re-enter the world, but is caught between his faithless, addict wife (Karina Arrroyave) and his double-dealing AA counselor (Brandon Morris). Rough language sharpens brutal emotion, like Edward Albee's Who's Afraid of Virginia Woolf? set 50 years later.
Not a part of the subscription season was the original drama, And, Lately . . . (May), from artistic director Rachel Lampert. These autobiographical musings, with intervals of music and dance, appear every few years and never fail to be engaging. While anguishing over a commission to write a musical for another company, Lampert contemplates the meaning of her husband's retirement while fearing the thought of floating away in Winnebago.
Tom Stoppard's adaptation of French theater hit Heroes (September) by Gérald Sibleyras could have passed as a witty, sunny version of Waiting for Godot. Three slightly wounded veterans (Evan Thompson, Eric Brooks and Arthur Bicknell) from World War I realize in 1959 that they have been confined for most of the 20th century. They survive in cosseted comfort and want for nothing, but they also live for nothing and can't get out.
Michael Perlman's From White Plains (October-November) made a sweet homecoming for company favorite Karl Gregory. Last March in Manhattan Gregory played the lead in the comedy-drama about bullying and homophobia, and the entire caboodle, cast, set and costumes reappeared in Ithaca. Only Gregory, a wicked comedian, moved far from his usual manic persona to play an angry, unforgiving avenger who pays back for wrongs committed.
In Black Pearl Sings (December) a fictionalized account of the John Lomax meeting with blues legend Lead Belly, a white song collector (Emily Dorsch) goes to a women's prison camp in 1933 to collect authentic blues from an inmate (Lisa Gaye Dixon). A musical treasure trove is preserved. Is this a cross-cultural sisterhood or disguised exploitation?  Sara Lampert Hoover directed.
Syracuse Opera. Fans braved a snowstorm nearly to fill the Mulroy Civic Center's Carrier Theater for the opening night of Stephen Sondheim's Sweeney Todd (February) because they wanted to hear big voices in those familiar, if blood-curdling roles. Bass-baritone Kyle Albertson's Sweeney and mezzo Jennifer Roderer's Mrs. Lovett rewarded the dangers of driving, as did tenor Michael Kuhn's Tobias. Patricia Weinmann's staging disappointed, however, obscuring some voices and neglecting to deliver the trick barber chair seen in community theater productions.
Artistic director Catherine Wolff's sudden and unexplained departure in the spring coincided with a slimming-down of productions. Mozart's Marriage of Figaro (April) was fully staged in the Civic Center's Crouse-Hinds Concert Theater; Douglas Kinney Frost directed with a lively, frequently hilarious Thomas Forde in the title role. Frost also directed a new-look verions of The Tragedy of Carmen (October), restaged by Peter Brooks, reduced to 80 minutes with no chorus and no intermission. Ola Rafalo was memorable as the doomed, mezzo cigarette girl.
The Talent Company. No genre has been more popular locally than the jukebox nostalgia musical, and producer Chris Lightcap found a new one called Suds: The Roaring 1960s Musical (April), written before all the others. A hapless would-be suicide (Amanda Funiceillo) is saved by a vanilla-sweet angel (Emily Higgins) and a sassy, spike-heeled angel (Colleen Wager) by remembering songs of the 1960s. The subtitle said "rocking," but the 51 songs had a lot of Neil Sedaka, Burt Bacharach and Johnny Mathis.
Cooking With the Calamari Sisters (July-August) features two drag comedians, blonde Carmella and brunette Delphine, who don't want their offstage names cited and have been running their push-the-envelope outrage humor for years. Not only does the script keep changing, but their wildest gags are improvised on the spot with suckers pulled from the audience. After the show they sell a laminated apron with anatomy from Michelangelo's David precisely detailed.
Illness in the fall sidelined ebullient company producer Lightcap, cancelling the 2013-2014 season. At press time she is repairing and expecting to return to the stage.
Rarely Done Productions. The long-running TV cartoon Scooby Doo, Where Are You? drew a generation of fans with the promise that there was unspoken subtlety under its bright surface. Eric Pliner and Amy Rhodes's Spooky Dog and the Teenage Gang Mysteries (February) plumbed those depths. The sleuth's Clue Caravan comes with a painted-on marijuana leaf. Josh Taylor's Scraggly and Billy Sweeney's Spooky mimic Cheech & Chong, but Gennaro Parlato's magnifying-glass wielding Thelma works the most laughs.
Rarely Done contributed the only area premiere to the three-company District Festival (March), the Doug Wright-Scott Frankel-Michael Korie show Grey Gardens: The Musical. Much of the second act followed the dialogue of the Maysles brothers' documentary about the Beale mother and daughter, who were nutsy, decadent aristocrats. Bravura performances from Aubry Ludington Panek as both women in different acts, with commanding support from Ceara Rose Windhausen, who loses the love of the doomed Kennedy heir.
Tennessee Williams' little-seen one-act Suddenly, Last Summer (March) was restored to its original edginess, having been betrayed in the 1959 movie. Instead, it now consisted of two long monologues, one by the spidery, aristocratic mother (Rosemary Palladino-Leone), and the second by a beautiful but possibly mad cousin (Sharon Sorkin). Their narratives conflict in describing the death of Sebastian, Williams' first specifically homosexual character.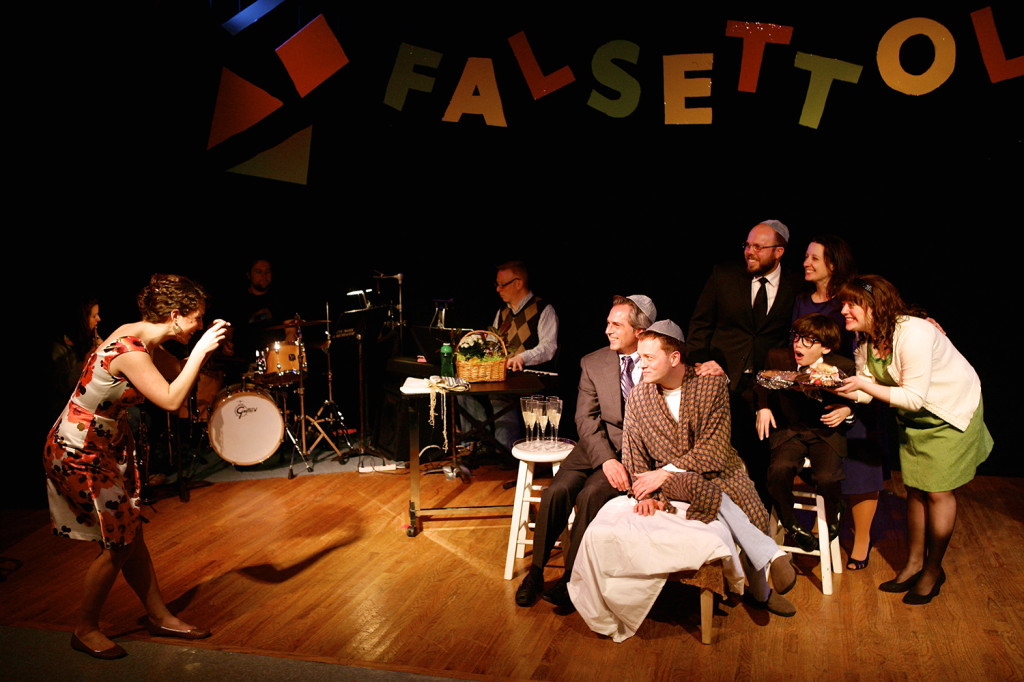 Falsettoland (April) is the third part of the Falsetto series, about love, humor and angst among gay and straight men and women. This reprised one of the company's all-time box-office hits from 2010. Jeff Unaitis' articulate music direction is part of what keeps audiences coming back. The lead role of the conflicted Marvin allowed company regular Peter Irwin one of his best performances ever, with strong support from Dana Sovocool, his doomed lover, and Katie Lemos-Brown, his ex-wife.
Dormouse Theatrics, Rarely Done's youth-oriented offshoot, produced Gary Kupper and Rose Caiola's Freckleface Strawberry: The Musical (September) based on a series of books by Academy Award-nominated actress Julianne Moore. Even in middle age Moore is usually judged to have one of the most gorgeous faces in show biz, but as a kid she suffered. Songs celebrate "Be Yourself" and "I Can Be Anything." Great work from youngsters Amanda Funiciello, Garritt Pick, Gabbie Giacovelli and Nick Peta.
Charles Busch's campy farce, Vampire Lesbians of Sodom (October), was somehow extended into three acts, the first intermission arriving in less than 20 minutes. Lovely Julia Berger, in a break from the usual casting, appeared at vampire succubus, La Condesa, in heavy makeup. Junior Morse, Derek Potoki, Gennaro Parlato and Sharon Sorkin gave important support.
In a labor of love, managing director Ty Marshal revived a set of three one-act plays, The World of Ray Bradbury (November), sharing directing credits with veteran C.J. Young and newcomer Liam Fitzpatrick. Despite stylistic differences, all three plays love the simple. David Minikheim risks imprisonment in technological totalitarianism just to see some dandelions, and in the midst of post-apocalyptic blight Jeffrey Gorney waxes poetic of the beauty of Butterfingers candy bar wrappers.
Appleseed Productions. One of the least-seen Neil Simon comedies is also his richest: Lost in Yonkers (February), about the thwarted, hopeless quest for love by the mentally challenged Bella (Pamela Kelley). She is thwarted by her tyrannical mother (Marcia Mele) and her scene-stealing, Runyonesque brother (Ty Marshal). Wry youngsters Ethan Zoeckler and Gabe DiGenova observe and learn.
Filling the stage with 19 colorful Norwegians was John Van Druten's adaptation of Kathryn Forbes' fictionalized memoir, I Remember Mama (March). The most family-friendly drama seen all year, Mama reprised a 1997 production and was Appleseed's contribution to The District Festival. Theresa Constantine was the wise matriarch, Robb Sharpe her acute husband, Erin Griffin her maturing daughter, and Walt Amey the Oscar Homolka-like rascal uncle.
Newbie director Lois Haas wanted to salute veterans for Memorial Day and so revived Cry Havoc (May), a nearly forgotten 1942 drama by Allan R. Kenward. A dozen nurses in the all-female cast face doom as the Japanese overrun the Philippines, then a U.S. colony. Cool-headed officers (Judy Schmid, Theresa Constantine and Kathleen Whipple) strengthen green volunteers, while waitress Sharon Sorkin and former stripper Rita Worlock assert their independence.
Barbara Field's streamlined adaptation put Charles Dickens' lumbering Great Expectations (July) in running shoes, while remaining faithful to the original. C.J. Young's quicksilver direction brought out strong performances from veterans and newcomers, starting with Keith Arlington as Magwitch, the threatening benefactor, and Marcia Mele as Miss Havisham, the decadent manipulator. It was also a strong debut for the eleventh-hour casting of Carlos Clemenz as Pip.
For the 20th anniversary of the company's founding came the area premiere of Harold Pinter's 1958 modernist masterpiece of ambiguity, The Birthday Party (September-October). A challenge for any director, John Brackett took it on as his debut, assisted by Lois Haas. Memorable performances came from mellifluous Brackett himself in dialogue with company head C.J. Young with mordant humor.  Sharon Sorkin, having an excellent year, was the trollop next door.
Director Roy Van Nostrand and lead C.J. Young blew away the whimsy from Mary Chase's classic comedy Harvey (October-November), and restored much of it sharp edges and satirical bite. Young created a mysterious, unknowable Elwood, something on the line of Peter Sellers' Chance in Being There (1979). Anne Fitzgerald provided Elwood's villainous, social-climbing sister and Peter Moller delighted as the fatuous, self-important psychiatrist.
Covey Theatre Company. From a distance David Auburn's Pulitzer Prize-winning Proof (March) looks like a study of the relationship between mathematical genius and madness. Up close it turns out to be a family drama linking a troubled daughter (Jodie Bova-Mele), her humorous but absent father (Ed Mastin) and a seemingly benign but controlling and uncomprehending sister (Shannon Tompkins). Nick Barbato proved that math nerds have sex appeal, under Garrett Heater's direction.
Ken Davenport, creator of 2012's documentary deflowering comedy My First Time, thought up the nearly scriptless interactive Awesome 80s Prom (May-June), staged in various parts of the Landmark Theatre. Actors appeared to improvise from established types, such as the hapless nerds (Josh Taylor and Sara Caliva), the ditzy drama teacher (Christine Lightcap), and the ineffective, high pants principal (David Witanowski) shouting through a bullhorn at unruly students.
With the entire run sold out, Jonathan Larson's rock opera Rent (July) ranks as the year's hottest ticket. Director Garrett Heater took advantage of the Mulroy Civic Center's Bevard Room balcony to stage some of the dances. Among the many standouts in the 19-member cast were red-haired Marguerite as the junkie Mimi, Anthony Wright as the drag queen Angel, and Jodie Baum and Mary Musial as the lesbian lovers in "Take Me or Leave Me."
Reviving a collaboration from Baldwinsville Theatre Guild days, Heater and partner Susan Blumer staged the family-friendly All I Want for Christmas Is . . . (December). Big-eared Elfis the Elf (Jimmy Wachter) and Prancer the Reindeer (Darian Sundberg) taught children the meaning of Christmas, which meant ditching the self-centeredness of video games and the avarice of measuring worth in the size of gifts.
Central New York Playhouse. Zippy timing and reliable British accents marked Ray Cooney's adultery farce, Two Into One (January). A conservative member of Parliament (David Vickers) wants a tryst with his sweetie (Jennie Russo), and his hapless go-fer (Justin Polly) gets stuck with all the dirty work. Things get dicier when the pol's neglected wife (Kasey McHale) tears off her dress and goes after the go-fer.
Community theater favorite Jodie Baum has never been seen as a hothouse flower or a shrinking violet. Her Blanche in A Streetcar Named Desire (February) was loud and assertive, even about her delusions. Opposite her, Jordan Glaski's Stanley was an engine of fury, but never a slob or a lout. Under Patricia Catchouny's direction Blanche and Stanley's collision drew a stage full of sparks.
Director Dan Rowlands, known for breathing life into the shopworn, emphasized the bubbly in Neil Simon's Brighton Beach Memoirs (April), with its dark, melodramatic second act. The most hilarious sequence has the older brother (Justin Polly) explaining to Eugene (narrator Josh Hintz) how adolescent boys deal with excess vital fluids. Lesley Heisler was memorable as the widowed and trapped Aunt Blanche, as was Erin Griffin as her beautiful, stage-struck daughter.
Director-writer Rowlands also devised a "tribute" in his adaptation of John Hughes' The Breakfast Club (June). Kasey McHale, Kim Panek, Justin Polly and Joel Miscione resisted mimicking original performances but created them anew with different angles and nuances.
Longtime song-and-dance man Stephfond Brunson moved into the director's chair to helm a high-kicking revival of The Best Little Whorehouse in Texas (July). With more than 20 players hoofing it at the second act's opening, Whorehouse was the biggest production since the company moved to Shoppingtown. Memorable debuts among the many newcomers were Stephanie McCall as a disarmingly refined Miss Mona and Stephen Gamba's silver-throated Sheriff Ed Earl.
The three one-acts of Unwrap Your Candy (August) made this a good year for playwright Doug Wright, whose Grey Gardens was produced by Rarely Done in March. Each blends Roald Dahl vinegar with Twilight Zone plot twists. Christopher Best directed the first, about an exploited child prodigy. Justin Polly helmed the third about a needful mother with a monster fetus. Heather Roach was in top form with the middle one, a Strindbergian battle of the sexes based on real estate sales.
Director Dustin Czarny's zest for improvisational humor added another layer of great lines to the already hilarious Monty Python's Spamalot (September). Syracuse's favorite baritone Bob Brown spoofed himself as King Arthur, while his wife, opera performer Cathleen O'Brien Brown, was the grandest diva in Camelot. The rest of the large cast drew on recently uncovered talent like Stephen Gamba as Galahad, as well as strong players not seen in a while and cast against type, like Shakespearean Trevor F. Hill as Sir Robin.
Veteran director Sharee Lemos knew that audiences long have favored the skeptical prosecutor Henry Drummond (Tom Minion) over pious Matthew Harrison Brady (Joe Pierce) in Lawrence and Lee's Inherit the Wind (October), which put evolution on trial. To give the story new energy, she made the populist Brady lovable. This meant that the pitiless Drummond became the agent of his destruction. Many sharp lines came from Ed Mastin as the cynical journalist.
In the second tribute production of the year, J. Brazill very successfully transposed the brutal irony and jagged wit of Quentin Tarantino's Reservoir Dogs (November) from screen to stage. We never missed the car chases or broken glass. Jim Uva and Jordan Glaski prudently never tried to look like the screen counterparts, Harvey Keitel and Tim Roth, but got us to listen to the well-crafted dialogue instead.
The company's only dud of the year was the staging of Christopher Durang's justly neglected, overstuffed farce, Mrs. Bob Cratchit's Wild Christmas Binge (December). In the end she leaves Bob, marries Scrooge and morphs into Leona Helmsley, of "Only the little people pay taxes." Knocking herself out for art was Colleen Dietrich in a fat suit as a tall, female–but still limping–Tiny Tim. Go figure.
Syracuse Shakespeare Festival. SALT-winner director Sharee Lemos took bold new directions for The Merchant of Venice (February). Under her hand Auburn-area actor Jack Sherman presented the moneylender Shylock as a detached ironist, bemused by the absurdities of life and rolling with the punches. Katie Lemos Brown, decked out in judicial robes, spoke with moral authority in "The Quality of Mercy." Disappointed suitor James Sanders stole scenes.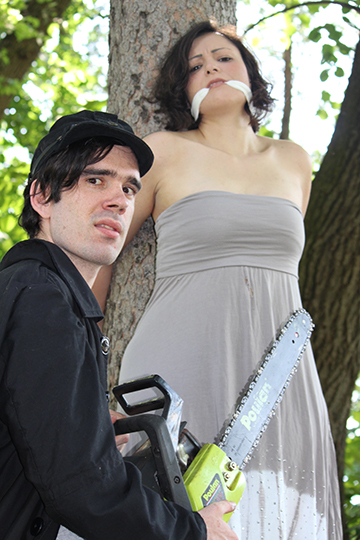 The Bard's blank verse seemed almost easy when the company tried to squeeze laughter out of the rhymed couplets of Moliere's The Misanthrope (April). In the best scene, a moralistic older woman (Nora O'Dea), smitten with the nasty-tempered lead (James Sanders), invites her beautiful young rival (Sara Caliva) to tea. Only she stirs acid into the cup instead of sugar, smiling and keeping her cool all the while.
The company renewed its commitment to community service with Shakespeare-on-the-Grass for Titus Andronicus (June), directed by Dan Stevens, and Shakespeare-in-the-Park with The Winter's Tale (August), with the stage direction, "Exit, pursued by bear."
Hangar Theatre. Jesse Bush's direction of Neil Simon's Last of the Red Hot Lovers (June) uncovered unseen gold in what had been dismissed as one the gagmeister's lesser efforts. Not only was there more laughter, but more depth. An anxiety-wracked fish restaurateur (Jordan Gelber) cannot find love, and the urban toughie (Jennifer Cody) and the guilt-ridden wife (Leenya Rideout) won't deliver. Natalie Walker, the spoof Playboy playmate, steals the show.
It took a female director, Stephanie Yankwitt, to give us the Styne-Sondheim-Laurents stripper musical Gypsy (July) that was all heart with very little skin. Even the illuminated, push-up bra on Electra (Leenya Rideout) covered her up. Areilla Serur was a classy and cool grown-up Louise, but Michele Ragusa's Mama Rose delivered at the finale a "Rose's Turn" worthy of grand opera or Shakespeare. She was the show-biz Queen Lear.
Amy Herzog's 4000 Miles (July), one of the most lauded dramas of 2012, pitted a 91-year-old grandmother (Susan Blommaert) against her won't-work-until-it-feels-right grandson (Robbie Tann) and gave her most of the good lines. Understated revelations of character accumulated slowly. A completely original comic creation was a sexy, wealthy but loud-mouthed Chinese floozy (Jeena Yi), who can't follow the political trend of the conversation.
The first act of Bruce Norris' prize-winning Clybourne Park (August) retells the action of Lorraine Hansberry's A Raisin in the Sun from the point of view of the white sellers (Jesse Bush and Kullan Edberg). Fifty years later with gentrification, it's a black couple (Edward O'Blenis and Olivia Washington) resist selling to whites. Hideous jokes and excruciating dialogue dredge up deep anxieties long felt but almost never said on stage.
Cortland Repertory Theatre. A stylish production of Agatha Christie's late mystery The Unexpected Guest (June), with costumes by Wendy R. Zea, launched the season. New faces, like Dan Fenaughty as the supercilious neighbor and Daniel Burns as the crazy brother, led the cast. In an area first, dialect coach Dustin Charles sharpened the class differences in accents, for both English and Welsh.
One-time Cortland Rep intern Todd Meredith has since made emulating bespectacled Buddy Holly the center of his musical life. His tribute in Buddy: The Buddy Holly Story (June), a return to his roots, burned up the stage. Meredith and co-director Kerby Thompson had the audience on its feet for the finale, with Mike Brennan's Big Bopper and Danny Caraballo's Ritchie Valens contributing to the heart-thumping Surf Ballroom concert before the plane crash.
Terence McNally and David Yazbeck's The Full Monty (July) scared off some patrons by showing more skin than audiences were used to in Little York, but director Logal Culwell's staging of big production numbers like "Scrap" were anthems of Rust Belt defiance. Lanny Mitchell's "Big Black Man," on the burdens mythical physical endowment, blew away the first act.
The 1940s Radio Hour (July-August) recreated a live, variety show from December 1942, complete with a sound effects man (Joel Stigliano) and laxative commercials. Despite the unseen horrors of World War II, American popular music was never in better form. Listen for self-destructive crooner Marcus Goldhaber with "Our Love is Here to Stay" and "I'll Never Smile Again." Segregated America did not know that some of the best voices came from black artists, like Ayana Major Bey with "Bewitched, Bothered and Bewildered."
The usually urbane playwright Donald Margulies spun up a delicious concoction titled Shipwrecked (August), based on the adventure stories of late 19th-century charlatan Louis de Rougemont. Kim Hubbard, Cortland Rep's best-known actor, roared through what appeared to be a spoof of reality television. Bill Kincaid directed actors in multiple roles, crossing gender and race lines. Justin Charles appeared as both de Rougemont's dog Bruno and Queen Victoria.
Peter Colley's I'll Be Back Before Midnight (August-September) was a comedy-thriller but not a spoof. In a remote farmhouse, a yuppie couple (Melissa McLeod Herion and Jason Bowen) always appear to be in flagrante delicto when interrupted, but the main point is to scare the bejesus out of her. Charlotte Kate Fox was the suspiciously sexy stepsister, and local favorite Bill Coughlin was the garrulous hayseed given to laughing at his own gothic horror stories.
Merry-Go-Round Playhouse/Finger Lakes Musical Theater Festival. The revival of a company favorite, Singing in the Rain (May-June), called for a glamorous, waterproof set by Czerton Lim. Cody Walker, Kimberly Doreen Burns and Jody Madaras delivered plenty of bounce as the Gene Kelly-Debbie Reynolds-Donald O'Connor trio of stars, choreographed by Lori Leshner. Completely irresistible was Nancy Snow Carr as the silent star with the cement-mixer voice in "What's Wrong With Me?"
The title of the Lawrence O'Keefe and Nell Benjamin's Legally Blonde (June-July) might have sounded like a vanilla milkshake, but it turned out to be a spicy cocktail. Christopher Carl's lawyer song, "Blood in the Water," was a stinging update of Gilbert and Sullivan wit. Tiny bombshell Libby Servais carried 12 numbers as the lead, like Kristen Chenoweth, only cuddlier. The scene-stealer was hairdresser Stephanie Wilberding's romantic fantasy, "Ireland."
Even though Gentlemen Prefer Blondes (July-August) might have been a 1953 Marilyn Monroe movie, director Douglas S. Hall moved the humor back to the Roaring 20s of Anita Loos's 1925 novel. One novelty number was "Keep Cool with Coolidge." Bound to win friendly gems was the blonde of the title, Lorelei Lee (Ruth Ferdehirt), and her brunette gal pal Dorothy Shaw (Elizabeth Earley), knocking out sassy Jule Styne numbers like "Diamonds are a Girl's Best Friend."
Allan Price (book), Ben Green (lyrics) and Greg Edwards (lyrics) won The Pitch's 2012 competition with Neurosis: The Musical (July-August) to become the first new from-the-ground-up show to be produced In Auburn. Leads Danny Gardner and Patricia Noonan scored big with the showstopper "Meet the Parents Tango." Veteran Joanne Baum won some of the biggest laughs as the bossy but hilarious mother.
The box-office smash of the summer, Andrew Lloyd Webber's Cats (August), united celebrity with in-company strength. Pop diva Taylor Dayne ("Tell It to My Heart") moved far from her repertory to deliver a goosebump-inducing "Memory," as Griselda the alley cat sinner. Director-choreographer Jacob Brent was a nationally known specialist in the show. But MGR's costumer Jeff Dunbar richly dressed all performers, with slight variations of the familiar.
What Buddy: The Buddy Holly Story had been to the late musicmaker, Lost Highway (September) was to Hank Williams Sr.: a tribute jukebox musical. Peter Oyloe's knockout interpretation, previously seen in Cincinnati and Chicago, thoroughly captured the energy and plaintive vulnerability of the country legend who died in 1953, immortalized for "Your Cheatin' Heart." Top billing went to TV veteran George Wendt (Cheers) as Pap, Williams' manager and father figure.
But wait, there's more: 2013 yielded other floorboards footnotes.
Crystalline-voiced leading lady Ceara Windhausen had more costumes than scenes in TheaterFirst's nostalgia romp The Drowsy Chaperone (October). Producer-costumer Eugene N. Taddeo came up with more than 100 Roaring 20s garments, where a Tin Pan Alley musical is conjured up inside the shabby apartment of the Man in Chair (David Minikheim, suitable anxious and eager to please). Jimmy Curtin scored as the incompetent lothario Adolpho, under Dan Tursi's direction.
Now in his 54th year running the Onondaga Hillplayers company, Jack Skillman sped around in his walker at the Links at Sunset Ridge restaurant venue in Marcellus to stir up the fun. Director Robert "Tank" Steingraber reprised a company favorite, Jerry Mayer's Killjoy (October). A wife (Karen Alexander) plots to do away with her vicious ex-husband (John Seavers) and his harpy new wife (Colleen O'Brien) with the help of the ex-husband's lawyer (John Price).
Bob Greene's Acme Mystery Company owns the interactive comedy in this part of the world and continues to write its own original scripts, "to assure quality," as Greene explains. A highlight this year was the addition of Greene's movie parody, Low Noon. Coming soon is a revival of the audience favorite Death Takes A Cruise by Appleseed honcho C.J. Young.
New artistic director Ryan Johnson-Davis signed on with the Paul Robeson Performing Arts Company last winter and announced a three-production schedule for the fall. His original work, Aunt Dee Dee's Consignment Shop, set on Syracuse's South Side, ran for two nights at Jazz Central in September. Two more shows are slated for January and May.
The run of Syracuse New Times columnist Jeff Kramer's Sketchy Mall People (June) explored the previously unexploited comic potential of Jim Boeheim, Tim Green, departing Syracuse University Chancellor Nancy Cantor, defeated Congresswoman Ann Marie Buerkle and a Cicero Swamp mosquito.
And there were final curtain calls for several theater veterans:
Arthur Storch (1925-2013) was well-established on Broadway and in mid-career when he founded Syracuse Stage in winter 1973. Renowned for shaking up the complacent, his most important contribution was establishing the highest standards of quality. No one has mattered to the life of the theater around here in the last 50 years. His was the tide that lifted all boats.
Lucille Markson (1927-2013) was a teacher, producer and director who touched hundreds of lives. Associated with a half dozen companies, she founded the Landmark Theatre Wing after the former Loew's State was turned into a community asset. A smiling aesthete with the finest taste, she convinced us all that Rodgers and Hart were superior to Rodgers and Hammerstein.
Randall E. Klein (1961-2013) contributed hundreds of costumes for Syracuse Stage over 11 years, memorable for the revival of Butterfingers Angel and A Few Good Men, with playwright Aaron Sorkin in the audience. He spent his last years as costume production supervisor at the Metropolitan Opera in New York City.
And Jamesville's Glen Loch Inn, favored dinner theater for countless companies, notably Bob Brown's Opening Night Productions from 1992 to 2008, was closed and put up for sale in July.
[fbcomments url="" width="100%" count="on"]