Ben Mauro's life incorporates buses, planes and soundchecks as he bounces around the globe with Lionel Richie and his touring band. Before he played in 38 countries around the world, however, Mauro grew up in Camillus and graduated from West Genesee High School. He'll return home for a release party featuring his solo EP Take Your Time at Shifty's, 1401 Burnet Ave., on Wednesday, May 7, 9 p.m.
"It's emotional and exciting," he says during a tour stop in Johannesburg, South Africa. "Shifty's is the first place I ever got up on stage as a solo artist. It's also a place where I met the people that would become my first band in Syracuse."
"I still remember the feeling of being there: You put your name on the list and then it's almost your turn and you're so nervous, but then you're up there and it's so exciting," he recalls. "You're really up there playing. It's going to be a very emotional thing stepping back on that stage, remembering what it was like the first days, the energy. Plus, all of my family and friends and people from school will be there. A lot of them have never seen me play my own music."
Mauro attended Onondaga Community College in 1987, then moved to New York City at age 24. A guitarist since he was 15, Mauro took whatever work he could get to build his chops. He eventually landed a house band gig at the legendary Greenwich Village venue Café Wha?
"Everyone in the house band had to front the band and perform their style that they were best at," he says. "It meant I had to learn my music right because not only did I have to sing and play my songs, but I was also backing up everyone else in their respective style and it was all very authentic. It could be anything: funk, Latin, Jewish music, reggae, classical. It was very challenging."
But after three years, Mauro started freelancing all over New York City, at one point playing in 10 different bands spread throughout the boroughs. A member in one of those groups had sung backup for Lionel Richie, who was in a jam for a guitar player, so he mentioned Mauro's name, as did several other musicians.
"It was pretty cool and it was because I had been working my ass off in all of those bands," Mauro says. "People knew who I was."
But that wasn't quite enough to get him the audition. "They didn't want me because I hadn't played with anyone famous," he says. "So I was going to be in Los Angeles with a band that opened for Peter Frampton. I called Lionel's musical director and asked if I could come to his house. He was pretty surprised, but we met up and I told him about our gig with Peter. I got the job because I pursued what I wanted and was persistent."
Mauro moved to LA in 2002 and performed with Richie on and off, but not enough to make a living. American Idol was big at the time, however, and Mauro got a surprise call from Idol judge Randy Jackson.
"He said he had talked to his friend Chuckii Booker because he needed a guitar player for the American Idol tour," Mauro says. "Their guy couldn't learn the songs in time. Chuckii gave him my info and I went for the audition. I picked up all the songs and they asked, 'Can you start tomorrow?'"
Since then, Mauro has spent quality time on his own craft, with the releases of his EP Happily Ever After in 2012 and this year's Take Your Time.
"When you learn a bunch of different styles, they just come out naturally," Mauro says of his own music. "I don't sit down and try to write a certain way."
For the Shifty's show Mauro will perform with Phoenix 11, a once-local, now Nashville-based group composed of Max McKee, Greg "Goose" LaPoint and Joe Grosvent.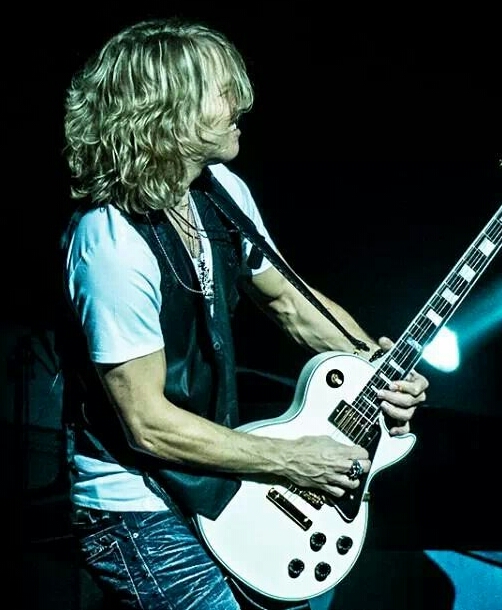 "It's another really cool story of how things just come together," Mauro says. "Goose was the merch guy for John Fogerty, so we were friends then. We hadn't seen each other in a long time and I was home last Christmas and ran into him. I was just starting to look for someone to work with on this EP and it all happened from there. They sent me some videos of Phoenix 11 and I thought they were great."
Mauro will be traveling with Richie's stateside tour through August, yet he hopes to finish his full-length album in the fall and come back to Syracuse to support it.
"I'm so excited about playing in my hometown, especially at Shifty's," he says. "It's going to be a special night for me personally. I'm excited to be a part of the Syracuse scene and I know that coming from here really helped make me who I am. I'm proud of coming from Syracuse and being seen as an artist from here."
Just the Facts
Ben Mauro with Phoenix 11
Wednesday, May 7, 9 p.m.
Shifty's Bar & Grill, 1401 Burnet Ave.
$15 General Admission / $25 VIP – tickets are available at Brown Paper Tickets
For information, call 474-0048 (Shifty's) or visit benmauro.com
Advice from the Artist:
"Work hard and say yes to everything. Be open to learning new styles. You want to be able to work: That's the main goal of a music career. You want to be able to take any opportunity that comes along, so learn how to play everything. Be well-versed in a lot of styles. Even if you don't like them in particular, know how to play them. If you want to work, you have to be able to perform the style."
By the numbers:
38
The number of countries Mauro has performed in
40
The number of states Mauro has performed in
First big show
"With Lionel Richie in Dubai. It was at some big racetrack. It was crazy. I remember thinking how weird it was to travel that far for a show. It was a little scary, but a lot of fun."


Jessica Novak  is a graduate of Syracuse University's Newhouse Goldring Arts Journalism Masters program, and covers music, entertainment and fitness for the Syracuse New Times. Follow her on twitter, HERE.
[fbcomments url="" width="100%" count="on"]