Art
ArtRage portraits provide doorway into the lives of the homeless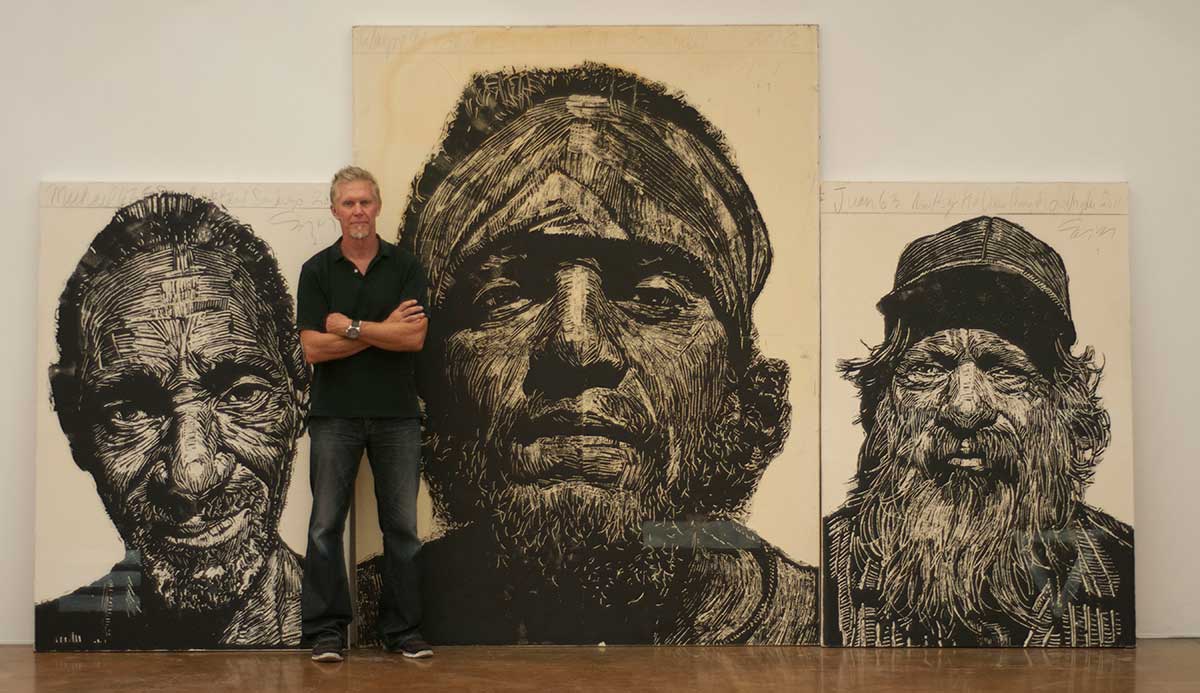 Over the last 15 years, Neil Shigley has created 40 "Invisible People" portraits, a series of prints to acknowledge the humanity of people who are homeless.
Over the last 15 years, Neil Shigley has created 40 "Invisible People" portraits, a series of prints intended to acknowledge the humanity of people who are homeless. Each portrait originates with a street encounter in which Shigley talks to a homeless individual, asks permission to take a photo and poses some questions. Some of the conversations are brief; others last for an hour.
Shigley, an artist based in San Diego, is showing his work at the ArtRage Gallery. His solo exhibition, Invisible People: Portraits of the Homeless, features 17 pieces that are large, intense and evocative.
The subjects include Willie, a veteran who refers to himself as Sergeant Willie; Mark, who talked about his capacity for helping other people on the street; and Dorcie, a 62-year-old woman with a history of 17 years living without a permanent residence. For Bella, a 7-year-old girl, Shigley spoke to her and her mother at a time when they and Bella's sisters were staying either at shelters or on the streets.
They, and other people the artist has spoken to, lead lives where survival is an ongoing struggle and social stigma a constant. "They are people who have been discarded and forgotten," said Shigley. "The portraits provide a doorway into that life."
Shigley's portraits of 7-year-old Bella and Dave, age 57: "They are happy that someone stopped to talk to them."

In discussing the people he's met, Shigley emphasizes there is no specific reason explaining why they are homeless. Instead, each person has an individual narrative. One man had a workplace accident; he lost his job, income, and ultimately his apartment. Another served in the U.S. Navy and worked as a steelworker before his life disintegrated. Bella's family fled Los Angeles and moved to San Diego to escape domestic violence. Several individuals have psychiatric problems.
To tell their stories, the artist began creating large black-and-white prints that clearly stand out in a gallery space. Most of the prints are at least five feet high; the portrait of Wayne, a 35-year-old man, is more than six feet high.
"When these prints are displayed in a gallery, they can't be ignored," Shigley said. "I'm trying to make invisible people visible."
The prints reflect Shigley's fine-art background and a life devoted to art. He teaches art at San Diego State University, does commercial work for various companies, and has created public art such as a large mural combining several images of Martin Luther King Jr. That mural is located near a San Diego freeway.
For him, Invisible People is an ongoing, essential project. He continues to approach homeless people in the neighborhood near his studio, to make portraits and show them. The prints have been exhibited not only in Southern California but also at venues like the National Portrait Gallery, part of the Smithsonian in Washington D.C. After Shigley entered a portrait competition, his portrait of Michael, also known as Pastor Shelby, was displayed at the national gallery
And from time to time he runs into people who appear in the portraits. He reports that Bella's family is doing much better. "They broke the cycle," he said. "They have stable housing, and the kids are in school. Bella's mom is working."
In addition, Shigley supports several San Diego organizations that provide services for homeless people. Monarch School, for example, serves children who don't have a permanent home.
During a five-day stay in Syracuse, he connected with John Tumino, founder of In My Father's Kitchen, a homeless outreach organization that feeds people and also works to link them to services. That group is co-sponsoring the ArtRage exhibit. On Sept. 10, Shigley accompanied Tumino on a day spent traveling around Syracuse. Ultimately, he interviewed and photographed several people; those encounters may lead to portraits in the future.
Shigley says that his portraits try to communicate homeless people's strength and vulnerability, their hopes and pain. "I've talked to people who are so lonely," he said. "They are happy that someone stopped to talk to them."
Invisible People: Portraits of the Homeless is on display through Oct. 27 at ArtRage, 505 Hawley Ave. It's open Wednesdays through Fridays, 2 to 7 p.m., and Saturdays, noon to 4 p.m.
In conjunction with the show, on Oct. 6 at 6 p.m., Mark Horvath will discuss the work of Invisible People, a group using video and social media to change the way we think about people experiencing homelessness. For information, call ArtRage at (315) 218-5711.
[fbcomments url="" width="100%" count="on"]