"I always wanted to be Indiana Jones," said Matthew DuPlessie, CEO and Founder of 5 Wits, Inc. during his TEDx Boston presentation.
After graduating from MIT with a degree in engineering, DePlessie studied business at Harvard. He founded 5 Wits to create his childhood fantasies and make them accessible to the general public. The company recently opened its second location at Destiny USA here in Syracuse, NY featuring a James Bond/Mission: Impossible-esque spy thriller as well as "Tomb," an Egyptian Raiders of the Lost Ark-like mystery. The games are multi-player and feature a wide variety of mental and physical puzzles to solve while all part of an overarching intense dramatic storyline.
"It's called '5 Wits" because of the five senses: you can feel, touch, hear, smell, and taste these adventures," said DuPlessie.
"Even though the Microsoft Connect has come a long way from the Atari, and special effects are getting more 'realistic,' at the end of the day, viewers are still just sitting on the couch, twiddling their thumbs," he said.
5 Wits draws on the emotion that "people love being the hero and love being challenged."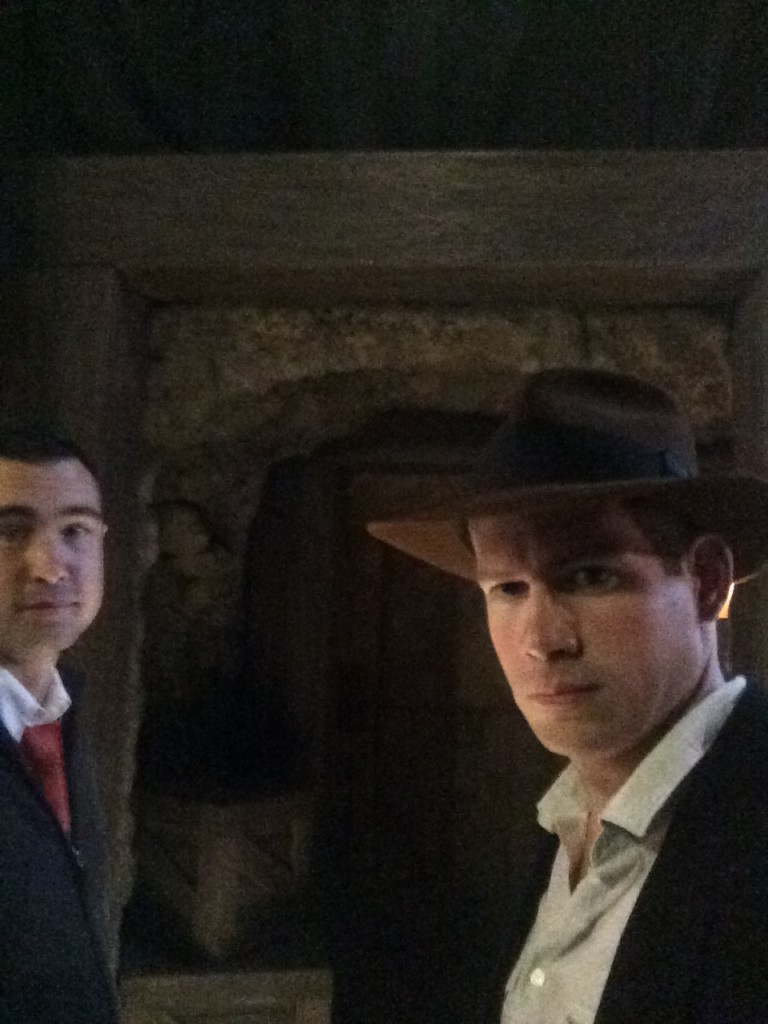 New Times lifestyle blogger, Christopher Malone and myself were given an exclusive behind-the-scenes look at 5 Wits Syracuse including the Tomb, Espionage, and upcoming Drago's Castle adventures.
(Click here to read Christopher Malone's account of the exciting adventure in The Inevitable Coffee Ring.)
We arrived and were greeted by Frank Cerio, manager of the two locations, along with Timm Burns, who became our guide through the two adventures. Unlike the original Foxboro location, the Syracuse space is designed to run solely on computer animatronics guiding you through the story after the human guide has gotten you initially prepped and a little scared.
Perhaps the nerdiest Indiana Jones fan, I brought along not only my Stetson fedora but my 12-foot bullwhip in order to properly brave the Tomb adventure.
Malone, with a name that conjures up the great 1940's era private detectives of old, was dressed in his usual dapper sweater and tie that would've given "Bond, James Bond" a run for his "shaken, not stirred" money.
After a quick video intro, chilling both of our spines with the presence of a curse inside the tomb, the stone door opened and Joe's bullwhip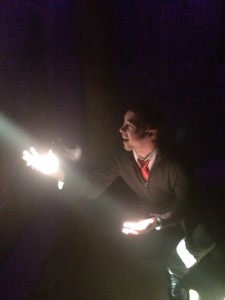 entered first, in case of flying poison darts [spoiler alert: there were none].
For the next thirty minutes, Chris and I battled a freaky-looking mummy that woke up on the wrong side of the coffin: several times almost failing to decipher the glyphs and uncover the keys before being crushed, burnt alive, blown up, or otherwise killed (okay, a small exaggeration, but a lot of fun really).
(There may or may not have been some over-enthusiastic dive-rolls involved.)
Before venturing into Espionage, the fedora was removed to meet two of the principal team members: Cat Kingsley, the creative director who came up with the fantastic stories and puzzles behind the games; and Ben Buchwald, the ingenious programmer who made it all come to digital and physical life.
Kingsley, Buchwald, and Cerio took us through Drago's Castle: a soon-to-be released adventure harkening back to both the King Arthur and Harry Potter fantasies, featuring a runaway dragon that escapes from an enchanted spellbook and ends with, well, no spoilers here – you'll have to experience it for yourself.
"It's simple fun," said Kingsley, who noted that she has the best job in the world.
"Fun does not necessarily need to be high tech," she said.
The small team does everything, noted the creative team – even CEO Matthew DuPlessie puts on overalls and grabs a paintbrush when he shows up on site.
The attraction has a wide demographic: from birthday parties to corporate events, dates, days out with the family, or Dad or Mom's day with the kids.
"I want to make sure I'm entertained," said Kingsley, "We make sure it's child friendly but is also for adults."
The creative team explained how they combined electromagnetic sensors on the various physical objects in the games to trigger reactions from the video and audio story playing around the guests: making it so each "level" is passed under a timer – then the participant advances to the next "round." Simple elements such as light verse darkness, sound and video, illumination, motion and touch triggering allow the games to be played while creating the illusion of truly being the hero in a once-in-a-lifetime escapade.
Each theme is masterfully crafted and fits perfectly into the genre it evokes – a huge achievement most people only dream of experiencing when they are children. It's something unable to be reproduced outside of its unique environment: it's the perfect blend of modern tech fun with real life running around akin to getting squashed by the infamous rock that chases Indy in the opening scene of Raiders.
"Do you guys want to do Espionage?" asked Cerio after the guided tour.
Buchwald noted that the Espionage set looked so realistic that Hasbro shot one of their TV commercials at the Foxboro location.
Chris and I made it out of both adventures [spoiler alert] alive and in above average time, achieving the best possible ending for both games.
"I like that," commented Malone, "You don't always win. There's a real possibility you won't just beat it." Far from the Barney the Dinosaur "everyone's a winner" mentality, 5 Wits keeps you sweating as the bomb timer counts down to zero.
I dreamed of this exact type of thing as a kid, and even designed one of my own on paper. Now, when my son is old enough, I can take him on a father-son adventure we both will never forget.
The adventures are extremely educational, harkening back to mind games such as Mastermind, Simon, and other sensory perfecting challenges.
"Who said education and entertainment were polar opposites?" said DuPlessie, combining hands-on learning with fun, immersive quests in his extraordinary business brainchild. While most companies are relying on static tablet screens to create an "interactive" environment in retail, education, and entertainment; DuPlessie and 5 Wits are still keeping people on their toes.
"I ask myself, 'What could I actually do physically, immersively?'" said DuPlessie.
While admitting that tablet, smartphone, and the increasingly interactive personal computer technology is impressive, entertaining, and extremely useful, the 5 Wits Founder challenges the world to truly "live outside the box."
"There's a big world outside our glowing rectangles," he said.
To find out more about 5 Wits, visit their website here at www.5-wits.com and go for an adventure with friends and family at Destiny USA!
Details:
Hours: Mon. – Thurs. 10am – 9:30pm, Fri. & Sat. 10am – 11pm, Sun. 11am – 6pm
Tickets:
Single Adventure $16.99
Double Adventure $22.99
Triple Adventure $26.99
Call (855) 955-WITS or purchase tickets at the door.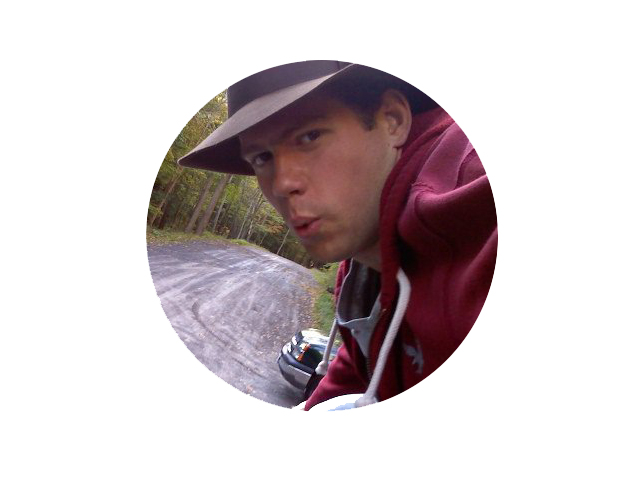 Joe Cunningham is a Marketing Consultant and Writer for Kinani Blue. You can follow him on Twitter or email him at [email protected].
[fbcomments url="" width="100%" count="on"]