One of the reasons so many people follow Syracuse University men's basketball is that the season helps us mark the time through our long, dreadful winters.
Two more games this week, and we're at the Martin Luther King Jr. Day holiday. One more game the next week, and we're near the end of January. Two more games the following week, and we're almost into the shortest month of the year. And so on.
Before you know it, it's March, the Orange is playing in postseason tournaments, and 32 degrees no longer feels like a heat wave.
So as we finally emerge from this brutal stretch of sub-zero temperatures, let's look at what you should know as the Orange carries us through the next two months to the start of the Atlantic Coast Conference Tournament March 6.
In or Out?
As always, the biggest question surrounding SU is this: Will the Orange make the NCAA Tournament? Before the Tuesday, Jan. 9, game at No. 3 Virginia, Syracuse was 12-4 (1-2 in the ACC) with a few nice wins (Buffalo, Maryland) and without any of the really bad losses that kept the team out of the NCAA Tournament last year.
Before losing 51-49 to Notre Dame Jan. 6 at the Carrier Dome, the Orange was ranked No. 31 in the RPI (Rating Percentage Index), which remains an important tool in the NCAA Tournament selection process. And because Syracuse plays in the rugged ACC, the Orange will have plenty of chances to record a signature win or two against top-40 RPI teams Duke (No. 1), Virginia (No. 2), Clemson (No. 5), North Carolina (No. 8), Miami (No. 22), Florida State (No. 27) and Louisville (No. 32).
With 14 conference games remaining, here are three reasons why the Orange will make the NCAA Tournament. And three reasons why it won't.
Why SU Will Make the Tournament
The Defense. Clearly, this year's team is not an offensive juggernaut. But it plays Coach Jim Boeheim's vaunted 2-3 zone defense about as well as any SU team has played it. Entering this week's games, the Orange ranked third in the ACC and 20th in the nation in points allowed (62.2 per game) and fourth in the ACC and 19th in the country in field-goal percentage defense (.381).
"We've just got to move (on defense), we have to continuously move, get to your spots," SU guard Tyus Battle said. "There's going to be some breakdowns. That happens. But if you keep running them off the (3-point) line and making it hard for them, we'll win on that side of the floor."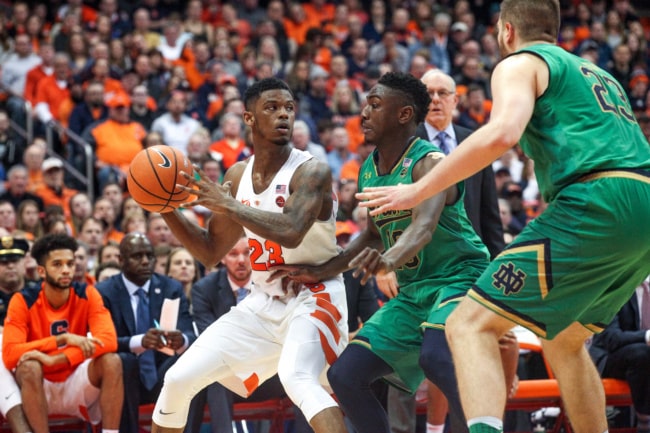 The Big Three. Syracuse's "Big Three" of Battle (19.5 points per game entering this week), point guard Frank Howard (15.4) and forward Oshae Brissett (15.2, plus 9.8 rebounds per game) will continue to play at a high level and offset the Orange's offensive deficiencies.
Brissett has been a real find, as he's looking to become the first SU player since Rick Jackson in 2010-2011 and the first Orange freshman since Carmelo Anthony in 2002-2003 to average a double-double.
"I think he's a very good prospect," Virginia Tech coach Buzz Williams said of Brissett. "The freshmen that play the minutes at the rate that he's playing at Syracuse, normally they have really good careers while at Syracuse and thereafter."
Easy Baskets. The best way to offset the offensive woes is with easy baskets in transition. To that end, the Orange entered this week ranked first in the ACC in steals (8.4 per game) and second in blocked shots (6.44 per game), and both often lead to easy baskets.
Why SU Won't Make the Tournament
Not Enough Offense. Battle, Howard and Brissett account for more than 70 percent of Syracuse's offense. When one or two get shut down or have an off night, the Orange is in deep trouble because no other player has been able to consistently make up the difference.
"We just cannot score. It's been a struggle, and it's probably going to continue to be a struggle for us to score points," Boeheim said after the Notre Dame game. "When you can't score 50 points at home, you've got a problem."
Lack of Depth. This isn't to beat the dead horse about whether Boeheim should play more than six or seven players, because he has only eight scholarship players anyway. This is about Battle, Howard and Brissett playing every minute of every conference game and what kind of toll that will eventually take on them. Having backup center Bourama Sidibe return from his nagging injuries will help ease the load for starting center Paschal Chukwu, but overall the bench does not offer much help beyond freshman forward Marek Dolezaj.
Rebounding. This wasn't an issue until recently, and in fact the Orange entered the week with the third-best rebounding margin (+7.8 per game) in the ACC. But Syracuse was out-rebounded by Wake Forest 38-29 and Notre Dame 42-27 in back-to-back losses.
"We're not a good rebounding team. That was a myth. A complete myth," Boeheim said after the Notre Dame game. "Nobody's really gone to the boards except for the last two games and when they did, we cannot rebound down there."
The ACC Schedule
Following its two-game road trip to No. 3 Virginia and No. 23 Florida State this Saturday, Jan. 13, the Orange will play a four-game stretch against some of the ACC's weaker teams (Pittsburgh twice, Boston College and Georgia Tech). That will provide an opportunity to pick up some needed wins because after those four games, the Orange will play six of the its final nine league games against the ACC's strongest teams: Virginia, Louisville, No. 18 Miami, No. 20 North Carolina, No. 7 Duke and No. 19 Clemson.
You never know how everything will shake out, but if the Orange can finish 9-9 in the ACC and 20-11 overall in the regular season, that should be enough to get SU into the NCAA Tournament.
If you're looking to catch a game at the Carrier Dome over the next two months, the big ones are Virginia Feb. 3, defending national champion North Carolina Feb. 21, and Clemson March 3 in the final regular season game of the season. Visit cuse.com for ticket information.
The Past
At halftime of the March 3 game against Clemson, the Orange will retire Lawrence Moten's jersey No. 21, as he will join 13 other Syracuse players who have had their jerseys retired. Syracuse retired Dennis DuVal's jersey No. 22 during the Jan. 6 Notre Dame contest.
Moten remains the most prolific scorer in Orange history: He tallied 2,334 points in 121 games from 1991-1995 and he's also the all-time leading scorer in Big East Conference history.
And in case you missed it, Syracuse is honoring former administrative assistant Kelly Seubert by having the players wear a patch with a heart above the letter "K" for the remainder of the season. Seubert, who was on Boeheim's staff for 13 years, died in August after losing her battle with cancer.
The Future
While it's likely that Battle will head to the NBA and Brissett is putting himself in position to join him, the future looks bright for the Orange with Darius Bazley headlining next year's incoming class. Bazley is a 6-8 forward from Princeton High School in Cincinnati who is ranked No. 9 in the 2018 recruiting class.
He'll be joined by 6-3 point guard Jalen Carey, a four-star prospect who's playing at Immaculate Conception High School in Montclair, N.J., and 6-5 shooting guard Buddy Boeheim, who's attending Brewster Academy in New Hampshire. Buddy, of course, is the son of Jim Boeheim.
The Lowdown
This year's team has endeared itself to fans because of the way the players have hustled on defense, scrapped for loose balls and exceeded expectations. The losses in winnable games against Wake Forest and Notre Dame seemed to set the team back, however, and Howard said they need to rediscover their mojo because they're going to lose without it.
"I think we got comfortable and you can see that in our play," Howard said after the Notre Dame game. "We're not going after the ball anymore, we don't have that chip on our shoulder.
"You've got to have that mentality and you've got to feel a certain type of way about things. You can't go out there and float, you know what I mean?" Howard added. "We're not being as active any more, our skills are down, our rebounds are down and we're going to lose like that."
Continue Reading
[fbcomments url="" width="100%" count="on"]