Over the weekend, the United States moved its embassy in Israel from Tel Aviv to Jerusalem. The ownership of Jerusalem has been a topic of international debate and conflict for generations, and it is one of the focal points of the Israeli-Palestinian Conflict. While Israel believes the city is its capital, Palestinians claim East Jerusalem as the capital of their future state, according to the Council on Foreign Relations.
Previous U.S. administrations chose not to get involved in the debate, hoping some compromise could be reached through peace talks. But the embassy move has sent a firm message that the U.S. believes the controversial holy city rightfully belongs to Israel.
Mass protests were held in response across the Israel-Gaza border on Monday, continuing the nearly non-stop demonstrations that have been going on since late March. More than 50 protesting Palestinians were killed by Israeli troops, according to the New York Times. Saeb Erekat, the chief Palestinian negotiator, told the Associated Press Palestine would no longer speak to or look toward the U.S. when discussing peace: "They have become part of the problem not part of the solution, a big part of the problem."
Globally, the response has been mixed, Al Jazeera reported. Turkish President Recep Tayyip Erdogan accused Israel of committing genocide, calling it a terrorist state, and pulled ambassadors from Tel Aviv and Washington. The Pakistani foreign ministry said the U.S. embassy move violated international law and UN Security Council resolutions. Leaders in the European Union and the UN urged Israel to refrain from using deadly force. In 2017, when President Trump first announced the recognition of Jerusalem as Israel's capital, the UN voted 128–9 to declare the announcement "null and void," USA Today states.
We're asking you: Do you think moving the embassy was a good idea? Vote now and share your thoughts.
Here are the results of last week's poll, which asked if you agreed with former NY Attorney General Eric Schneiderman's immediate resignation after allegations surfaced that he physically assaulted and abused women: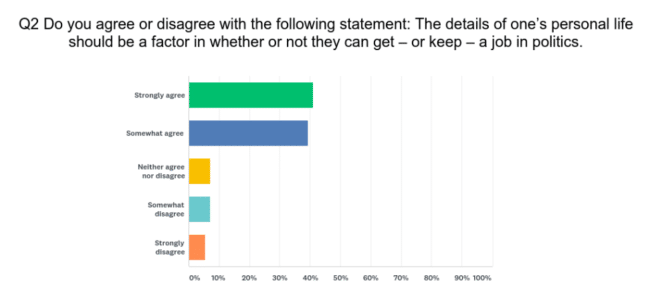 [fbcomments url="" width="100%" count="on"]