The Edgewood Gallery's new show Crystal Glow fits in nicely with the venue's general approach to group exhibitions. On one hand, it displays pieces by three artists, all of whom work in different media and have distinct styles. On the other, the exhibit has a unifying element, one that arises from the works themselves instead of some artificial linkage.

Photographer Karen Kozicki's infrared images often have a ghost-like quality, a whiter-than-white appearance for objects ranging from industrial pipes to branches, from a tree on Syracuse's Plum Street to a single tulip transformed into a ghostly item. Kozicki uses this technique in unique ways. In the factory scene, for example, some pipes have an ethereal appearance, and others don't. For the Plum Street image, however, the entire tree is seen as a ghostly vision.

While this process plays a key role in many of Kozicki's photos, it's certainly not the only measure of her photographic skills. She has a knack for viewing an everyday scene and then creating an incisive image. That's true of photos presenting a long view of a tree in Camillus or portraying a single tree on an inlet near Chittenango.

Kozicki demonstrates similar skills in her images of urban settings. Her photo of Clinton Square doesn't offer a panoramic view. Instead, the image captures trees with an otherworldly look in the foreground, as well as one of the monuments, glimpsed in the background. In "Stripes," midday sun creates its own visual imprint. And Kozicki has taken fine images of the Flatiron building, in New York City, and Syracuse's St. John the Baptist, in which she doesn't focus on the entire church, just a small section of an upper wall and the roof.

Mary Giehl has pieces from two bodies of work on display. She makes two-dimensional artworks by starting with a small crochet form and then combining layers of plywood, batting, maslin and loads of Elmer's glue. These works were inspired by observing algae and bacteria, and considering the microorganisms' impact on water supply, particularly in developing countries. Giehl looks at bacteria and algae from various perspectives, including the loops combining in "Coming Together" and the shapes seen in the "Functioning Systems" series.

In addition, she has grown crystal pieces, beginning with a bath of super-concentrated alum in deionized distilled water. Some of her crystal works in the current exhibit are clearly figurative, depicting items such as a sundress, shorts, and children's shoes, while others don't have a figurative element.

The artworks at Edgewood document Giehl's longtime interest in various media. Over the years, she has also created fiber pieces, installations small and large, and several public art projects. Her art is centered by her intense interest in children, in how they are perceived and treated in our society. Prior to launching her artist career, Giehl worked for almost two decades as a pediatric nurse at Upstate Medical Center.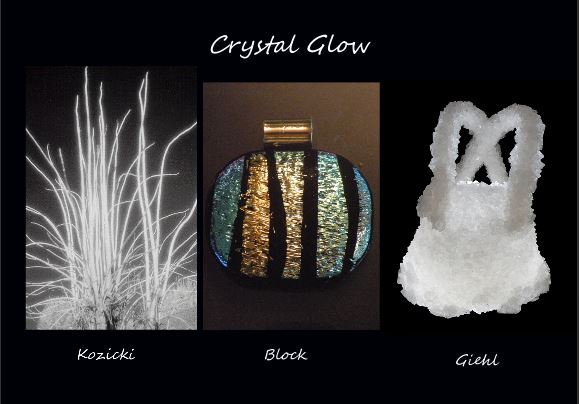 Jeweler Max Block has focused on fine art glass, with its properties a major influence on her work. She is fascinated by contradictions in glass; it can be either opaque or transparent, to name just two qualities. In the Edgewood exhibition, she has more than 40 pendants on display, providing an opportunity to view the ways in which Block plays with colors and patterns. She makes the pendants from dichroic glass, meaning that colors change even as one looks at one of the pieces.

Crystal Glow does a nice job of showcasing three artists and their pieces. Even in Edgewood's relatively small gallery space, there's enough room to hang an array of artworks, making it easier to get a sense of each artist's work. The show runs through Feb. 21 at the Edgewood Gallery, 216 Tecumseh Road. The venue is open Tuesdays through Fridays, 9:30 a.m. to 6 p.m., and Saturdays, 10 a.m. to 2 p.m. For more information, call 445-8111.
For more ART – CLICK HERE
[fbcomments url="" width="100%" count="on"]