Who knew UFO Sightings for 2014 for New York would be continuing an upward trend?
Typically the New York winter months are cold weather with overcast skies, this usually impacts the number of UFO sightings in our lovely state. Surprisingly, January and February sightings logged this year were double the usual amount for the dead of winter. Both national reporting databases showed higher than normal amounts of bright fire ball type UFOs.
March and April sightings were about 25% above normal levels. May, June July, were at the usual levels, but August and September turned out to be the high season for sightings this year, with 13% above normal sighting levels. Add to that October was 59% higher than is common. Finally, November and December were at customary sighting counts for the holiday season.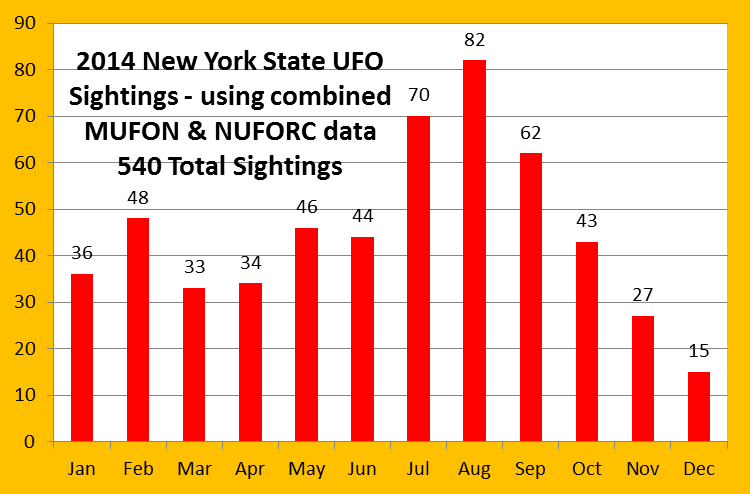 The real surprise was the final count for the year topping out at around 540 sightings. This new level of UFO sightings in the state continues a six year upward trend, with 2010 and 2012 being statistical spikes.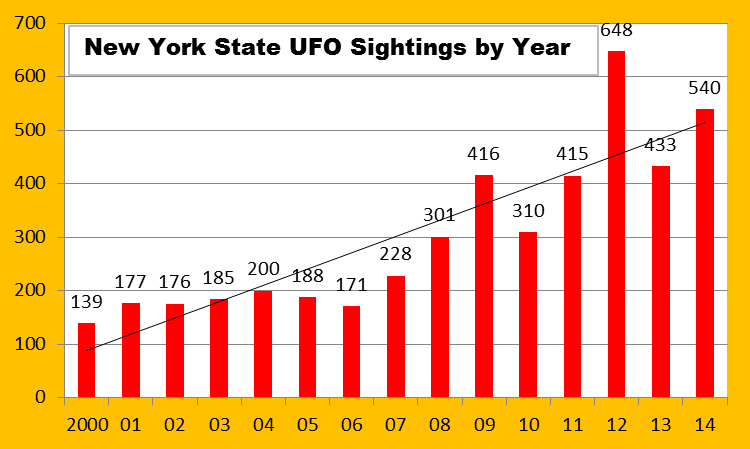 UFO Sightings for 2014, wouldn't be complete without some world sighting numbers, December sightings are up 31% over November. Over all global sightings are up 6% over 2013, and a quick look at the New York yearly trend charts suggests New York is on par with the global upward growth of reported UFO sightings.
Let's look at some recent New York Skies sightings:
10 December 2014: at about 5:25 p.m. a Pittsford, NY motorist reported seeing lights flying in an ordered manner; she says they were blue/green and orange. "They covered entire sky."
11 December 2014: at about 9:50 p.m. several Highland, NY residents observed a black triangle object flying about 300 feet above the tree tops near the Hudson River.
18 December 2014: at about 7:45 p.m. a trained observer from Staten Island, saw a series of red dots low in the air below normal airplane altitude. The objects made no sound.
20 December 2014: at about 10 p.m. a Staten Island resident witnessed 12 , cone shaped flying objects with an orange/red glow and some with flashing lights. The objects were performing "strange flying maneuvers." The observer last saw them heading out over the Atlantic Ocean.
20 December 2014: at about 10:14 p.m. a West Hempstead, NY resident saw two very bright red orange lights that were circular one behind another, says they winked out two times, then reappeared.
21 December 2014: at about 4 a.m. an upstate resident observed a lighted object hover silently then leave in a blink of an eye.
27 December 2014: at about midnight several Dexter, NY residents observed two hovering objects. One was bright red and the other bright green.
If you have a UFO sighting to report, you can use either one of the two national database services: www.NUFORC.ORG or www.MUFON.COM   – Both services respect confidentiality.
Cheryl Costa would love to hear the when, where and what of your New York sighting. Email it to [email protected]. The names of witnesses will be omitted to protect their privacy.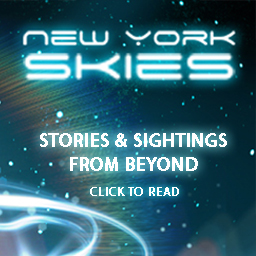 [fbcomments url="" width="100%" count="on"]