Edgewood Gallery's new retrospective presents pieces by three artists who work in different media: sculpture, photography and jewelry. Passages in Time respects the divergence in media but also finds commonality to link the artists.
Sculptor Jonathan Kirk, for example, has long made artworks drawing on the Industrial Revolution, machinery and the ocean. At Edgewood, he's showing pieces like "Lookout," a cast bronze with patina sculpture which suggests a submarine, and "In the Deep," a non-figurative work which touches on an ocean's sheer size and majesty. "Oh, Easy for Leonardo," made with mild treated steel, combines several shapes, including a horn and wheel. It's representative of other Kirk sculptures which have merged various objects.
It should be noted that several pieces were made from coated cardboard or painted wood. These aren't full-blown sculptures; they're models for works too large in fit comfortably into a small gallery space. Yet they play a role in the exhibit by helping to demonstrate how Kirk works with abstraction and narrative, and does so effectively.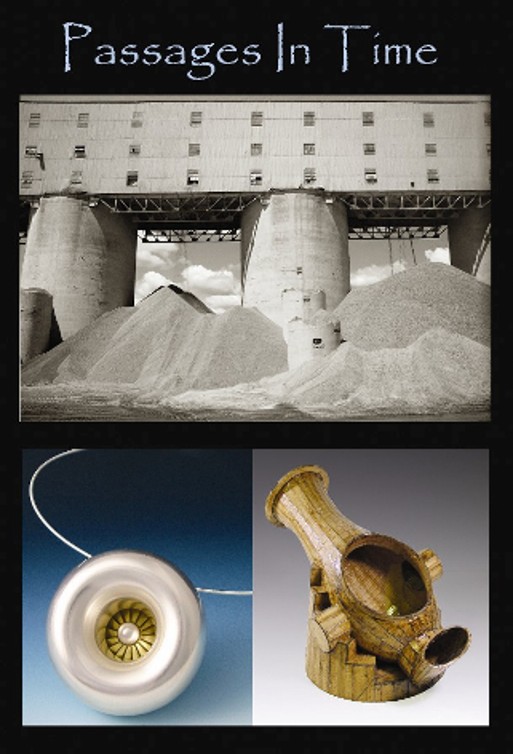 Photographer Marna Bell has more than 20 images on display, with photos selected from several bodies of work. One group was taken during Amtrak trips to Bell's childhood home, Brooklyn. Because she shoots while the train is moving, the images come in various forms. A few are relatively straightforward, like the photo of a Harlem neighborhood seen as the train pulls into New York City. Another photo catches the countryside in passing, showing several trees in a blur.
Some of the most interesting photos capture a moment in time and also communicate a theme beyond it. One image integrates a cloudy sky, a choppy river and a lone buoy buffeted by wind and water. The piece isn't just about a stormy day on the Hudson; it generates energy and emotion, speaking to human turmoil and the will to overcome difficult situations.
Eight photos from Bell's "Imperfect Memories" series also appear in the show. These images have a surrealistic flavor: We see people, but they appear faded and distorted. That distortion is deliberate, a technique for influencing viewers to consider what they remember and how they remember it.
The third artist, Chris Irick, has brooches, earrings and other pieces on display. She has her own approach to figurative work, depicting turbines and dirigibles, the flying machines that gave way to airplanes. Irick also created "Migration," a small piece portraying a flock of birds.
Passages in Time continues through June 20 at the Edgewood Gallery, 216 Tecumseh Road. The venue is open Tuesdays through Fridays, 9:30 a.m. to 6 p.m., and Saturdays, 10 a.m. to 2 p.m. For more information, call 445-8111.
[fbcomments url="" width="100%" count="on"]